Snohomish County Sheriff's Office reveals Memorial Vehicle honoring Sgt. Jim Kinard
EVERETT, Wash. – The Snohomish County Sheriff's Office revealed their new Memorial Vehicle Monday, May 16, honoring Sgt. Jim Kinard who was killed in the line of duty.
The vehicle both contributes to an ongoing effort towards building stronger relationships between law enforcement and the community and memorializes Sgt. Kinard who gave the ultimate sacrifice almost 30 years ago.
"My thought process in putting his name on the car was to reflect and honor his sacrifice," Sheriff Adam Fortney said. "I just didn't want his name to be forgotten with all the new people joining our ranks."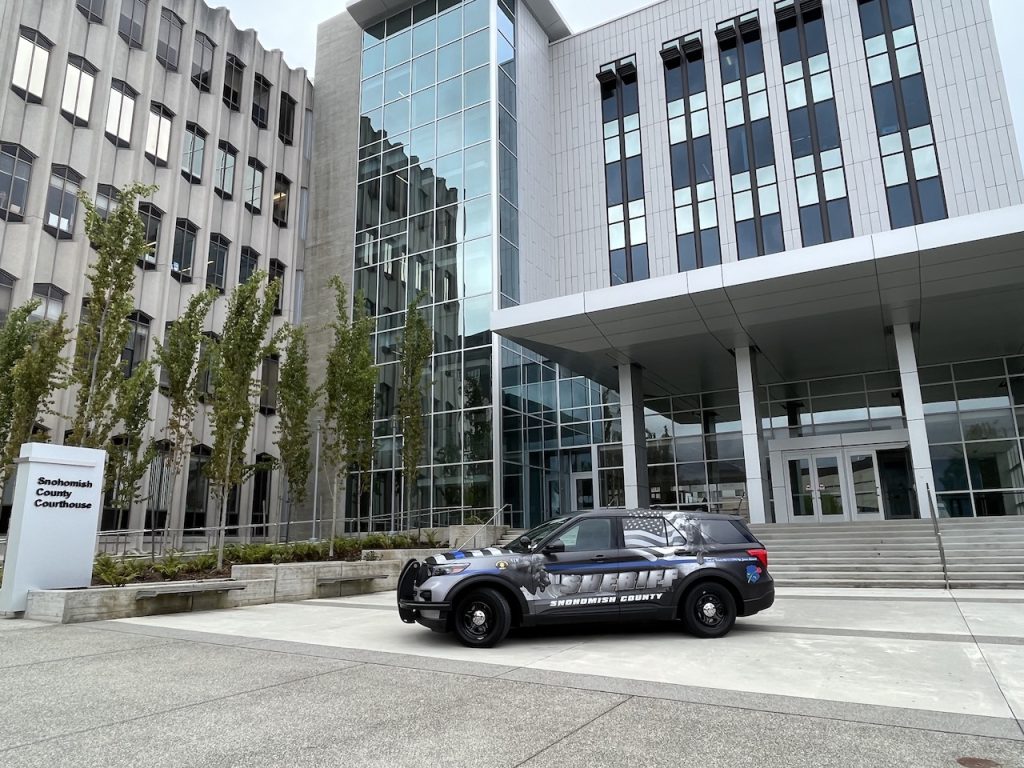 Earlier this year the Snohomish County Sheriff's Office staff began designing a vehicle honoring Sgt. Kinard's life and legacy, partnering with Ardor Printing for the wrap which features a thin blue line flag on the hood, Sgt. Kinard's name above both rear side tires, and even a photo of Kinard's K-9 companion Rowdy. Art Director Vanessa Bjornoy informed the Lynnwood Times the process "took a lot of time and research" but the end result, to Sheriff Fortney, came out "better than expected."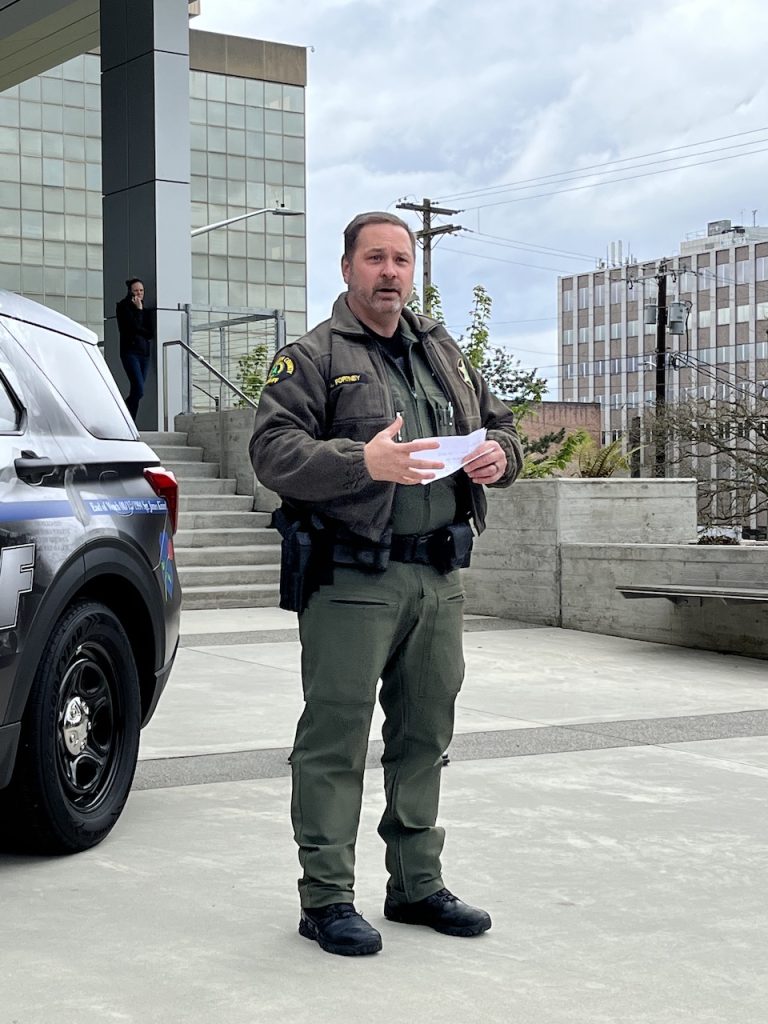 "I think Vanessa did really good on the design and it's really cool seeing people do meaningful work," Dayne Remlinger, Operations Manager for Ardor Printing, told the Lynnwood Times.
The vehicle was unveiled to the public Monday at 2 p.m. in the courtyard of the county campus located at 3000 Rockefeller Avenue in Everett. After some quick words by Sheriff Fortney and a moment of silence, honoring Sgt. Kinard, the keys were handed over to Sgt. Dave Fontenot who will have the immense honor of driving the new patrol car.
Fontenot has been on the force for 28 years in a couple different agencies, including a longtime homicide detective for the Sheriff's Office.
"We thought Fontenot would be a fantastic representative for something like this," Sheriff Fortney told the Lynnwood Times.
Sgt. Kinard joined the Snohomish County Sheriff's Office on May 1, 1984, badge #1152. During his 10-year career, he served in a variety of areas, including as a K-9 handler. He and his partner, Rowdy, became one of the most successful K-9 teams during their tenure, tracking down and capturing as many as 150 suspects.
On August 15, 1994, just after 10 p.m., Sgt. Kinard and fellow deputies responded to a reported homicide at a house in the Cathcart area. It was there that he was shot by a homicide suspect on Elliott Road. He was 34-years-old.
Jim Kinard's family told the Lynnwood Times he had a great sense of humor and "lit up any room he went into."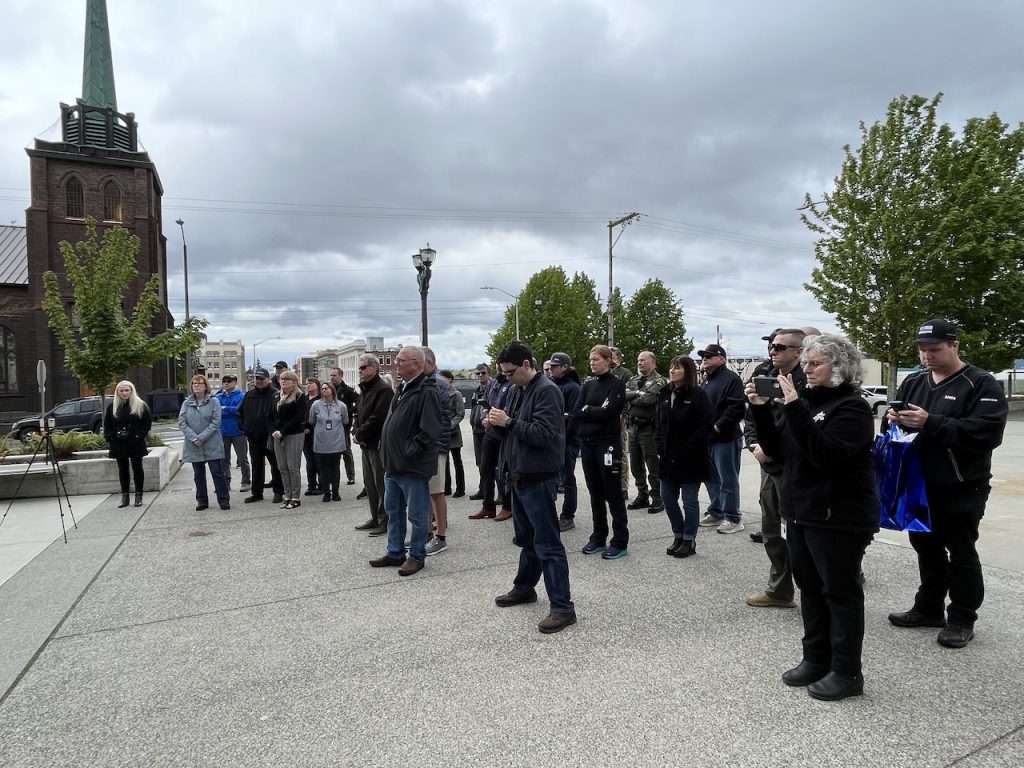 On March 25, Everett Officer Dan Rocha was killed just a couple miles away from where Sgt. Kinard's vehicle was unveiled. That same month Pierce County Deputy Dom Colata was shot and killed. They were both on duty.
In 2021, a record 458 Police Officers were killed in the line of duty, up 55% from 2020, according to ABC News.