Local health officers have authority to involuntarily isolate or quarantine
By Mario Lotmore | Lynnwood Times Staff
Inslee cannot commit to a hard June 1 date to transition to Phase 2 of his "Safe Start WA" plan
New requirements for Phase 2: (1) progress of the virus, (2) success of contact tracing mission, and (3) public cooperation.
"COVID exposed" person is defined as anyone who came in contact within 6-ft for less for 10 minutes of a COVID positive person
Google and Apple are working with DOH and UW to deploy contract tracing apps on mobile devices
700 National Guardsmen are part of the COVID tracing team making calls and collecting information for contact tracing
Inslee calls on President Trump to reconsider canceling funding for National Guard members assisting with COVID efforts
DOH Secretary John Wiesman confirmed that local health officers have the authority to place somebody into involuntary isolation or quarantine
SnoCo Health District stated involuntary compliance is done on a case-by-case basis and only if an individual's actions threaten the health of the broader community
Today, May 20, Governor Jay Inslee, visited with the Washington National Guardsmen working at a Department of Health call center. The Guardsmen are taking part in the COVID-19 mapping mission to support the Department of Health.
After the tour, the governor held a press conference where he discussed COVID-19 contact tracing. He was joined by Lt. Col. Chris Panush of the National Guard and John Wiesman, Secretary of Health for Washington state.
Possible extension of Phase 2 start
During the press conference, Inslee shared the various metrics under consideration and that he cannot commit to a hard June 1 date to transition to Phase 2.
"We can't say June 1 now because it will depend on the progress of the virus, it depends on the success of this contact tracing mission, it depends on how many people are cooperating. We will make a decision as we get to that date."
Inslee added, "Bottom line is, we can't tell you the date, it is going to be the right date. It is not going to be too late or it is not going to be too early. It is just at the right time."
Inslee shared his vision of the future scope to expand testing to places of large congregations of people such as long-term care facilities and food processing facilities.
"Ultimately, we want surveillance testing where we test everyone on a broad scale," said Inslee.
Who is considered COVID exposed?
According to Wiesman, anyone who came in contact within 6-ft for less for 10 minutes of a COVID positive person is consider possibly exposed to COVID-19 or defined as a person in "close contact."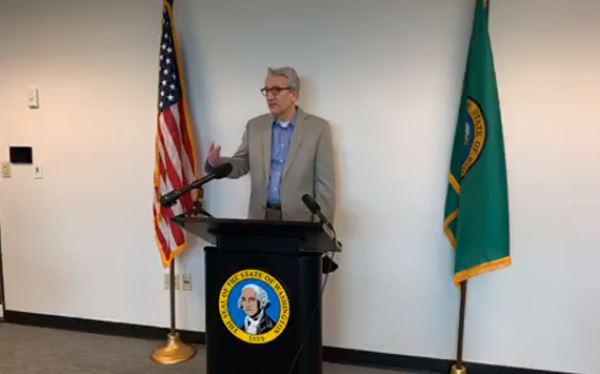 Contact tracing technology
Currently the Department of Health is using electronic tools to capture demographic information of cases and systems to text message those exposed or who are COVID positive about their symptoms.
Google and Apple are working with the Department of Health and the University of Washington to deploy on mobile devices an app to notify users if they were in "close contact" with someone who tested COVID positive, said Wiesman when asked to share the technology available to contact trace.
Wiesman shared that no decision has been made if to use this app, but the benefit is to notify individuals much more quickly. Inslee reinforced Wiesman's statement saying, "this is in the exploratory phase and if this were to move forward it would be voluntary."
National Guard efforts
Members of the national Guard are in "high morale and inspired to do the work," said Inslee. The governor stated he was pleased with the ability to track this virus and the work of local health departments.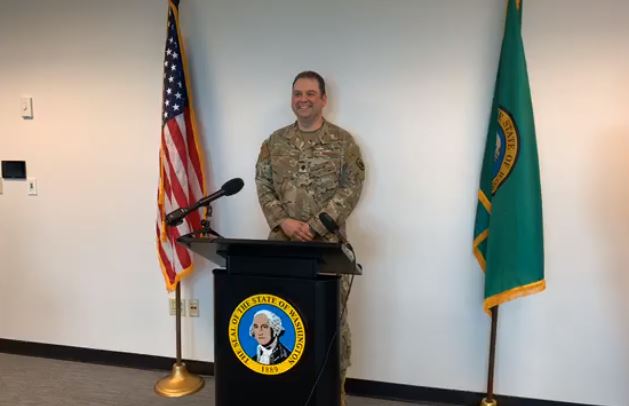 Inslee continued to emphasize the importance of the call center, "The fundamental mission here is to help Washingtonians have the knowledge they need to protect themselves and also protect their friends and neighbors and co-workers they might have had contact with."
According to Wiesman, 1,800 local and state Department of Health employees, National Guardsmen, and members of the Department of Licensing have been trained to perform contact tracing work. To date, roughly 700 National Guardsmen are part of the COVID tracing team.
"We are really thrilled that we have the National Guard stepping up along with the public health, along with the Department of Health staff and the Department of Licensing staff," said Wiesman.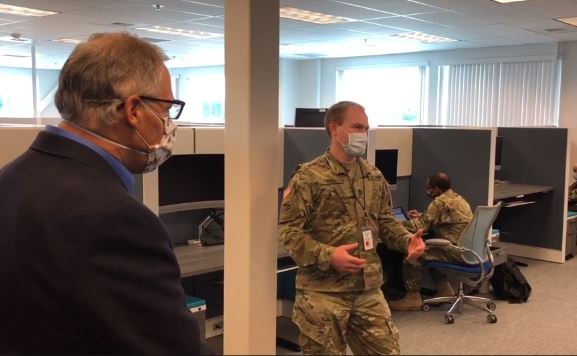 According to Lt. Col. Panush, the National Guard has been contacting COVID positive and exposed individuals to assist with contact tracing.
"This is a great mission for us. The national Guard has a long history of helping out our neighbors in the state of Washington for many many years and this is no different… All the folks upstairs who are making these calls had a great opportunity to learn from the Department of Health under the direct supervision of the Department of Health."
Failure is not an option
In a statement, FEMA acknowledged that President Donald Trump's current order for the federal government to fund National Guard members currently helping states for the coronavirus effort expires on June 24. Inslee hopes the Federal Government would revisit this policy within the upcoming weeks stressing that failure is not an option.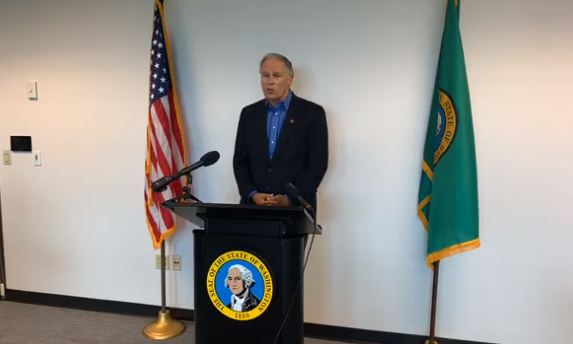 "We have to have success of contact tracing and isolation. It is the only way we will be on top of this virus. So, failure is not an option. If we get a spike, we will have to bring in more National Guardsmen or will have to get more state employees or we will be hiring people from the general public."
Not all local counties are in favor of contact tracing according the Wiesman. He advocated for local elected leaders to support their local health districts so those districts can transition to Phase 2.
Inslee continued, "One way or another, we are going to be on top of this contact tracing thing. It is fundamental to our health."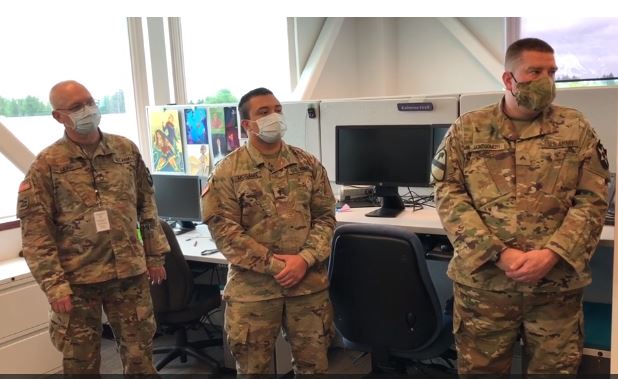 Inslee asked that Washingtonians voluntarily cooperate and provide the names of those you have been in contact with.
"If you receive a call from a person from the contact tracing team, you will be asked to provide the names of those people you have been in contact with…persons contacted will not know the name of the person who provided their name to respect a person's privacy," said Inslee.
"For the mission to succeed, it really takes people to take care of themselves in their homes for 14 days after the test and that is not just the person who is positive but everyone in the household. So your kids, your spouse and everyone else living with you. We all need to stay home for 14 days and this is a challenge sometimes, but it is absolutely necessary to keep people from getting infected because the chance of the infection getting out of the household is extreme."
According to Wiesman, social distancing, wearing masks, washing hands and proper hygiene are preventative measures to contracting the virus.  Wiesman emphasized the ability to identify individuals and test quickly are key to minimizing the rate of COVID infections.
"My main message and takeaway here is that we all have a role in prevention and it starts with each an every one of us as individuals… this is how we are going to get through this together," said Wiesman.
For those individuals who voluntarily quarantine or isolate, Inslee stated he is looking at amending his current order to offer protections so they cannot lose their job. Inslee called on friends and families to also help those in isolation.
"We hope people can help families that need to isolate at home during that period. Friends and neighbors can do their grocery shopping and drop them off, so the family doesn't have to go to the grocery store. That will be very helpful."
Involuntary Isolation or Quarantine
When asked if the Department of Health has the authority to force anyone into quarantine or isolation and under what circumstances to do so Wisemans responded:
"The local health officer really has the authority in their communities. The local health officer does have the authority in certain circumstances if someone isn't going to voluntarily agree to isolate or quarantine and they believe they are a threat to the community, the local health officer can place somebody into isolation or quarantine. It is not used that often and it is a rarely used thing…"
Wiseman also stressed this is why contract tracers need to build rapport and ask possible cases the challenges to staying home. Wiesman shared that the goal of the Department of Health is to always start with voluntary compliance.
Because the authority to involuntarily quarantine or isolate falls under the local health officer, who for Snohomish County is Dr. Christopher Spitters, the Lynnwood Times reached out to the Snohomish County Health District inquiring on the potential consequences for an individual that refuses self-isolation or quarantine.
According to the spokesperson, the decisions on whether to pursue involuntary compliance is done on a case-by-case basis and if an individual's actions threaten the health of the broader community.
"The process generally starts with a discussion to educate them about why it's important to remain at home to self-quarantine or isolate. If they disregard that, there's a verbal warning. After a verbal warning, a Health Officer's Order could be issued compelling them to isolate or quarantine. The last step is to determine if court action is needed to enforce isolation," wrote Heather Thomas, Public & Government Affairs Manager, Snohomish Health District.
Thomas would like residents to know that the vast majority of people are voluntarily following orders to isolate or quarantine and that, to date, the county has not issued a Health Officer's Order nor pursued legal action for involuntary compliance related to COVID-19.