Marysville to undergo several massive construction projects
MARYSVILLE, Wash. – The city of Marysville is undergoing several construction projects to make the city more accessible for people with disabilities.
One of these is to install ADA ramps and rectangular rapid flashing beacons (RRFB) at the intersection of 100th ST NE and 59th, to improve safety for crossing pedestrians.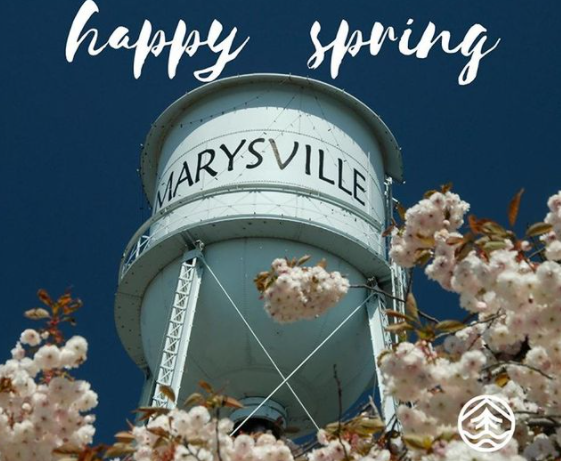 The city warns drivers to expect intermittent traffic delays and potential single-lane closures between 9 a.m. and 3 p.m. near the intersection of 100th Street NE and 59th Drive NE starting May 3. Crews will be installing new ADA ramps and related intersection safety improvements, as part of the Highway Safety Improvement Program, according to a city news release.
Another project to improve accessibility is the state avenue Highway Safety and Improvement (HSIP) project, which will add ADA ramps as part of the signal replacement at 80th Street. Additionally this project will add ADA improvements at the 3rd, 6th, and 76th Street intersections along State Avenue. These ADA ramp improvements are funded by the Federal Highway Administration (FHWA) as part of the American with Disabilities Act (ADA).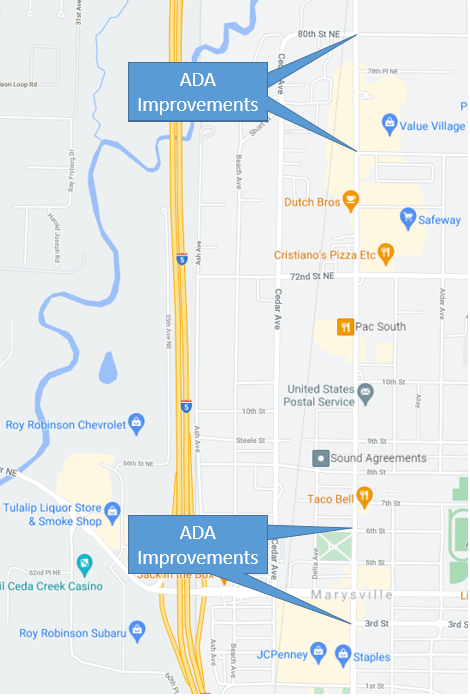 These projects are funded by a grant awarded from FHWA's Highway Safety Improvement Program (HSIP). The funds for this program are administered by WSDOT in partnership with local agencies like the City of Marysville, providing a total of $651,220 in funds. The City Council awarded the project construction contract during the Council meeting on February, 8, 2021, to Colacurcio Brothers, Inc. in the amount of $589,897, according to Senior Project Manager Steven Miller.
Although the construction began during National Autism Awareness month, the timing was completely coincidental, Miller said. The project was originally scheduled for early 2020 but underwent several delays in its process, pushing it back to early May of this year.
Apart from ADA improvements, massive construction projects are underway for the city of Marysville including an extension of the existing HOV lane from Everett to Marysville. The funding for this project was approved in 2015 by the Washington State Legislature in the Connecting Washington Transportation Package, underwent design from 2017-2020, will be advertised in June 2021, construction to being in 2022, and scheduled to completed in 2024.
The City of Marysville had involvement in the early scoping of these improvements with WSDOT, who is the agency responsible for the project, and is funded as part of the State's 2015 Connecting Washington funding package, according to Miller.
The population of Snohomish County increased by over 400,000 residents between 1980 and 2018 and is expected to gain another 200,000 residents by 2035, according to the WSDOT. Because of this growth, the number of vehicles traveling northbound each day are around 65,000, as well as congestion created at the I-5/SR-528 interchange in Marysville, often lead to heavy congestion and long commutes according to WSDOT.