Reorganization at Snohomish City Hall
UPDATE [7:25 PM FEB. 26, 2022]: Added statements from Steve Schuller.
CITY OF SNOHOMISH, Wash., February 26, 2022 – The City of Snohomish is expected to officially announce this upcoming Monday the departure of City Administrator Steve Schuller. Mayor Linda Redmon confirmed with the Lynnwood Times that Heather Thomas, Public & Government Affairs Manager for the Snohomish Health District is expected to fulfill the role.
"Under my authority as Mayor, and as I was elected to do, I am revamping our internal functioning in order to better serve our community," Mayor Redmon wrote in a statement to the Lynnwood Times. "I have chosen to replace Steve Schuller as City Administrator and have made an offer to Heather Thomas, Public and Government Affairs Manager of the Snohomish Health District."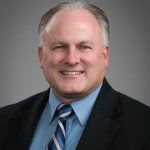 Schuller told the Lynnwood Times that on Thursday, Mayor Redmon thanked him for his service and said he did a "wonderful job and is proud of the work he had done for the city," and that she would like to take the city into a different direction with a focus on communication.
"I have really enjoyed my time at the City of Snohomish," Schuller told the Lynnwood Times in a phone interview. He then shared some of his accomplishments for the city such as the establishment of the City's Transportation Benefit District to provide dedicated funding to maintain street infrastructure, and the restoration of the historic Carnegie Building with state grants.
Over his 13 years with the City of Snohomish, Schuller worked with the Tulalip Tribe to decommission a dam at the Pilchuck River and partnered with the City of Everett to reduce the cost of potable drinking water for the city. Prior to this, the residents spend seven times more per gallon for water than residents in the city of Everett, according to Schuller.
He also implemented a wastewater solution that saved residents tens of millions of dollars and "proud to have kept the sewer rates half of what they would have been and without 30 years of debt."
Schuller ended of interview again thanking the people of Snohomish for their support and allowing him to be of service.
"I am very proud of the people of Snohomish and the work that I did. It is beautiful place," said Schuller."
Schuller began working for the City of Snohomish in 2008 as the Director of Public Works. In 2017, former Mayor John Kartak appointed him as the City's Administrator and Utility General Manager. Prior to his tenure with the City of Snohomish, Schuller was a project manager for an engineering consulting firm and a Co-City Administrator for the City of Duvall. He holds a Civil Engineering degree from the University of Washington and a Bachelor of Arts from Northwest University.
Thomas, a Snohomish High School alumna, has been with the Snohomish Health District for just over seven years. During this time, she has served as the District's Communications & Public Affairs Officer and for the last five-and-a-half years, as its Public & Government Affairs Manager. She holds a Master of Public Administration and a Master of Arts in Communication; and has over 20 years in both the public and private sector.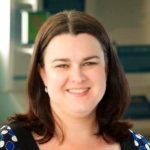 "The opportunity to work for a mayor that I admire and respect, while working with a dedicated workforce and serving a community dear to my heart is a full circle moment for me and my family," Thomas wrote in a statement to the Lynnwood Times.
Thomas is grateful and appreciates the relationships she has developed at the Snohomish Health District.
"It has been a true honor to work for the Snohomish Health District for over seven years. Learning from, watching, and working with this team of public health professionals has been transformational and inspiring."
Mayor Redmon shared why Thomas – skilled in communication, marketing, and project coordination according to her LinkedIn profile – is best suited as the new City Administrator.
"My priorities for how City Hall serves Snohomish are communication and customer service, and I believe Ms. Thomas' background will be of great value in the work ahead," Mayor Redmon shared with the Lynnwood Times.
The change, like any change, doesn't come without some controversy.
Former Snohomish Mayor John Kartak hinted at a "big shakeup at City Hall" in a Facebook post on Friday night. According to the post, the former Mayor criticizes the alleged lack of transparency by Mayor Redmon in the hiring of Thomas.
"Now… just two months in, with no warning to City staff, with no word to our community, with no open application process, with no interviews, and with no public involvement or transparency," wrote Kartak in his Facebook post.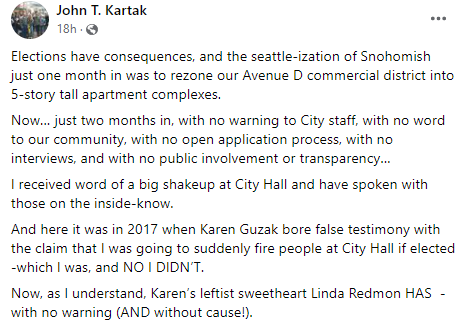 Kartak has not responded to the Lynnwood Times for comment regarding his Facebook post.
The city council is expected to vote on Thomas' appointment March 15.