Biden's big lie: Student loan debt forgiveness deemed illegal
FORT WORTH, TX, November 14, 2022—Federal Judge Mark T. Pittman of the US District Court for the Northern District of Texas, on November 10, declares President Joe Biden's plan to cancel up to $20,000 in student loan debt for eligible borrowers "UNLAWFUL" and orders that the Administration "VACATES the Program."
This latest ruling comes less than a month after the U.S. Court of Appeals for the 8th Circuit granted an administrative stay while it considers the plaintiffs' request for an injunction to put billions of dollars in federal student loan forgiveness on hold until the court issues a final ruling on the case. This lawsuit was filed in a federal court in Missouri last month by state attorneys general from, Arkansas, Kansas, Missouri, Nebraska and South Carolina, and legal representatives from Iowa. 
Judge Pittman's final judgement last week was in response to a lawsuit filed by two student-loan borrowers, Myra Brown and Alexander Taylor, who sued because they didn't qualify for the full relief.
In a statement condemning the court's ruling, U.S. Secretary of Education Miguel Cardona said the Department of Justice has appealed the decision.
"We are disappointed in the decision of the Texas court to block loan relief moving forward," wrote Cardona. "Amidst efforts to block our debt relief program, we are not standing down. The Department of Justice has appealed today's decision on our behalf, and we will continue to keep borrowers informed about our efforts to deliver targeted relief.
Only loans held by the Department of Education are eligible. This includes direct subsidized or unsubsidized loans and graduate or parent PLUS loans. Those borrowers who did not apply to consolidate their student loans with the Department of Education prior to September 29, 2022, will NOT be eligible for loan forgiveness. According to NPR, "the department [of Education] quietly changed" the language to restrict student loan forgiveness impacting up to 4 million borrowers. Private student loans are also ineligible for forgiveness.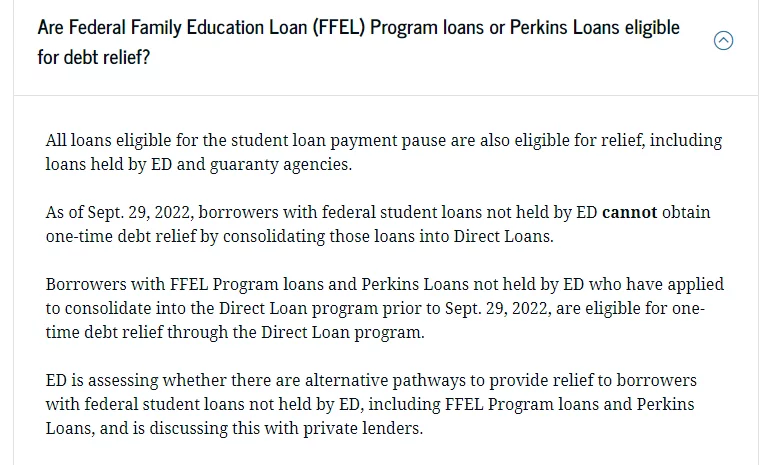 Various legal challenges claim that Congress, and not the Biden administration, has the legal authority to broadly cancel student loan debt. A claim that was reiterated in July of 2021 by Speaker of the House Nancy Pelosi during a presser telling reporters that only an Act of Congress can forgive student loan debt.
"People think that the President of the United States has the power for debt forgiveness, he does not," Speaker Pelosi said. "He can postpone, he can dely, but he does not have that power. That would have to be an Act of Congress."
However, lawyers for the federal government argue that Congress gave the secretary of education the power to discharge debt in a 2003 law known as the HEROES Act.