Lynnwood, how did the city get its name?
by Cheri Stadler Ryan
Lynnwood-Alderwood Manor Heritage Association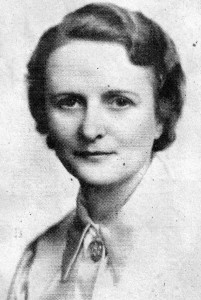 We often have visitors at Heritage Cottage ask how the City of Lynnwood was named? They are correct in assuming it was named after a woman named Lynn, but they want to know who was Lynn? Lynn O'Beirn never lived in Lynnwood but first resided in Seattle and then in Kenmore, Washington. Her husband, Karl O'Beirn, was a real estate developer and owned O'Beirn Real Estate in Seattle.
O'Beirn platted Maple Wood Hills, a residential area near Edmonds and in 1937 platted approximately one square mile area on the west side of Highway 99, west of Edmonds and east of Alderwood Manor (between 196th St. SW and 204th St. SW). This would become the original site of Lynnwood.
O'Beirn's property was platted into 18 parcels using his wife's name and adding "wood" from both the Maple Wood site he had already platted and Alderwood Manor to the east. His first parcel was sold to Clarence Fulton in 1938 for the purpose of establishing a lumber yard. Using the name O'Beirn had given the plat, Fulton named it Lynnwood Lumber Co. A year later Frank Lochow purchased a lot and built Lynnwood Cabinet Shop. Arie Verhey and his sons, James and John, started Lynnwood Feeders Supply and soon after, Rube Grimstad opened Lynnwood Plumbing.
On January 30, 1946, the Daily Herald reported, "the merchants of the Alderwood-Edmonds and Seattle-Everett Crossroads selected Lynnwood as the official name of this fast-growing business district at the meeting of the Central Commercial Club Monday night."
Today the "crossroads" are 196th St. SW and Highway 99. The article continued, "…signs are to be erected on the highways at the borders of the district and telephone and postal problems were discussed and placed in the hands of a committee." When the City of Lynnwood incorporated in 1959, they used the familiar and much used name of the area.
Mrs. O'Beirn belonged to many organizations including the Seattle League of Women Voters where she served as president in 1937, the Seattle Woman's Century Club and the Seattle Y.W.C.A. where she was a director. She died at the age of 85 in 1979, preceded in death by her husband in 1974.
Mrs. O'Beirn was also an artist and the City of Lynnwood is fortunate to own three of her paintings. They are on display in the upstairs museum in the Wickers Building at Heritage Park on Poplar Way in Lynnwood. The Lynnwood-Alderwood Manor Heritage Association and Museum is open on Tuesdays, Thursdays and Saturdays between 11:00 a.m. and 3:00 p.m. 425-775-4694 or info@alderwood.org For more historical information on Lynnwood and the surrounding area please visit our website at www.alderwood.org.