Meadowdale High School staff appreciation surprise
by LUKE PUTVIN
luke.putvin@lynnwoodtimes.com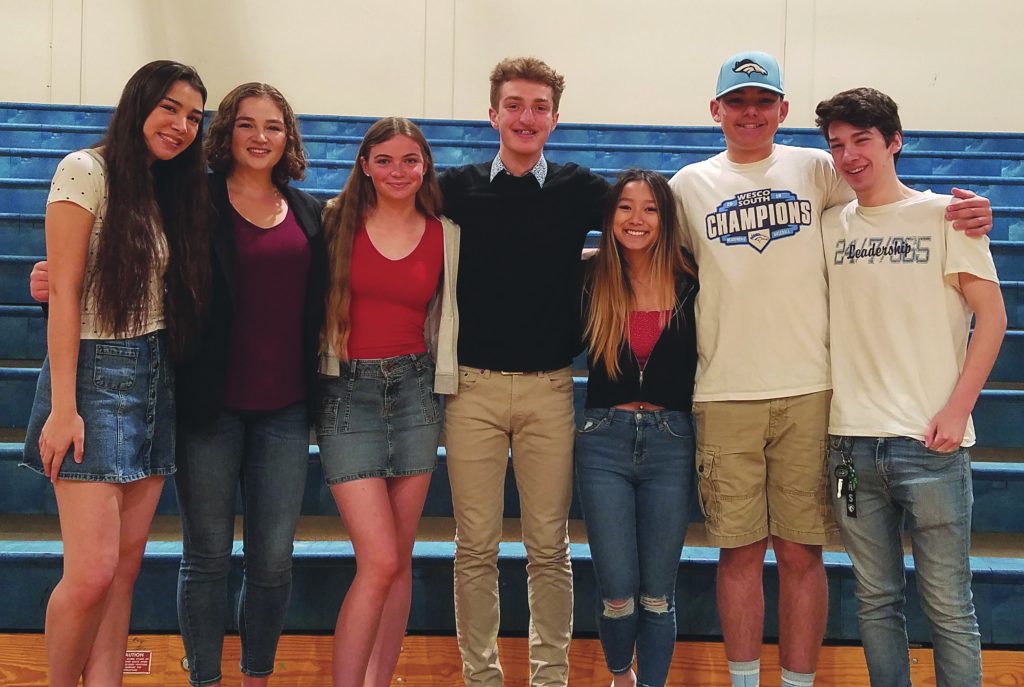 On May 3, the students of Meadowdale High School, over 1,500 in all, made their way to the school gymnasium for their shelter-in-place drill which is mandated by state law. Principal David Shockley thanked the students and proceeded to state the importance of performing the drill. All students would have to gather in the gym for any instance requiring the school to meet in one area because of a nearby chemical issue, plane crash or other problem.
Kaitlyn Robinson and Jordan Wright, two senior students of Meadowdale, then addressed the student body. "We have something else up our sleeves," they told everyone. The two of them, along with some members of the school administration and the executive ASB team, were the only ones in the school to know the full extent of what was to come.
In addition to the shelter-in-place drill, the team decided to close off staff-celebration week with a surprise assembly to celebrate all the staff of the school. Each staff member received a T-shirt and a standing ovation from the students as they entered the gym.
The assembly began with Kaitlyn and Jordan presenting a brief skit from clips of Avengers: Endgame, Game of Thrones and Lion King. Puns of staff member names, all 133, were scattered throughout the skit.
ASB President Max Baxter and Principal Shockley then competed in a pie-eating contest. The twist came when Shockley, instead of eating his pie, pressed it into Baxter's face. The entire gym erupted in laughter.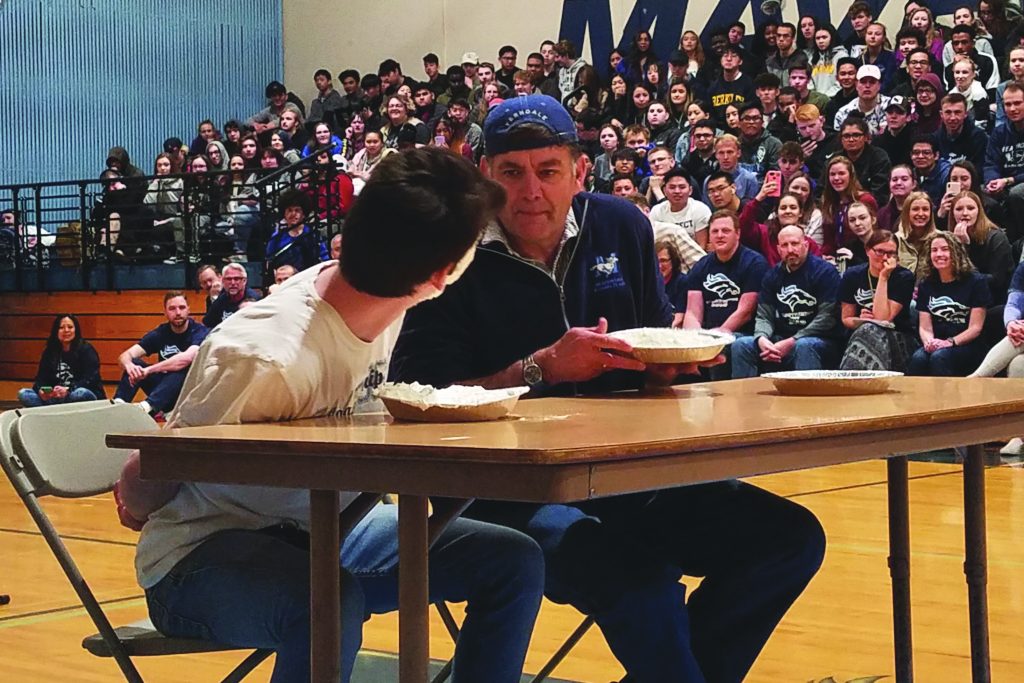 Awards were then presented to staff members. Categories included Best Bad Jokes (which went to Mr. Rauch and Ms. Castor), Most Caffeine Dependent (Ms. Martin and Mr. Cook) and Best Dancers (Ms. Parvin and Ms. Macdonald). Each award came with a small gift. For example, those who won Most Likely to get Lost on a Tangent received a United States map so that they could find their way back on point.
Voted Most Likely to be President: Ms. Thomas, Science teacher.

Voted Catchiest Catch Phrases: Mr. Matty, Social Studies teacher.

Voted Best Dancer: Ms. MacDonald, Mathematics teacher.
Next, a video called Positivity Project, which was edited and produced by fellow students Finn Wendt and Clay Collisson, featured multiple students sharing who was their favorite staff member and why. Comments ranged from being caring and welcoming to being chill and genuine.
The assembly closed with everyone in the room singing choruses of popular songs such as Blue Swede's "Hooked on a Feeling." Two teachers closed the show leading the entire Meadowdale Mavericks community in a rendition of Neil Diamond's "Sweet Caroline."
Michelle Frindell, a senior English teacher at Meadowdale, said, "It was one of the sweetest things the students have ever done for the staff." Frindell further stated that the event came as a complete surprise to her.
When asked for her thoughts of the event, Amy Shieff, a para educator for the English Learners (EL) program said, "I think they did a wonderful job organizing the event. It's the first year doing an event like this and it showed tremendous school spirit. It's a great day to be a Mav!"
ASB President Max Baxter was happy with how the event turned out. He reflected on the pie-eating contest (and Shockley's twist) by saying, "It's always a good time with Shockley, but I'll get him back."
When asked why he supported the students' idea for the event, Shockley said, "We, as a staff, try to create a learning environment where students know that we care about them, not only as students, but as individuals. We want our staff to build positive relationships with all students and that each student can connect with at least one adult on campus."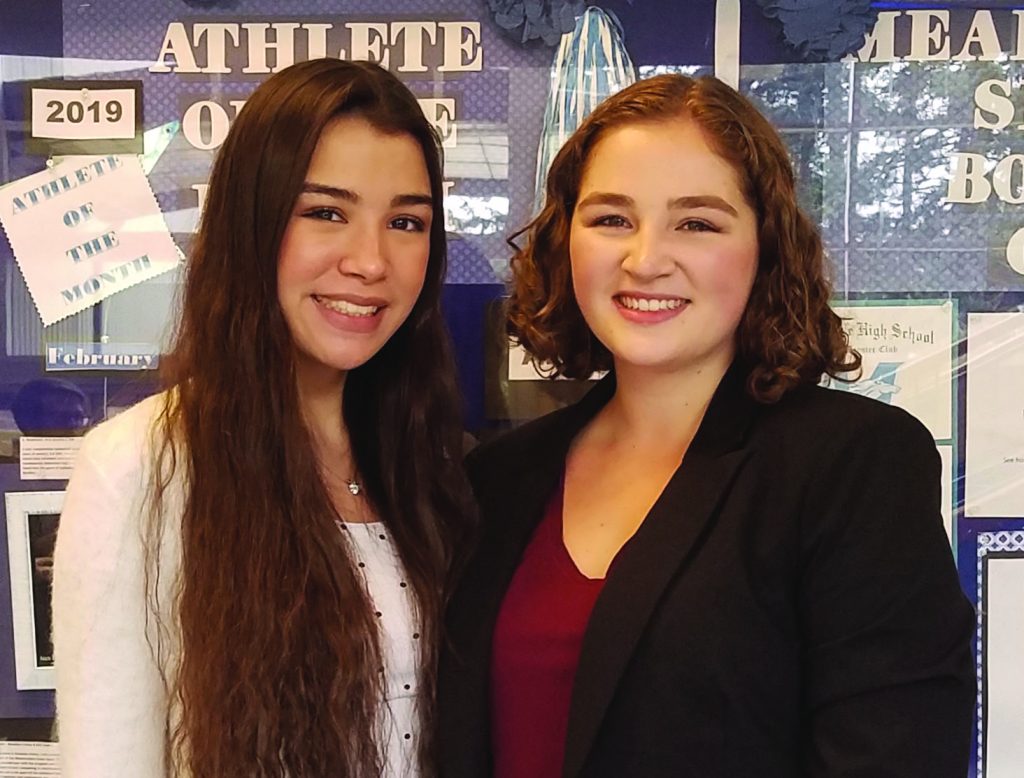 Event co-organizer Jordan Wright specifically commended the student body and their response to the event. "We have a really responsive student body," she said.
She hopes the assembly will bring more positivity and connection between staff and students for the coming years. To Wright, the event was all about creating a shared experience for staff and students and the memories that come along with it. She will be going St. Olaf College in Minnesota this fall to major in Media Studies.
Co-organizer Kaitlyn Robinson thought everything went well. She gave her thanks to the administration that helped the Project Positivity Team pull off this event. Robinson plans to go to Washington State University this fall to major in International Relations.
Wright and Robinson got the idea for this project in their ASB Leadership class. Beth Marriot, Athletic Director and ASB Leadership Team Advisor, said she is both relieved and full of pride. "I am very proud our efforts were well executed. I was pleased how well the students switched gears from the shelter-in-place drill to the assembly. I am proud of them."
Both Wright and Principal Shockley are committed to making this a Meadowdale tradition, stating that ASB President Elect Luke Hunnewell will be doing a similar event next year.
When asked if the outcome was a success, Principal Shockley said, "The feedback from students, parents and staff has been overwhelmingly positive! The staff were moved by the welcome they received from the students. The assembly was a gift from the students to the staff, who give so much to them every day!"