School Board votes 3-2 to reduce workforce
by MAX ERIKSON
max.erikson@lynnwoodtimes.com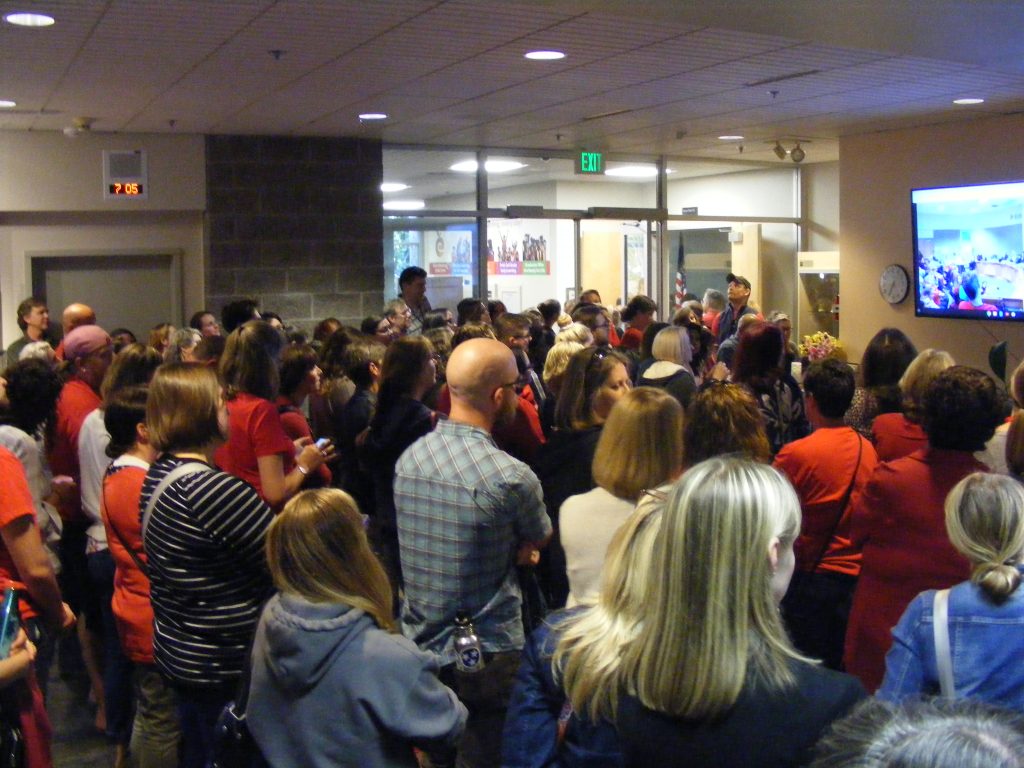 The Edmonds School Board was faced with a difficult decision at the May 15 board meeting, voting 3-2 to eliminate 25 teaching positions for the 2019-2020 school year due to a $17.7 million budget shortfall.
Those board members voting for the motion were Ann McMurray, Diana White, and Gary Noble. Board Members Carin Chase and Deborah Kilgore voted against.
In addition to the 25 teaching positions, eight elementary assistant principal positions were cut as well as two technology coaches; numerous other positions will remain vacant.
Teachers, students, parents, and other district employees packed the board meeting, giving three hours of public testimony against the position cuts. So many people attended the meeting, two overflow rooms were filled to capacity, where people watched the meeting through a video feed.
Edmonds School District is the only district in Snohomish County facing such a large budget shortfall partly due to the increase in salaries for district teachers negotiated from last year. A new statewide health insurance program for educators will take effect in 2020 adding even more costs. The district also blamed a dwindling district savings account and recent changes to the state education funding model.
Part of that change in educational funding comes from the fallout of the McCleary decision that put caps on voter-approved district school levies. The budget shortfall from reduced levies was supposed to be offset by state funding from higher property taxes.
The state reversed its decision on levy caps this year after a backlash from school districts, but enough revenue will not be generated in time for the start of the 2019-2020 school year. The district says levy reductions from the last calendar year are now playing a role in the $17.7 million deficit.
The initial proposal by the district was to eliminate up to 45 teaching positions in what is called the Reduced Educational Plan. This plan has listings of all positions and department spending that were being considered for cuts to handle the financial deficit.
The board postponed fully implementing all the cuts that were proposed and will talk about that in the coming months for other potential cutbacks. The board wants to possibly cut $2.5 million from the materials, supplies and operations budget (MSOC) but will consider that at a later date.
In a statement on the district website superintendent Dr. Kathy McDuffy wrote,"These are certainly trying times, but together we will find a way forward."
More than 80 percent of the money in the district budget is for teacher's salaries. The board says that it is hard to find other places to cut and save money when so much of the budget is earmarked toward paying employees.
The next school board meeting is scheduled for June 11 from 6:30 p.m.-8:00 p.m. at the Educational Services Center located at 20420 68th Ave. West.