Eggs-plore Artist Feature: Dave Bloomfield
By Luke Putvin luke.putvin@lynnwoodtimes.com
"Art is super integral in my life. I probably don't have an exactly healthy 'art and life balance,'" Eggs-plore artist Dave Bloomfield said.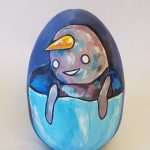 Bloomfield has been interested in art since he was a child. "All the kids in my neighborhood would get together and draw sometimes," he began, "I just kept going with it."
Drawing became a habit and Bloomfield said that it got him all through school. "It was a great addiction to have. I still draw every day, and I love it more than ever."
Outside of art, Bloomfield attends many comedy shows with his girlfriend, and he listens to podcasts frequently, mostly comedy. "I hang out with friends, watch as many sunsets as possible, take a lot of walks, dream, drink coffee, and spend a lot of time petting our dog, Crosby," he said.
In trying to decide what to do for his egg, Bloomfield brainstormed a way to make it more permanent; he wanted the material to last. His girlfriend suggested using concrete. His finished result was "Hatched Burrito Unicorn."
"I'd never used concrete to create with. It was a great experiment to play with, and I'm really happy with the end result," he said.
His advice for artists is to make what they love. "Art is subjective, some people will like or love your work, others will dislike or even hate what you do. It's important that you love what you do, ultimately it is for you," Bloomfield said. "Creating is its own reward."
Bloomfield also emphasized the importance of integrating art in communities, and he praised projects like Eggs-plore for doing this. "Art, especially visual art, shouldn't just be contained in museums and galleries," Bloomfield said. "It's 2019. Art is everywhere."