State Representatives shared 2019 Legislative accomplishments at 32nd LD Town Hall
By LUKE PUTVIN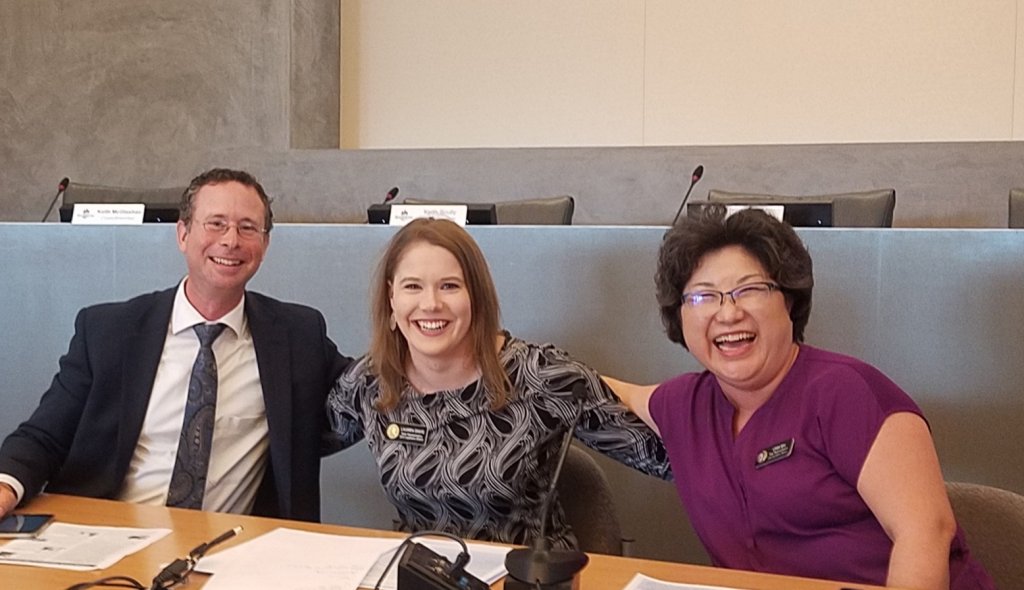 Residents of Lynnwood and Shoreline gathered at Shoreline City Hall on Saturday, June 29 to ask Senator Jesse Salomon and Representatives Cindy Ryu, Position 1, and Lauren Davis, Position 2, pressing questions regarding the district. The town hall was moderated by Wally Webster.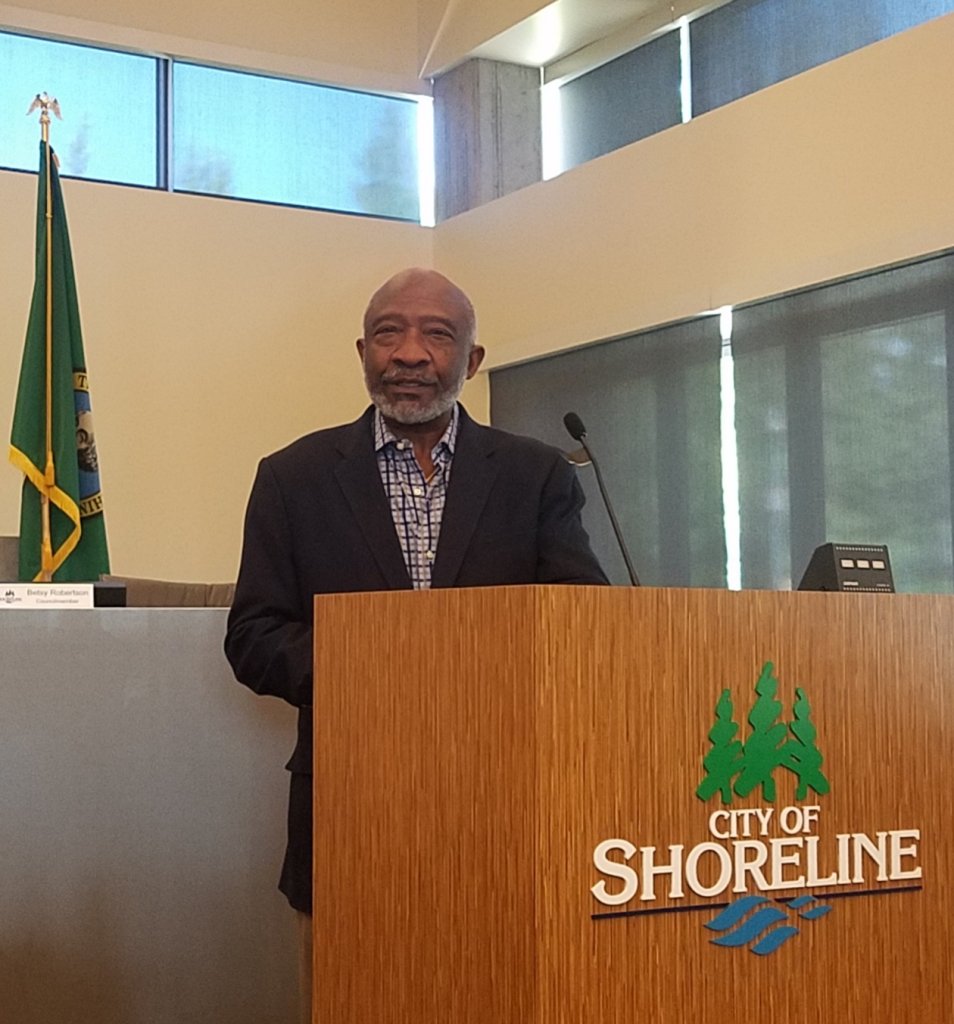 "The first home I purchased was in Lynnwood, so the city is near and dear to my heart," Ryu told the Lynnwood Times. "Lynnwood is ripe for redevelopment, and it is the perfect time to develop with the light rail coming."
Representative Ryu went on to say, "One of Lynnwood's big benefits is its location next to I-5 and I-405." She also stressed the need to maintain and improve the infrastructure of the city which included the water system, power and road improvements as key to sustaining Lynnwood's economic growth.
Representative Ryu chairs the Housing, Community Development & Veterans Committee. She also serves on Appropriations and Consumer Protection & Business committees, is a Washington Tourism Marketing Authority Board Member, and Pacific Northwest Economic Region Delegate Council Alternate.
Representative Ryu shared with residents the housing and housing affordability accomplishments this legislative session. She spoke on manufactured homes being allowed to upgrade in order to expand and upgrade communities as well as investing in homeownership. She mentioned that $175 million has been put toward affordable housing in the next two years and called the previous legislative session "one of the most successful sessions in memory."
Senator Salomon named the three most pressing issues to the district as education, equitable property taxes and climate change.
Senator Salomon serves as the vice-chair for both the Agriculture, Water, Natural Resources & Parks and Local Government committees. She also serves on the Early Learning & K-12 Education and Law & Justice committee.
Regarding education, Senator Salomon spoke on the importance of increasing the levy lid amount and mentioned that unfortunately we must find solutions to the special education funding gap. "Right now, it's up to local funding," he said. Possible solutions discussed were equitable property taxes and capital gains taxes for those with property values above $500k.
Senator Salomon expressed we are witnessing the effects of climate change by the wildfires, smoke and poor air quality of past summers. "This is clearly the effect of climate change, and we should be scared for the future."
With the current legislative session over, Senator Salomon is working on getting "lots of ideas teed up" for the next session. "I'll be talking with supporters, doing a lot of legwork, learning and touring industries, schools, etc.," he said. "You never know everything."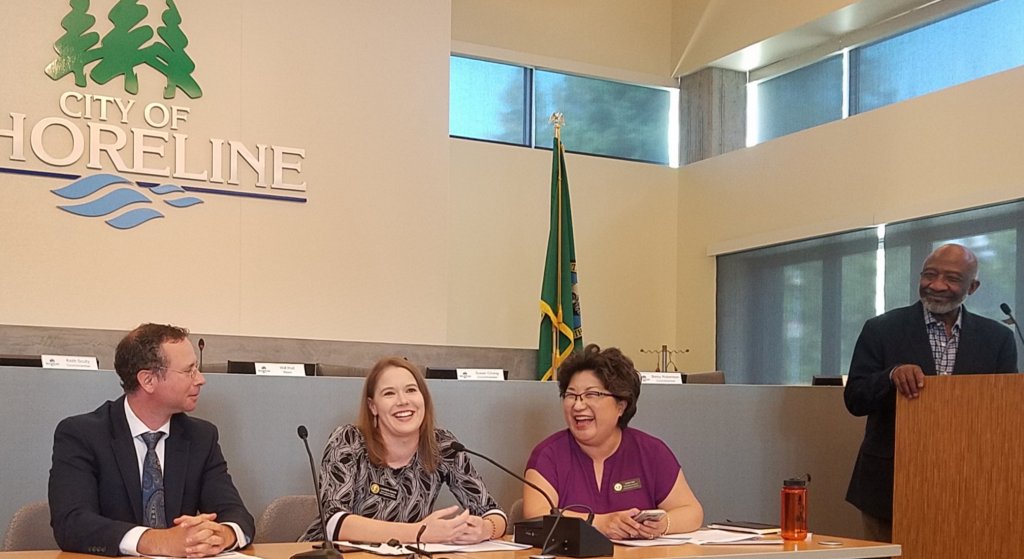 Representative Davis spoke to the Lynnwood Times about the drug crisis among homeless populations. She advocated for field treatment on demand for those who need it. "Most people [in the homeless community] want help. We need to focus on outreach, relationship building and trust by supplying things like food and water."
"We also need different types of housing," Representative Davis continued. "Recovery housing, medication-assisted treatment and low-barrier housing are some. This is what leads toward people getting jobs."
"There needs to be right-sized, person-centered assistance," she said. "People are unique; trauma is unique. It's complicated, and it will require work."
Representative Davis is the vice-chair of the Public Safety committee and also serves on the Capital Budget, Health Care & Wellness, and Rules committees.
Questions from the audience included more legislation to address cyberbullying, the right of public employees to strike, services for seniors, and thoughts on private prisons.
"Antiquated laws haven't kept up with technology," said Representative Davis when addressing cyberbullying. She went on to refer to past cases of minors getting felonies for "sexting" since it was classified as distribution of child pornography. "We need to continue looking at the laws and updating them."
Regarding the support of the right of public employees to strike, Representative Ryu said, "Yes, in principle," and Representative Davis said, "Yes, I am pro-labor." Senator Salomon was the dissenting voice saying that there are other ways that employees can negotiate salaries and benefits. "I think the status quo is about right," he said.
As for commitment to seniors, Representative Ryu began with saying, "I am Christian, but I was taught Confucianism. In Confucianism, it is important to respect elders and parents. By giving back, this creates a model of sustainability for those who need extra help and attention." She went on to say that, though Washington is "ahead of the game" in elder care, there are still issues.
As for state funded private prisons, Senator Salomon expressed is "visceral disgust toward for-profit prisons." He added, "They're the closest thing we have to slavery in the present day."
"We're working on outlawing private prisons," said Representative Davis. "We proposed to pass a bill, but it didn't get through the legislature. It will still be alive for next session."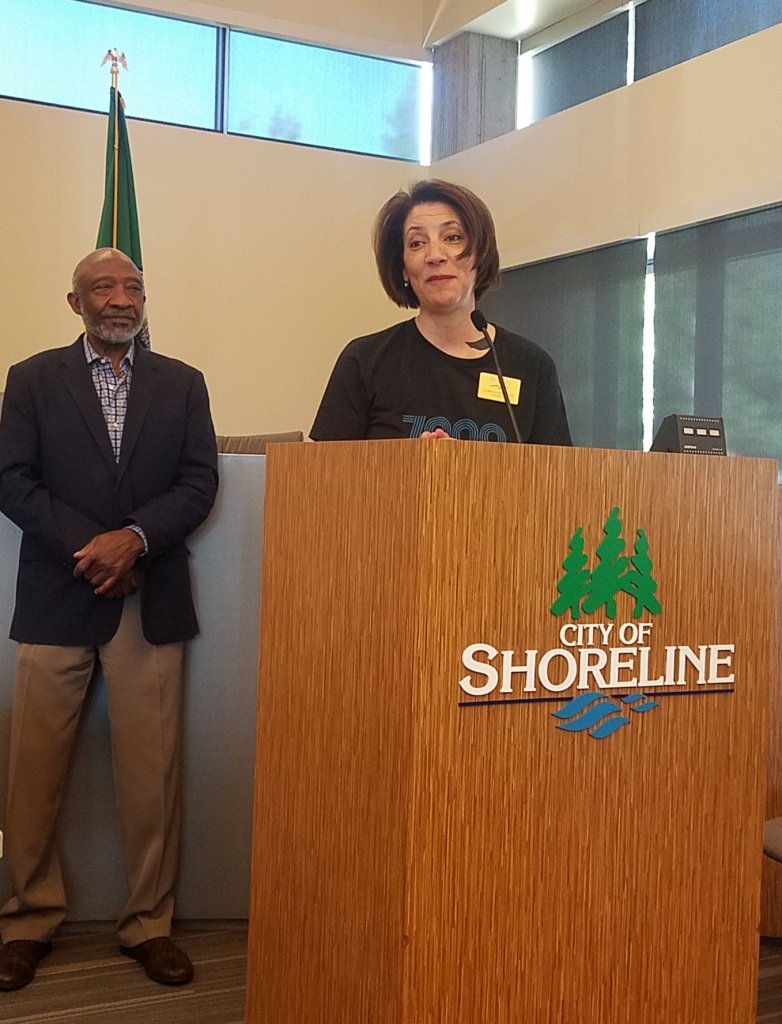 Listed below are websites to learn more or to contact Representative Ryu, Representative Davis or Senator Salomon.