Mayor endorses Lynnwood Forward candidates for city council run
By LUKE PUTVIN
luke.putvin@lynnwoodtimes.com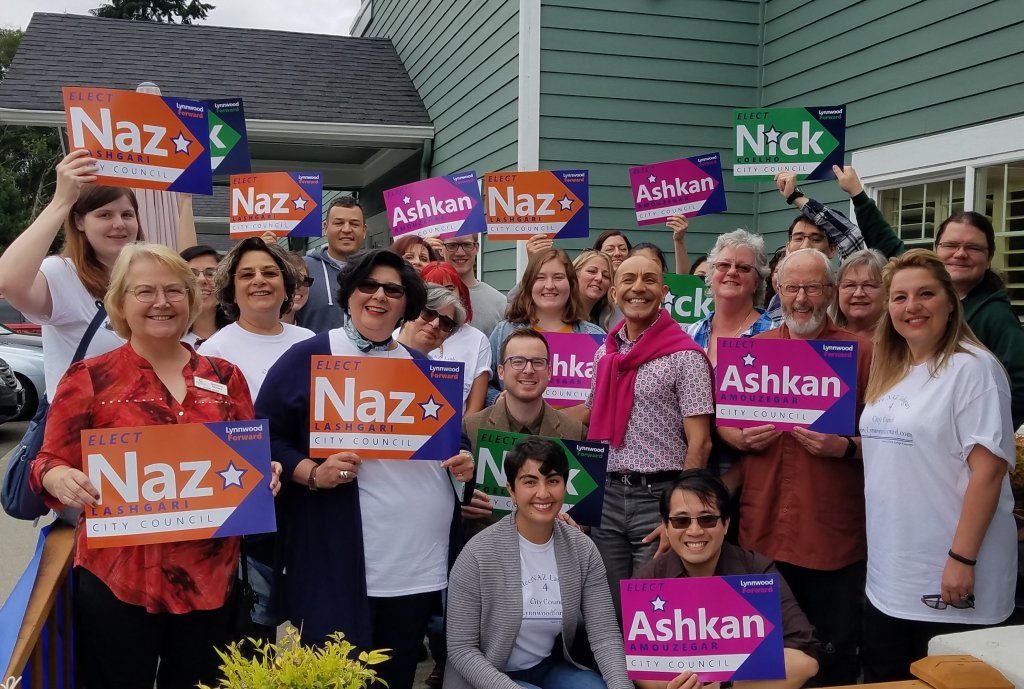 Amidst the candidates running for city council this election, three have decided to join together and form a slate called Lynnwood Forward. Candidates Ashkan Amouzegar and Naz Lashgari, are running in the primary for position four, along with Nick Coelho, who is running in the general for position six.
"When we all at least have the same goal in mind, even if our specific policy ideas don't match, we're all heading in the same direction… That's kind of important on a small council setting where it's a collaborative environment… We're in favor of making sure the council has a nice, balanced slate of people in charge who can work together who have different perspectives."
The common thread that the group shares is their support of Mayor Nicola Smith's strategic plan. Each of the three candidates has been endorsed by Mayor Smith.
"[The slate] just organically happened," said Amouzegar. "Nick is the one who came up with the 'brand' of Lynnwood Forward." Amouzegar went on to explain how Coelho started by suggesting the candidates share a website and said, "It just grew into a brand, a message."

The three continued to voice their approval of the mayor's strategic plan. "The strategic plan is the platform," said Lashgari. "I want to be proactive in managing the growth that is coming to our city. I don't want to see what happened in Seattle happen here in Lynnwood."
Some may find it unusual for two candidates on the same slate to run against one another. Lashgari said, "Our personal experiences in life and our professional work distinguishes us." Both Amouzegar and Lashgari felt they had a good chance to earn the position by going against Shirley Sutton. Sutton currently holds Council Position 4, but she switched later to run for Council Position 7 against fellow councilwoman Shannon Sessions. Amouzegar and Lashgari are now among six running for Position 4.
When asked her thoughts on endorsing two candidates running for the same position, Mayor Smith said, "If we can get two candidates to the general that would be fabulous. They are both equally qualified."
The Lynnwood Times reached out to opponents to ask their thoughts on Lynnwood Forward.
"It is not a new concept to team together in order to promote an agenda," said city council candidate Jim Smith. "Free association is a key freedom in our society. However, I value independent thinkers and would encourage candidates to consider various viewpoints, and to be open to the ideas of others."
When asked how the voters can be assured that the Lynnwood Forward candidates will represent the voices of all residents, including those who may not support the mayor's strategic plan, Lashgari said, "We want to be the voice for all the communities. It's not just about moving Mayor Smith's vision forward, but what is the best vision for the City of Lynnwood."
Although it is not unusual for a sitting mayor to endorse city council candidates, the Lynnwood Times reached out to Mayor Smith regarding concerns with a possible separation of powers conflict if the candidates she publicly endorsed are elected. Mayor Smith's said, "I have everything to gain by putting together and endorsing a slate of candidates who are going to fill in the skill gap of the city council. I looked at people's skills and talents and thought about enhancing and filling in skill gaps and representing communities not represented on the council currently."
For more information on Lynnwood Forward and its candidates, go to lynnwoodforward.com.