Puzzle Toys: The best thing you can do for you and your dog
Thank you to Rachel Lane of Leash & Learn for this excellent article on how to enrich the quality of our dogs' lives.
What are puzzle toys?
Biologically speaking, puzzle toys give your dog the opportunity to perform breed- and species-appropriate naturalistic behaviors.
Practically speaking, puzzle toys are like free training! Get your dog some extra exercise as they eat. All you have to do is fill up the toy, give it to your dog and like magic, your dog gets mental enrichment and physical stimulation without you having to do anything. Just sit back, relax and watch your dog get to work. The toys are great for days when your dog has not had enough activity. The trick is to give them to your dog before he gets himself into trouble.
What are the benefits of puzzle toys?
Give your dog an outlet for his energy.
Keep your dog out of trouble.
Help your dog develop problem solving skills.
Your dog stays busy without you having to entertain him.
They are fun for your dog!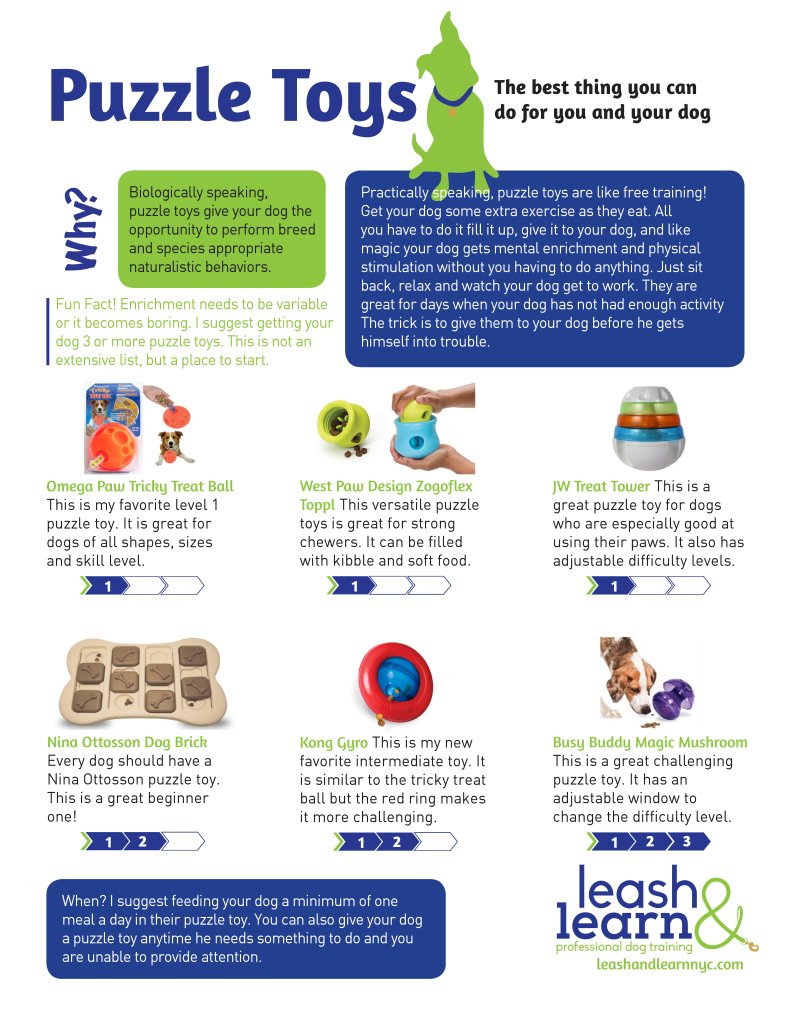 When do I use puzzle toys?
I suggest feeding your dog a minimum of one meal a day in his puzzle toy. You can also give your dog a puzzle toy anytime he needs something to do and you are unable to provide attention.
Which puzzle toys do I get my dog?
Get your dog whichever puzzle toys you think he will enjoy! I recommend most people purchase two or three (or more!) puzzle toys for their dogs. If you give your dog the same puzzle toy all the time it loses its novelty, and this causes your dog to lose interest in the toy. I would also suggest that you get puzzle toys that require different skills.
How do I use puzzle toys?
Most puzzle toys are relatively easy to use. You fill them up with kibble, treats, or soft food, and give them to your dog. When you first introduce the puzzle toys, it is a good idea to make them a little easier and assist your dog in finding the food. Make their first experience fun and they will want to play over and over. Like all dog toys, you should supervise your dog while he is playing with the puzzle toys, and check for broken pieces and other normal wear and tear.
In the following post, I list different categories based on which skills most dogs use to get the food out of the toys. But every dog is different, so your dog might solve them completely different.
https://www.leashandlearnnyc.com/blog/puzzle-toys-the-best-thing-you-can-do-for-you-and-your-dog