Hero's Café: Bringing veterans together
By LUKE PUTVIN
One Tuesday each month, veterans of all ages attend the Hero's Café at Verdant Health. On August 27, many gathered for the ceremony to honor Richard Clark, who passed away on August 9.
"He was a pillar of the veteran's community in Lynnwood," said Gary Walderman, Director of the Hero's Café. "He was also a major figure in the Hero's Café and the Northwest Veteran's Museum. Today, we had to say goodbye, but we'll meet up again one day. It's not easy to say goodbye to a friend like that… We all said goodbye to him, honored him and saluted him for the last time."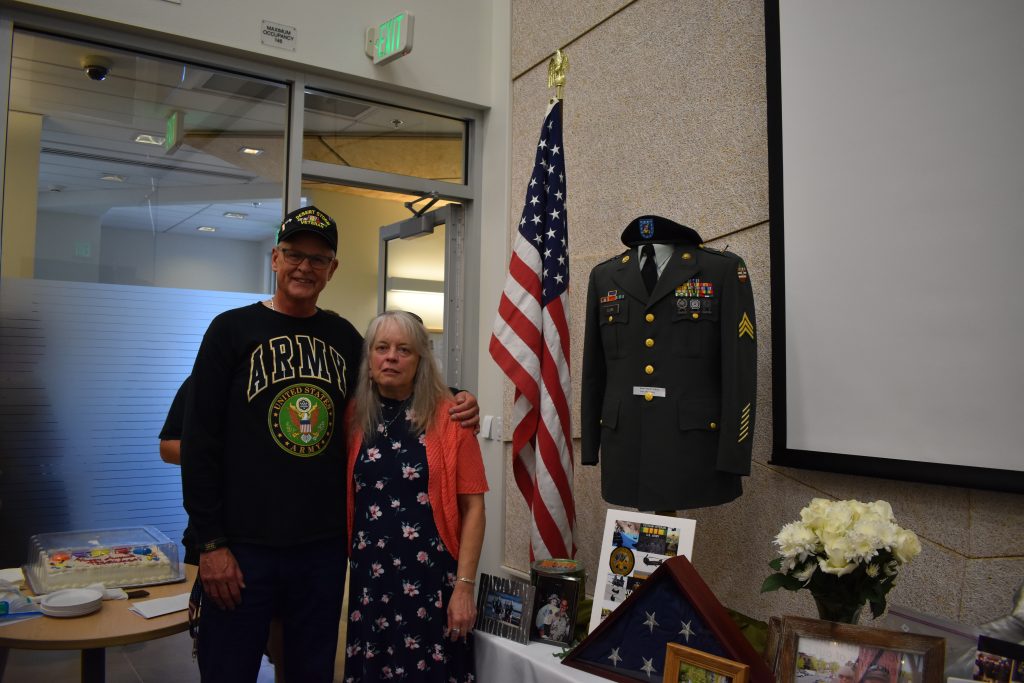 Walderman, an Air Force Veteran of Desert Storm, donned Army garb to honor Clark that day.
The idea for the Lynnwood Hero's Café came to Walderman from a friend visiting from Wisconsin in August 2016 who came to the VFW Post 1040 meeting with Walderman. He asked if Walderman had ever heard of the Hero's Café and began to tell him about it.
After bringing the idea to Mayor Nicola Smith and the City Council, Walderman eventually held the first Lynnwood Hero's Café on January 31, 2017.
"It keeps growing," Walderman said. "Currently, we get about 150 people that attend."
"We bring veterans together so they can talk," Walderman went on to say. "There's no agenda, no cost and the food is donated. We are supported by all the veteran organizations in the area, all the VFWs, American Legions and more."
Though the group meets just one day a month, what comes out of the meeting is even more outreach. People who attend let others know about the event and get other people to attend.
"We have positive interactions here. We want people to feel this is a safe zone. There is no judgment," Walderman said. "If you went to war, you went to war; if you didn't, you didn't. There's no priority of veterans."
At the Hero's Café meetings, there are usually four or five veteran benefits counselors from Snohomish County Disabled American Veterans Chapter 13. They work with people who need help. The Hero's Café also helps veterans who have only recently moved off the street into an apartment.
"When homeless veterans first get into an apartment, what do they have? Nothing," said Walderman. "We'll make a phone call or send out an email, and beds start showing up as well as couches, China hutches, tables, chairs, nightstands, you name it. Now all of the sudden, this person has a furnished apartment that didn't cost them anything because someone was generous enough to help."
Walderman and the team behind the Hero's Café also learned that there were many veterans in local retirement centers that couldn't make it to Verdant Health because of disabilities, so they started going to local retirement centers in Lynnwood, Edmonds and Mill Creek. They will meet up once a month.
"Some of the veterans didn't get their medals when they got out of the service, so we would have medal presentations and ceremonies," Walderman said. "We have to honor everyone's service, whether it's a 19-year-old that came back from Iraq or a 70, 80, 90-year-old, a spouse, a widow, it doesn't matter. We look to honor them; everyone has their own little piece of this thing."
Brian Seguin is an Army veteran who was at the meeting offering information for Honor Flight, a non-profit that transports veterans to Washington DC to visit memorials dedicated to honor the service of themselves and their friends.
"The oldest veteran we've taken was 100," Seguin said. "You really learn a lot of oral history, and this is just one way of thanking veterans."
To learn more about Honor Flight, visit www.honorflight.org.
The next Hero's Café will be on September 24 from 9 AM to 1 PM at Verdant Health. For more information, visit www.verdanthealth.org/events/event/heros-cafe/.