Excitement and engagement abound at Lynnwood's Fair on 44th
by LUKE PUTVIN
Thousands of people gathered for Lynnwood's Fair on 44th on September 7. The fair started five years ago in a small area at the Fire Station, but grew to encompass 188th to 194th streets with 81 booths, not including city-run booths.
"Fair on 44th is a way for us to bring our community members together and focus on health, safety and community service," said Julie Moore, Public Affairs Officer for the City of Lynnwood. "It's not about selling things, it's really just learning about what services are available for people in the community."
Mayor Nicola Smith was very pleased with the event. "This looks like the largest attendance for the fair."
Among the large number of booths, a few included Sound Transit, Community Transit, the Lynnwood City Council and Domestic Violence Services. Additionally, the Snohomish County PUD gave a safety demonstration.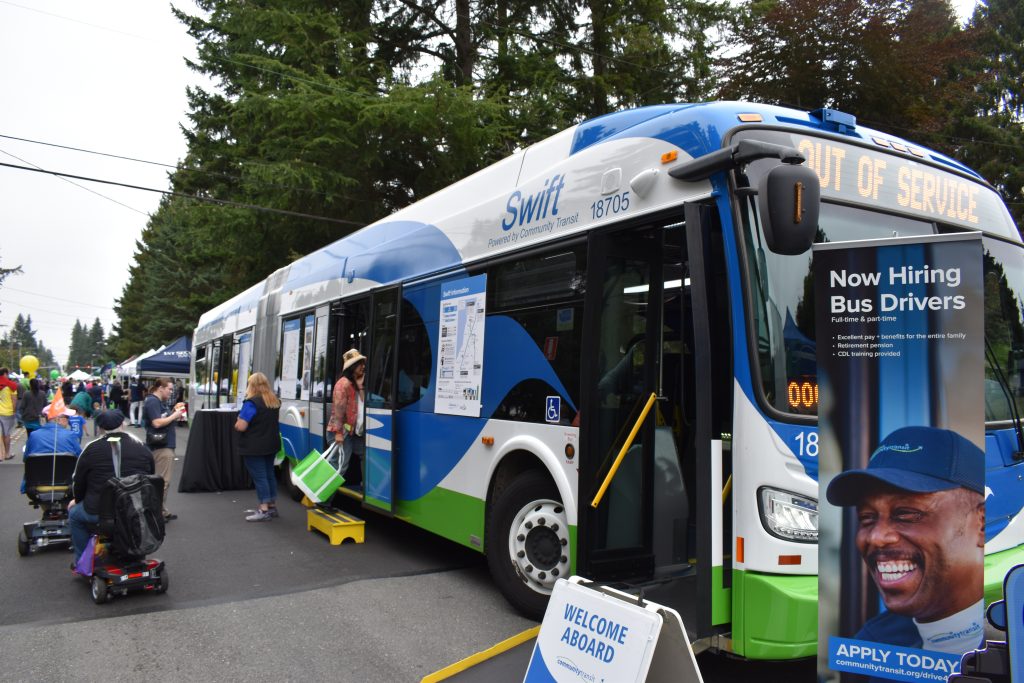 "We're here to talk to the people of Lynnwood and answer questions," said Kurt Workman, Community Outreach Specialist for Lynnwood and Mukilteo of Sound Transit. "There's a lot of excitement around the Light Rail project here in Lynnwood, and people are always curious, so all day long, we'll get a pretty steady stream of people coming to talk to us about the project. We're happy to share information and answer questions… 2024 seems a long way out, but it's just around the corner."
Melissa Cauley, Grants Program Manager for Community Transit, informed fairgoers about the Swift Bus Lines, specifically the upcoming Orange line that will serve Lynnwood and go to Lynnwood Transit Center.
"They're only building 1900 parking spots along with the Link service," Cauley said. "They're going to carry 35,000 people every day, so everyone else is going to have to get there a different way than driving."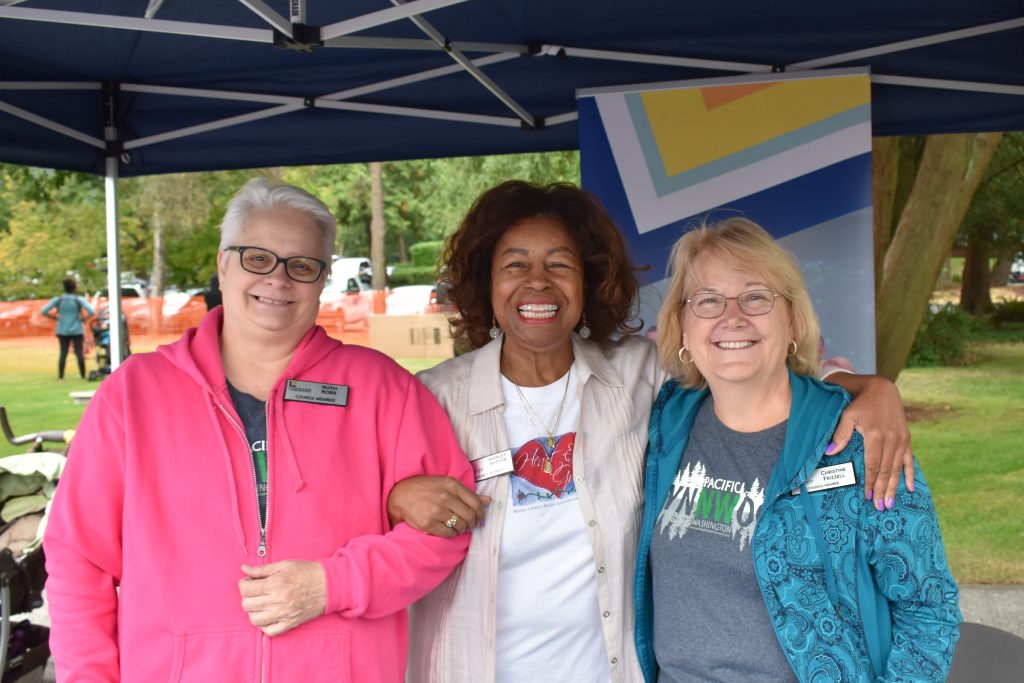 Among the several Lynnwood City Councilmembers in attendance was Shirley Sutton, who commented on the Fair on 44th.
"The fair brings people we represent to us, and we can go to them," Sutton said. "It's wonderful that this event can bring neighbors who may not even speak to each other to a place where they do speak to each other. Families are here, all family, and that includes four-legged family members."
Sutton hoped everyone walked away from the fair simply having a good time. "I hope everyone met somebody new who they wouldn't have met otherwise, and I hope everyone learned about something here. Education is important, and this is one way to get educated."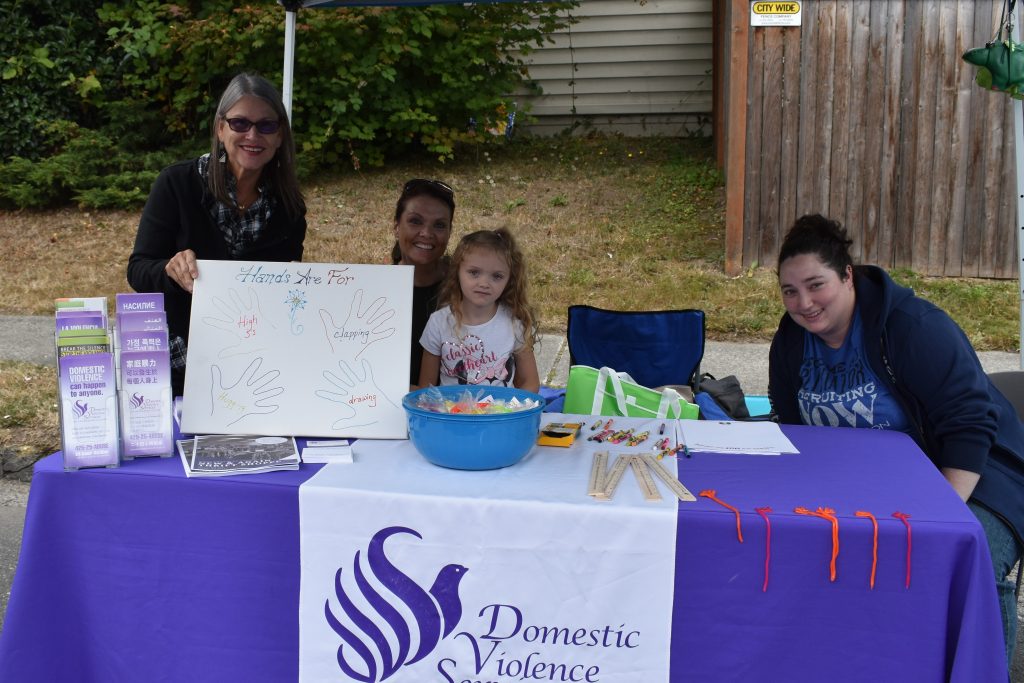 Terry Burton, an Outreach Volunteer for Domestic Violence Services of Snohomish County, educated attendees on the services they have to offer.
"We're here spreading the word," Burton said. "We're here to help people that are in need, and that means men, women and children. We hope they feel like they have a resource and know of a place to go if they need help." Burton and the rest of the people at the booth were handing out cards, brochures and fliers that showed different services and ways to get in contact. For more information about Domestic Violence Services, visit www.dvs-snoco.org.
Workers for the Snohomish County PUD gave a safety presentation informing people about the dangers of fallen power lines.
"We want people to have a better understanding of how dangerous downed power lines can be," Jake Morgan, Journeyman Lineman for the Snohomish County PUD said. "We have had situations where people have tried helping us out in advance by pushing power lines off the road. We have been very fortunate not to have anybody really get injured from that, but the potential is real."
Morgan advised the public to stay 30 feet away from downed power lines and to call the PUD. There are people on call 24 hours a day, seven days a week who have trucks and will come make the situation safe.
Among all the safety and outreach, the Fair on 44th also provided a sense of togetherness for the residents of Lynnwood.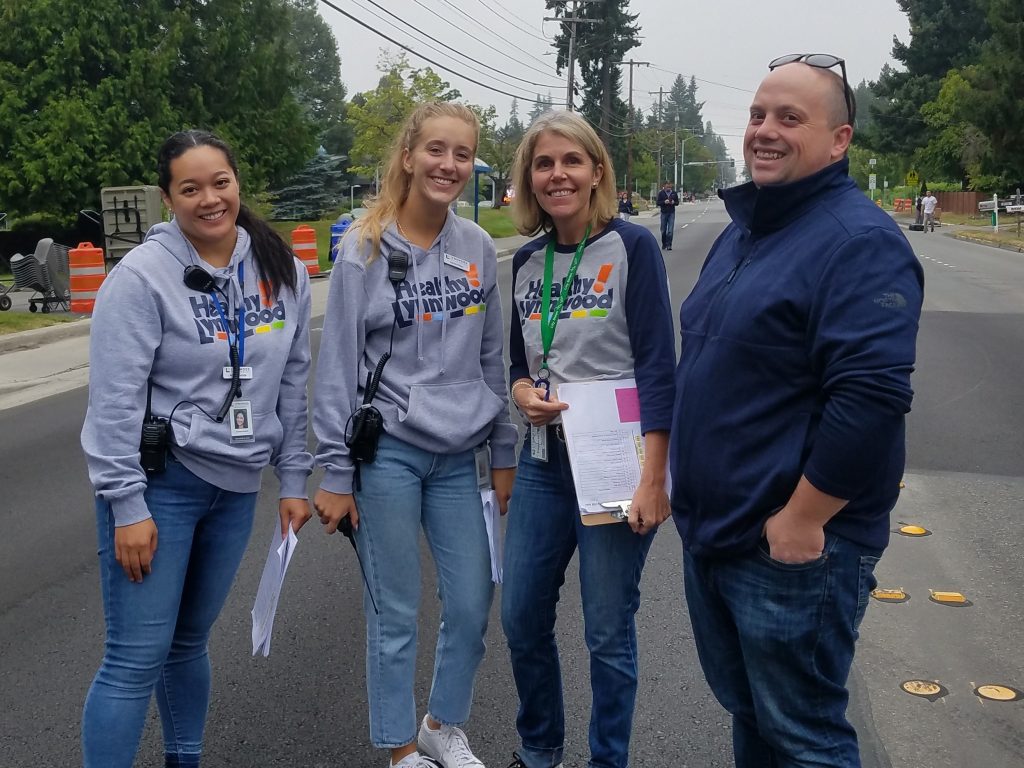 Kelly, who has been a Lynnwood resident on and off for 34 years, was at the event with her family, including her children. "I love the sense of community this all brings," she said. "It's fun, and you get the feeling you're safe." To keep up to date on community events like the Fair on 44th, visit the City of Lynnwood's website at www.lynnwoodwa.gov.