DIY Butter: Skip the Store-Bought Bricks and Do It Yourself!
By Amy Donovan
Butter may be one of the simplest things you can make with an electric stand mixer because it requires only two ingredients: cream and salt. Once you taste this fresh creamy richness spread over toast, you might never choose to go back to those wrapped bricks from the refrigerated dairy aisle because there is just nothing quite as delicious as home-made.
Ingredients:
1 pint (2 cups) of heavy whipping cream
½ tablespoon of salt (optional)
I have been making my own butter for years and I've tried many brands of whipping cream. I have found that the cream from Twin Brook Creamery, based in Lynden, WA, yields the best-tasting butter by a long shot. It's pricier, but it may be found at Whole Foods and the cost is offset by the credit you receive (both financially and karmically) by returning the empty bottle to the store. Just don't forget to include the cap!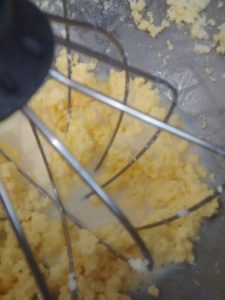 Pour the cream into the mixing bowl and beat it on high speed, pausing every so often to scrape the sides of the bowl with a spatula. See it change almost magically before your eyes! The cream will first whip up into airy peaks. Then it'll gradually become something that looks sort of yellow and lumpy like scrambled eggs—that's when you know you're close!
Keep whipping it until the fat from the cream clumps together (that's your butter) and separates from a white liquid (that's your buttermilk). Pour off the buttermilk and set it aside in the refrigerator another purpose (I use it in pancake batter). Repeat this a couple times, pouring off the buttermilk, until no more liquid is coming off. Then add the salt, if you want your butter salted, and mix it on a low speed to combine. That's it, folks! I can't believe it's butter!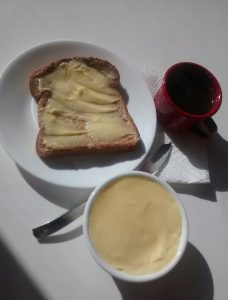 This recipe yields about one cup, or two sticks' worth, of butter and it may be used in any recipe that calls for it. It'll be soft and ready to spread immediately. Or you may place it in molds or a glass or ceramic dish and store it in the refrigerator until later.