Big T's Moonshine serves up a slap shot of slabs for BBQ fanatics
Big T's Moonshine serves up a slap shot of slabs for BBQ fanatics
by Dan Aznoff | Lynnwood Times
It does not take long to realize that Big T's Moonshine BBQ is not just another sports bar.
Sure, the walls are lined with widescreen TVs and the line-up of beer taps are visible the moment customers swing open the heavy wooden doors. Unlike a typical Seattle area sports bars, however, there are no Seahawks jerseys hanging from the rafters and there is a definite lack of framed Mariners memorabilia nailed to the wall.
Big T's Moonshine reflects the passion of its owner, Tom Sprague. There are hockey sticks stacked near the imposing bar stretch the length of the dining dark-paneled dining room. The jerseys enshrined on the walls have the names of players that would make people not familiar with ice hockey scratch their heads.
"We get a regular crowd in here from the two ice rinks in the area," Tom said with a smile. "We are not catering to the people who come in for a quick beer to watch a football game. Our regulars want something besides regular bar food and a few minutes of Sports Center on ESPN."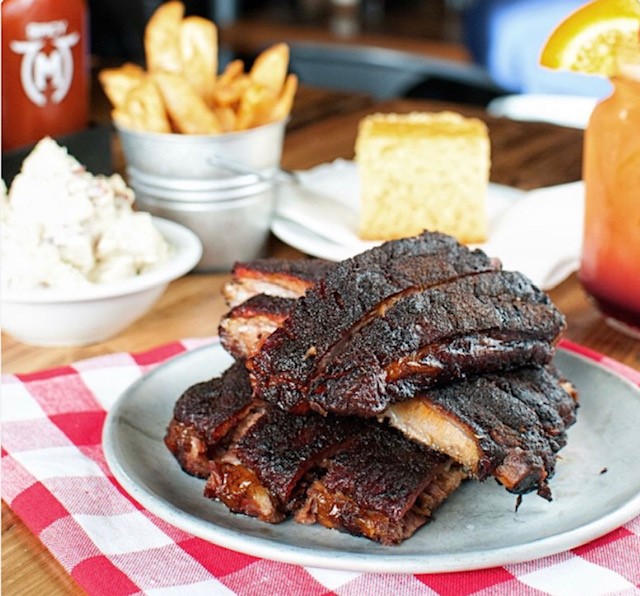 The menu is equally unique. Instead of sauces from Louisiana or ribs dripping with flavors imported from Kansas City, hungry patrons can choose from Tom's personal favorites that include chili mac-and-cheese and salmon pesto pasta.
Barbeque connoisseurs pack the intimate space at Moonshine to enjoy the signature street tacos made with slices of barbequed brisket and Tom's zesty corn salsa. Happy Hour selections include BBQ sliders, Hoisin-glazed crispy ribs and the exceptional Elote (street corn) dip. For those who need to include veggies with every meal, Tom offers his sinfully delicious Brussel sprouts bathed in a Sriracha-honey glaze.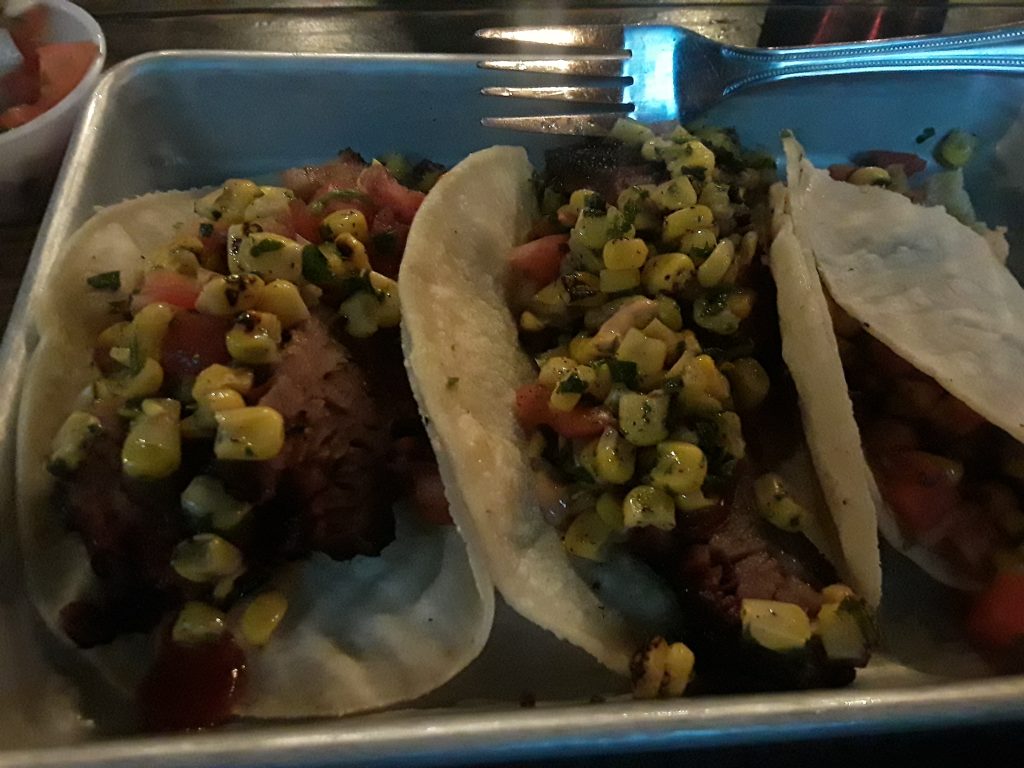 The Happy Hour Menu includes $5 well drinks and reduced prices on draft beer, wine and Bootlegger Punch.
There are three temperatures of sauce on each table and more than a dozen beers on tap to choose from, as well as a wide array of crafted moonshine to pair with the house smoked BBQ.
The bar and dining room currently accounts for three-quarters of the revenue Tom generates from his busy kitchen. As his base of loyal customers continues to grow, Sprague expects that catering will represent more and more of his business. He already enjoys a steady flow of catering clients from local business owners and civic groups, as well as a regular group of diners who represent the new National Hockey League franchise in Seattle.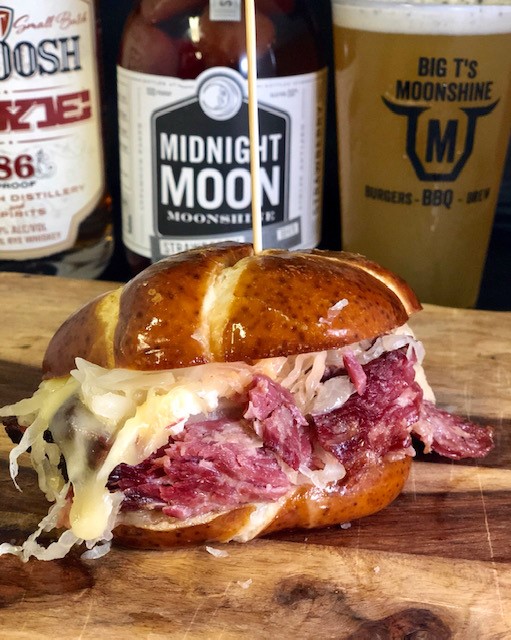 The proprietor has plans to open a second location in Bothell, possibly as soon as next year. But until then, Moonshine BBQ stands out as a unique and delicious place to gather with friends for good food and great times in a genuinely tasty atmosphere.
Moonshine BBQ is located at 4911 196th St. SW in Lynnwood, a few blocks past the more common place eateries like Olive Garden and Red Lobster. And a world apart in atmosphere and delicious. Orders are available by calling 425-672-9592 or online at moonshinebbqcatering.com.