Kirstie Ennis keynote speaker at 38th Annual Scholar Athlete Banquet
Kirstie Ennis keynote speaker at 38th Annual Scholar Athlete Banquet
by Mario Lotmore | Lynnwood Times
Coaches from 26 high schools in greater Snohomish County nominated two of their senior scholar athletes to contend for the five $3,000 scholarships at 38th Annual Scholar Athlete Banquet.  Edmonds School District students nominated were Alex Krueger and Mason Vaughn of Meadowdale High School, Joe DeBella and Read Carr of Edmonds-Woodway High School,  Devon Lohr and Dylan Breuer of Mountlake Terrace High School and Levi Majeres and Adrian Morgan of Lynnwood High School.  Each nominee received a plaque and a $50 Amazon gift certificate.
Scholarships were awarded to Joe Gonzalez of Lake Stevens High School, Kobe Balora of South Whidbey High School, Spencer Coomer of Cedarcrest High School, Kirahy Meyers of Arlington High School. The Schireman Armed Service Award recipient was Garrett Devereux of Marysville-Getchell High School. Scholarship sponsors were Costal Community Bank, Roy Robinson Chevrolet and Subaru, Shawn O'Donnell's American Grill & Irish Pub, Snohomish County Football Officials Association and Engineered Sport.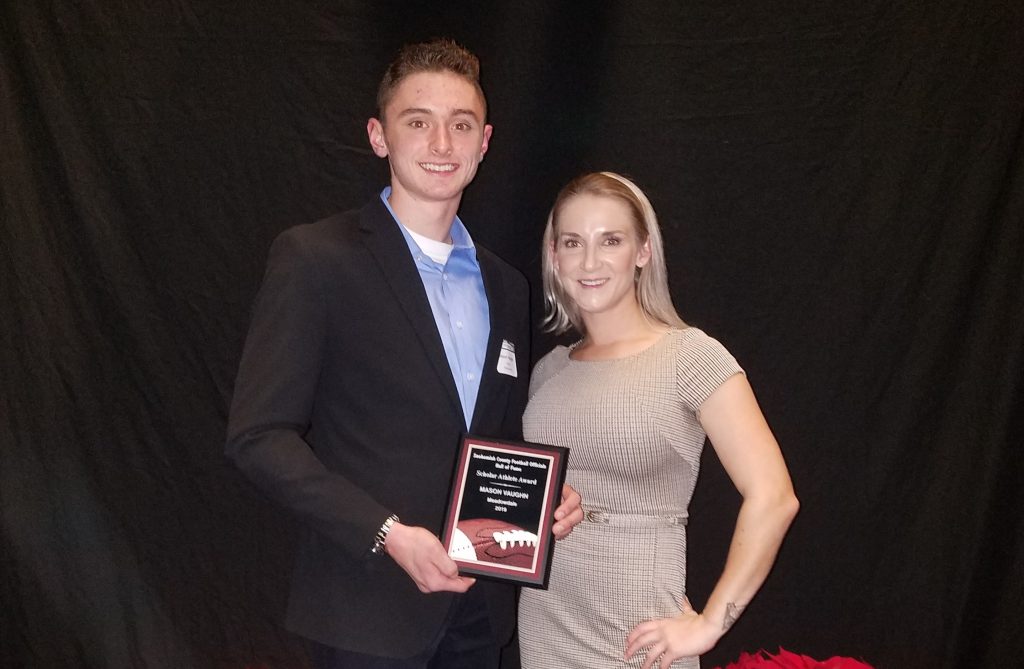 The mission of the committee is to promote football as an integral part of the educational process. The criteria for scholarships were based on academic performance, leadership – high level of involvement in school activities, community citizenship – excellence in non-school related activities, and athletic achievement.
Keynote speaker Kirstie Ennis, recipient of the 2019 ESPYS Pat Tillman Award for Service, shared her story of never giving up.
"Sometimes all it takes is hearing the right thing… from the right person… at the right time. You may never know how your words will affect someone. The moment I embraced my pain and my past, and to stop inflicting my suffering on others, was the moment I realized we have the power to write our own stories. One chapter doesn't determine the end of it."
Ennis was a former Marine sergeant when her helicopter went down flying over Afghanistan on June 23, 2012. Ennis enlisted when she was only 17 years old as an aircraft mechanic and door gunner in 2008. The crash left Ennis with spine trauma, a broken jaw, damage to the right frontal lobe, and amputated left leg above the knee.
After more than 40 surgeries and a year later, Ennis attempted to end her life. "I was suffering in ways I couldn't describe to anyone. You have survivors' guilt, you question why me, losing that sense of purpose, and being stripped from the Marine Corp… I was honestly lost."
After that moment, Ennis dedicated her life for others. She started the Kirstie Ennis Foundation. According to its website, its mission is, "To financially support deserving nonprofit organizations that are dedicated to improving the quality of life of others. We strive to provide education, opportunity, and healing in the outdoors."
To accomplish the goal of supporting high school football scholars in a positive fashion, the SCFOHF committee has sponsored an annual banquet since 1982 honoring scholar athletes from high schools throughout Snohomish and Island counties. The highlight of the banquet occurs when scholarships are presented to several outstanding recipients from the scholar athletes that are nominated. Current Washington state congressman Rick Larsen was the Annual Scholar Athlete Banquet's first scholarship recipient.
Other sponsors for the event are Dwayne Lane's Family of Automobiles, Wayfinding Financial, Sterling Communications, Cost Real Estate Services, Wide Format Company, Sattel Communications, Glass by Lund, Advanced Tower Components, CJ's Custom Meats, Twin City Foods, Newland Construction Co., Better Fundraising, W.W. Wells Millwork, LLC., Fleet Services, Penrith Home Loans, and Taylor Made Roofing.