Happiness is being married to your best friend
Happiness is being married to your best friend
by LUKE PUTVIN | Lynnwood Times
"Happiness is being married to your best friend." This saying sits framed at the home of Marcia Schultz, 86 years old, and Scott Schultz, 91 years old. They have now been married for 68 years.
Both of their families lived in the area. Scott's in then Alderwood Manor and Marcia's in Everett. One day, Scott's mom decided it was time to take a tool to Marcia's mom, and she sent Scott to do the task. Scott knew of Marcia at the time, and he had seen family pictures with her in them. However, he had not met her. Nor would he meet her on the day he took the tool to her house. It would be about another three months from that day when the two would meet.
"When we did meet, we dated about two or three times a week," Scott said.
The two began dating in 1949, and they married in 1951. At the time they married, Scott was 22 and Marcia was 17; her mother had to sign to allow her to get married. "My parents just loved him," Marcia said. She mentioned that they thought he was a mature person with a good job and they felt good about the marriage. "Although, of course Daddy thought I was way too young. And I was! But boy, we made it work."
"I like to say that it was a blessing that we were best friends, and I considered it a real blessing when that best friend became my husband," Marcia said. "Because he cared more about what I was and how we became one flesh, as it says in the Bible."
She recalled them having been married for 25 years before they both accepted God into their hearts. The two were inexplicably drawn to church one Easter, and they said their hearts opened at that moment.
"People will ask: '68 years? How did you do that?' Our secret is to put God in the center of our marriage; then we're on the same page. People have differences, and instead of those becoming a big issue, you can pray about it, and that usually makes a difference. It's called compromise," she said.
Scott and his son had always gone fishing on Sundays. "That's what Sundays were for," Scott smiled. That year on Marcia's birthday, which fell on a Sunday, the family asked what she would like to do. She, holding her breath somewhat, replied that she wanted to go to church. "Oh, that's easy," said Scott and his son. "It's only one Sunday."
It was not only one Sunday. Marcia said that she never had to ask from that moment forward. "It was very enlightening," Scott said. "And it was real. Just plain real. My son and I used to catch 200 salmon a year, and we were dedicated fisherman. It was a big change, but it was a comfortable change."
Scott spent his career in home-building where he built houses everywhere from Deception Pass to Bellevue. He even built their Lynnwood house that the two still live in. He started building it when they got married in 1951 and finished it in 1953. Over the years, he has added two bedrooms, another room and a four-car garage. Marcia still called the home her "honeymoon cottage."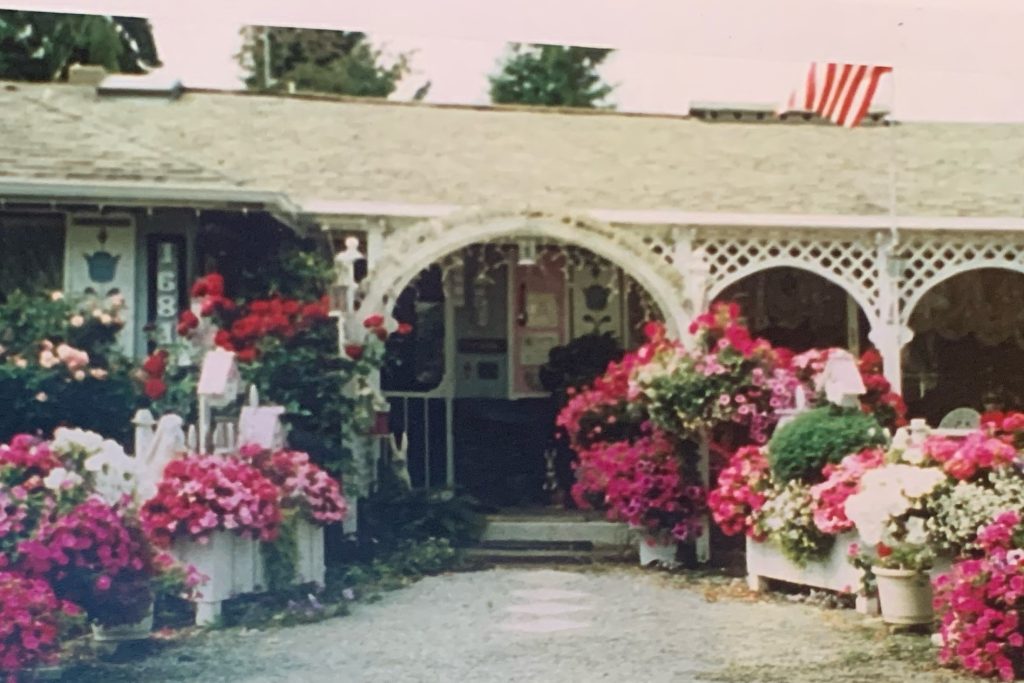 Scott recalled the satisfaction of home-building. "You come to work in the morning, and here's the foundation," he began. He said that throughout the day, putting in a lot of work, they would lay floors, build wall frames and at the end of the day, you left looking at a massive accomplishment: building something from nothing.
The same can be seen in the Schultz's marriage.
In addition to their growth as people over the years, seeing what the two have created on the property is astounding. For 30 years, the Schultz's have been planting a massive and beautiful garden of flowers. "We just like to give back to all the wonderful things God has done for us, so that's why we do the flowers every year. They're for Him," Marcia said. "We like to share God's beauty, and flowers are one of the most wondrous things He has given us as a gift. They're so healing. We've been through a lot of trauma in our lives, but those flowers have always had a healing value for us."
The two have been through a lot over the years; it was only three years ago in 2016 that Marcia had her last surgery for breast cancer. "When I was going through six weeks of radiation, it was a horror. I just took the Lord with me," she said.
However, Scott was always there with her, and Marcia was with Scott when he recently had to go to Harborview Medical for breaking his neck in a bad fall.
It happened on a day they were going to a funeral at noon; they hadn't eaten since there would be food at the funeral. Scott dropped his wife and daughter by the door and went to find a parking spot, but there was no parking nearby. He had to park far away, and when he got back to the building, he blacked out and fell into a cement curb.
I didn't wake up for about six days," Scott said. "But I made it. They keep telling me I should always have a cane, which I don't," he said with a laugh. "I will run around the house without it, and out in the shop. I'm running at about a quarter strength right now, and I'm intending to get to at least seven-eighths. I have leaves to rake, roses to prune and gardens to dig."
"The hard part for us was that we didn't know if he was going to make it," Marcia said.
From Harborview, Scott could always see Smith Tower. He used to fish with his dad down at Elliot Bay, which is right by Smith Tower. "When I could see Smith Tower from my room, I knew exactly where I was. It gave me a certain amount of comfort."
Marcia would drive down to Harborview every day and would bring Scott huge bouquets of flowers from their garden as a reminder of what he had to look forward to when he recovered.
Physical therapists come every day during the week for therapy. "That keeps us busy," Marcia said.
"I sneak outside once in awhile and fix something," Scott added.
Through 68 years of marriage and the hardships those years bring, Scott and Marcia spend all their days together, as best friends and as husband and wife.