The Klondike Gold Rush at Heritage Park
The Klondike Gold Rush at Heritage Park
By Luke Putvin | January 12, 2020
"When I want to describe it easily, I tell people to think of it like a Ken Burns documentary with a live character stepping out of that journey," said Rachael McClinton, performer and Artistic Director of Living Voices in Seattle. Living Voices is an educational, multimedia performance group that travels nationwide to bring historical stories to audiences.
On Saturday, January 11, McClinton assumed the role of a fictional woman who sought riches in the form of gold during the time of the Klondike Gold Rush. She travels to Seattle by train and to Canada from there. The story follows her trials and tribulations as her new husband leaves her in Canada and she is forced to strike big herself.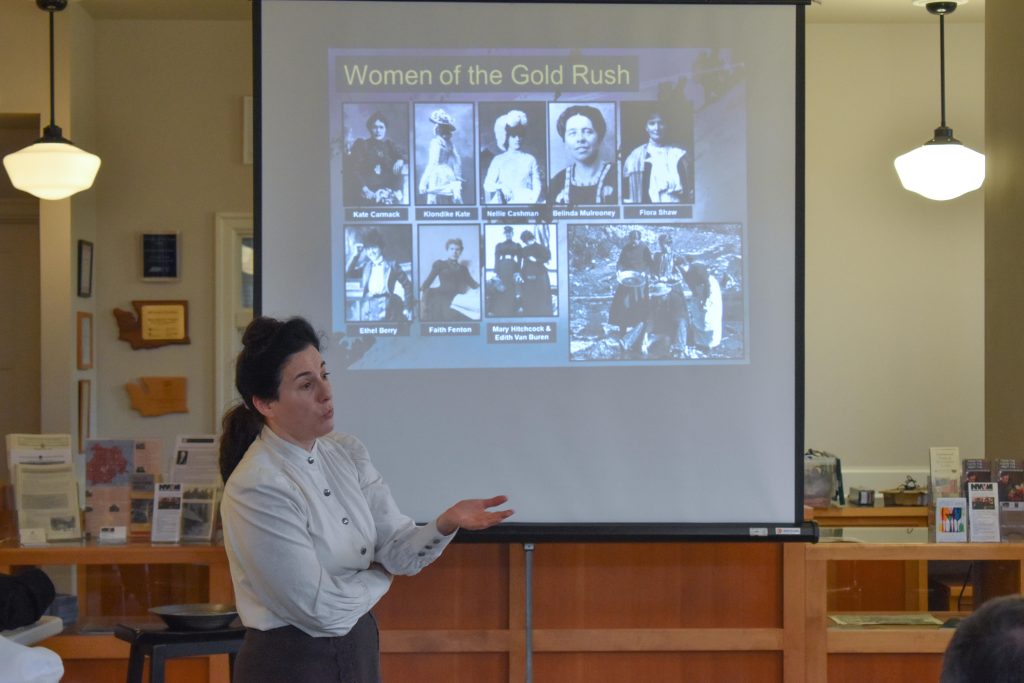 On her journey, she met actual historical figures, and before and after the performance, McClinton taught the audience about the era. A lot of the riches of the Klondike Gold Rush were invested into Seattle, so this era directly contributed toward the booming metropolitan city today. She also mentions the story of one Swedish immigrant who went to get rich, came back with 13,000 dollars in gold and started a shoe shop in 1901 located in Pioneer Square. That man was John W. Nordstrom, founder of Nordstrom.
Living Voices combines archival footage with a live performance. "We really like collaborating with local historical groups and bringing stories to life with film and theatre," McClinton said. She mentioned other performances the group does where it collaborates with places like the Nordic Museum in Seattle. For this performance, Living Voices collaborated with Klondike Gold Rush National Historical Park.
"I love performing, that's my background, but I have a passion for teaching," McClinton said. "These programs allow a performance but also an exploration of the history and the themes in a discussion, so there are two hats I get to wear: not just an actor, but a facilitator for history."
For more information about Living Voices, visit their website at LivingVoices.org. Additionally, later this year, there will be more performances by Living Voices at Heritage Park. April 4, 2020 will be a performance called "Hear my Voice" regarding the Suffrage Movement. On May 9, 2020, the performance called "Within the Silence" will address Roosevelt's Executive Order 9066 in 1942 which authorized the internment of tens of thousands of American citizens of Japanese ancestry. To keep up with events from the Lynnwood-Alderwood Manor Heritage Association and Museum, visit its website at www.alderwood.org.