Pamper your pet on National Love Your Pet Day with these five tips
By Petcurean Pet Foods Ltd
Spread the love: 5 ways to show your pet just how much you love them
Do you know that February 20 is National Love Your Pet Day? It's a great reminder to spend time with our pets, and show them the care and attention they deserve. It's also a great opportunity to think about things we can do as pet parents to keep them happy and healthy.
We bring pets into our homes because we value their companionship as part of our families. Unlike humans who can self-care, our pets are fully reliant on us to make decisions about what is best for them. Fortunately, many of the things we can do to support their well-being also involve things they enjoy– like eating well, cuddling and getting exercise.
To help you think about the health of your dog or cat, here are five questions to consider on National Love Your Pet Day, along with some advice to help make changes if needed.
Are you spending enough quality time with them?
As a pet parent, you have an important role in keeping them happy. Besides attending to their basic needs, are you also spending quality time with your pet on a daily basis? Pets are there to provide love and friendship, and they benefit greatly from interacting with you. Psychology Today also notes that the bond between you and your pet can release oxytocin in your brain, so spending quality time with them is also good for you.
Even if you are pressed for time, there are lots of ways you can build in more quality time throughout the day. One of the simplest ways is to simply add a few extra blocks onto your walks outside. You can also invest in some new toys to play with your pet around the house. If you do cardio at the gym, a great alternative could be jog with your dog. And think about the time you spend on your mobile or tablet at home – doing that while sitting beside an elderly cat or dog with an occasional stroke on the head can bring your senior friend a ton of comfort. Even just a few extra minutes of your time throughout the day can make a big difference in helping them feel loved.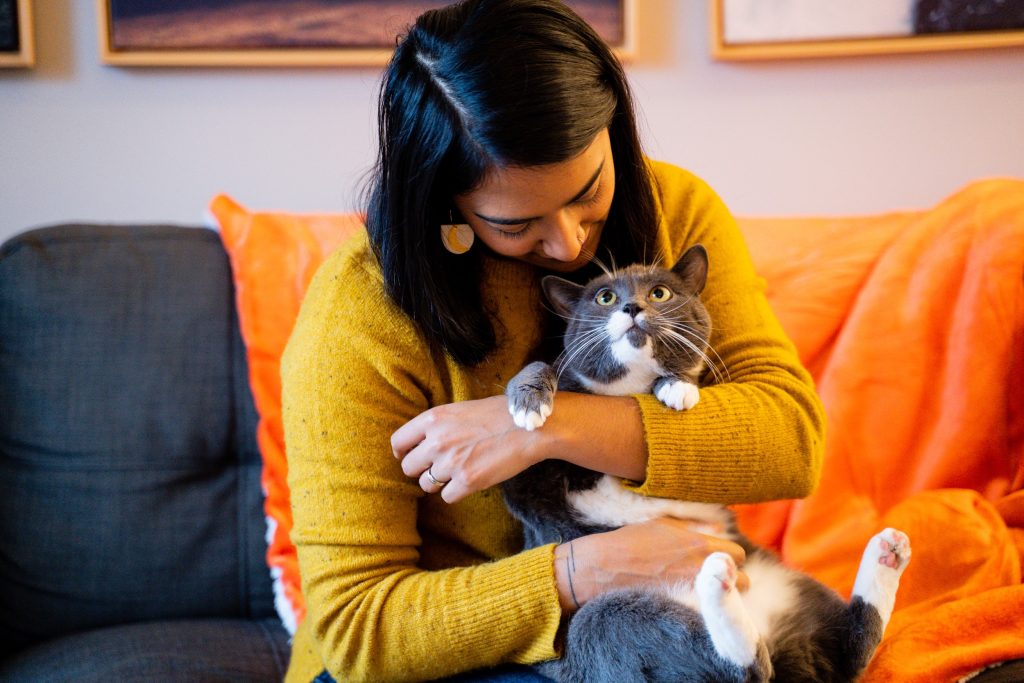 How is their skin and coat?
Like humans, healthy skin for cats and dogs should be smooth and clear. It should not feel greasy, bumpy or have flakes. Their coat should be shiny and smooth because of natural oils and the process of shedding. It should not be brittle or coarse.
One of the best things you can do to support good skin and a healthy coat is to feed your pet a recipe that is formulated to include quality sources of nourishing omega oils, such as flax seed or salmon. Regular brushing and the occasional bath can also be good for them, but always make sure to use products that are made with pets in mind. If you have a breed that requires regular grooming, it's also important to keep on top of that. Pets always feel their best when mats are removed and they look sharp too when they are well-groomed!
If you do discover something is off with your pet's skin or coat, don't panic. Simply, check in with your vet to see how you can help your furry friend.
How is their oral health?
In addition to February 20 being National Love Your Pet Day, February itself is also National Pet Dental Health Month. A healthy pet's teeth should be free of plaque and tartar, and they should not be jagged or broken. Their tongue should be moist, free of lumps, raised spots and cuts, and their gums should be free of gingivitis. It's also a myth that pets all have bad breath. It won't smell great, but if their breath actually stinks, it could be a sign of something wrong.
Besides regularly brushing their teeth (yes you really do need to), your pet's diet can also help maintain good oral health. Small breed dogs in particular can be notorious for "doggy breath". Look for kibble that is specifically formulated to promote oral health, such as Petcurean's NOW FRESH Small Breed Recipes. The small clover shaped kibble contains sodium tripolyphosphate, parsley, and peppermint to support oral health and fresh breath. The act of chewing kibble also helps to clean their teeth as they crunch down on it.
Has their behaviour changed recently?
The way your pet behaves says a lot about them – they really do have their own personalities! Many are very social, while others can be quite shy. You'll know best what is normal in terms of your pet's behaviour. Typically, a healthy pet will be eager to greet you at the door, engage in play time and spend time snuggling. They will also tend to be very interested in what you are up to, often following you around the house or looking up when you move.
Sudden and sustained changes are one of the simplest ways you can tell something is off with your pet. Some things are easy to address, such as changing up their diet to address lack of interest at dinner time. But if there are more pronounced changes you can't fix yourself, like spending lots of time alone or hiding away instead of their usual running and playing, it's best to have your vet rule out any potential medical reason.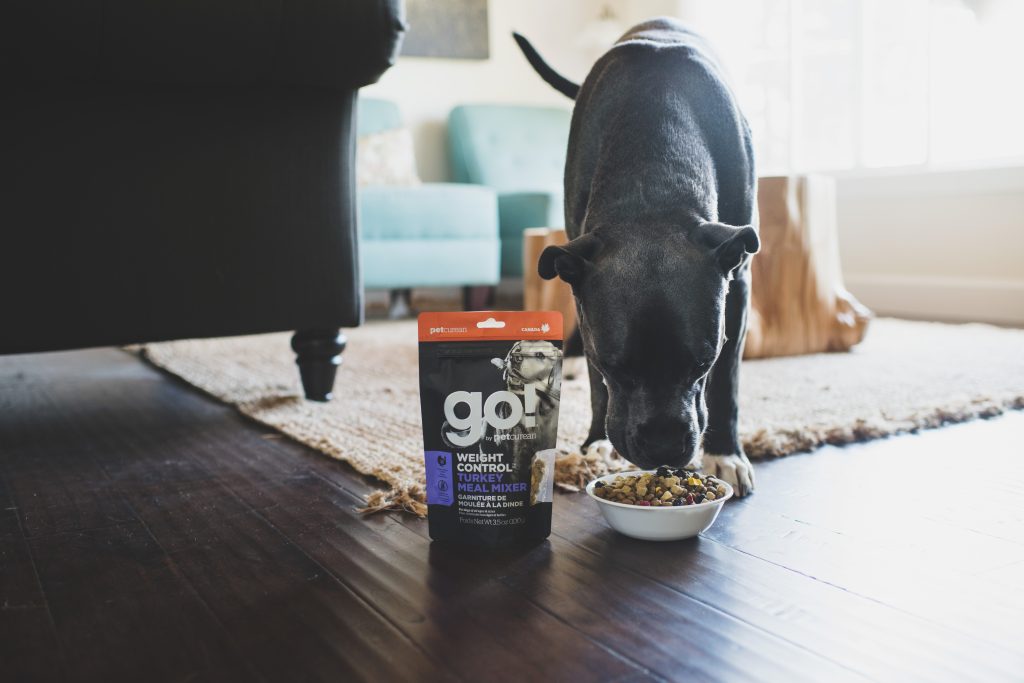 How is their weight?
In the process of loving our pets, we may actually be too generous with food and treats, contributing to weight problems. In fact, a recent study from The Banfield Exchange determined that 51 % of adult dogs may be overweight. So, the next time you're having a scratch session, run your hands down their body. You should be able to feel their ribs and hips without pressing hard. Their body should also have a gentle hourglass shape when viewed from above, and a slight tummy tuck and thin covering of body fat over their ribs and spine. A body score chart can also be a great resource if you're not sure.
Chubby pets are definitely cute, but even a few extra pounds can have big consequences for their health. Conditions like diabetes, renal disease, pancreatitis and respiratory issues can be common, and the negative effects of being overweight can begin to show up very quickly – even within weeks.
If your pet needs to lose weight, an easy way to reduce calories is replacing their treats, which are often full of sugar and other unhealthy ingredients. Many dogs will enjoy carrots or a green bean – anything with a crunch. Many cats like apples or bananas. There are also other dietary options like Petcurean's GO! SOLUTIONS weight control meal mixers for dogs, which contain psyllium husk as a source of soluble fibre to promote a sense of tummy fullness. In terms of getting enough exercise, most dogs need approximately 30 minutes per day of walking or playing outdoors. Outdoor cats usually get more than enough exercise on their own, but if you have an indoor cat, invest in toys that will hold their attention while you're out. Also make sure you dedicate time to play with them throughout the day.
As pet parents, we want the best for our beloved cats and dogs – just like we do for the rest of our family members. By taking just a few minutes to think about the wellness of your pet on National Love Your Pet Day, and making adjustments as needed, you can make a big difference in their overall well-being. Please visit www.petcurean.com/blog for more free advice on keeping your pet happy and healthy across their lifespan.