Hook, line and sinker at Fly Fishing Show in Lynnwood
by Luke Putvin
Over the weekend of February 15 and 16, the Lynnwood Convention Center held the Fly Fishing Show. The show itself occupied the entire convention center.
There were a variety of things to do at the show from casting demonstrations, tying demonstrations, presentations and much more. For example, one of the demonstrators, Gary Borger, showed a crowd of people "The Perfect Cast" in a long, shallow pool area that was netted off. Downstairs, there were a large amount of fly tiers, and in addition to their products being available for purchase, they were also there to answer any questions about tying one may have had.
The Fly Fishing Show started 28 years ago on the east coast and has seven shows around the nation. Lynnwood is the event for the Pacific Northwest. Prior to Lynnwood, the event was held in Bellevue, but when the price increased dramatically and the economy crashed, the show did not come to the region for some time.
The show itself was catch and release themed, and though individuals could come to buy products and see demonstrations, the primary focus of the event was education and entertainment.
"We had a lot of dedicated customers in this area," said Ben Furimsky, President and CEO of the Fly Fishing Show. "It was probably the most customer-demanded return we ever had, so we wanted to come back."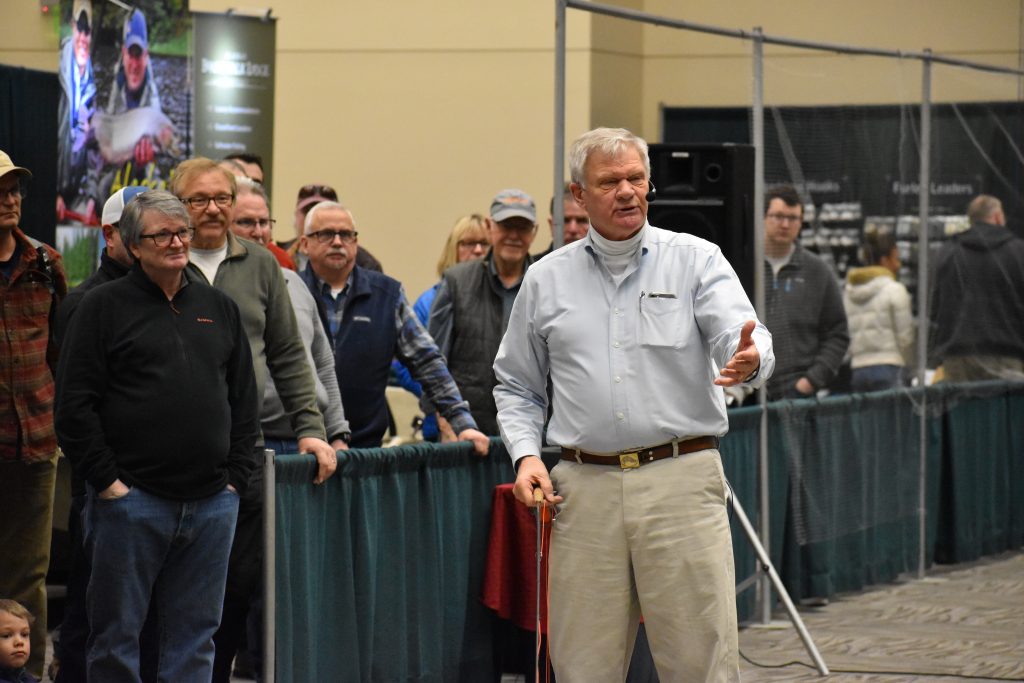 "Come here, have a good time with your friends, or meet people and learn things. Whether you're a beginner or an expert, we have something for everyone to learn. There's more stuff than you could see even if you were here all day, both days."
Furimsky's favorite parts of the show were meeting new people, talking about new waters and the fly tying. "I always enjoy watching the fly tiers and learning new things," he said.
"I hope people walk away having had an enjoyable time and having learned something, but there's also a lot of product and a lot of shopping and adventure to learn through the show. So hopefully they're doing some shopping as well," Furimsky said.
To learn more about the Fly Fishing Show, visit its website at www.flyfishingshow.com.