Parents and teachers express concerns over mandatory sex ed
By Cameron Sheppard | WNPA News Service | Last Updated: February 21, 2020
Opponents to bill say the sex curriculum is not age appropriate
Proponents say school districts can choose their own curriculum
Parents, students and educational professionals voiced their concerns in a public hearing about a bill that would mandate comprehensive sexual education in public schools beginning as soon as kindergarten.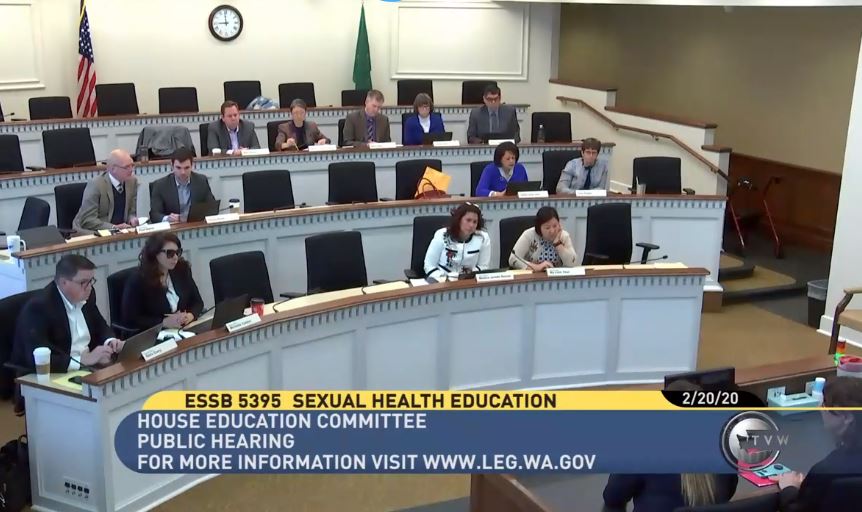 Lorraine Jenne, chair for the Wahluke School Board in Grant County, testified to the House Education Committee on Thursday, Feb. 20, in opposition to Senate Bill 5395 and in "defense of our homes and our children."
Jenne said the bill is a "clear overreach" of state government, both on the rights of local community school boards and the rights of parents to determine the timing and context of their own children's sexual education.
The bill's sponsor, Sen. Claire Wilson, D-Federal Way, said the comprehensive sex education mandate is simply about health and safety. Wilson said the new sex education standards will focus heavily on recognizing and avoiding predatory and abusive behavior, learning about affirmative consent, and deterring bullying through education.
Wilson also said the curriculum will be age appropriate through every grade level, but some community members seem to disagree.
"None of the curriculum is appropriate for young children, yet you force it upon them," Jenne accused legislators.
Anniece Barker, a parent from Greenacres, said she was appalled by curriculum activities already adopted by her child's school district in the Central Valley School District that assigned students to role-play negotiations of sex with each other. Barker claimed this curriculum used in her Spokane Valley area district was among some of the sex education courses already approved by the Office of the Superintendent of Public Instruction.
Pauline Johnson, mother of four from Mount Vernon, said "age appropriate," could mean different things for different families and different children.
"I have read one document after another about this curriculum and it talks about making pleasure a point of discussion at all ages," Johnson claimed. "That is inappropriate."
Barbara Frye, a classroom educator and kindergarten public school teacher for nearly 50 years, said she thinks teachers are being asked to do too much of what should be the responsibility of parents to determine what is appropriate for their children.
"I had to consider what was right, appropriate and good every day for each child, and the whole group," Frye said. "And I think we are taking over for the parents in this particular line."
Dave Mastin, from the Office of the Superintendent of Public Instruction, said the conversations about sex and sexual health can be "squeamish," but a classroom is an appropriate place for these conversations to happen and it has been that way for decades.
Mastin said under the bill school districts would still be able to adopt their own sex education curriculum rather than be forced to adopt one, but it must follow comprehensive standards set by the bill and the Office of the Superintendent of Public Instruction.
School districts could also make use of about 27 different curriculum guidelines, which Mastin said were developed with the Department of Health.
Mastin said the Office of the Superintendent of Public Instruction "doesn't create curriculum."
Under the bill, parents will be able to opt their children out of the sexual education instruction.
On Jan. 22, the bill was passed in the Senate by a 28 to 21 vote (along party lines) and now awaits House approval.