Elizabeth Warren addresses over 7,000 at Seattle Rally
By Luke Putvin | Last updated: Feb. 24, 2020
On February 22, Senator and Presidential Primary candidate Elizabeth Warren addressed over 7,000 at her rally in Seattle. The rally was held at the Seattle Center Armory which filled quickly; overflow went to the nearby Fisher Pavilion where Warren's speech was shown on a large projector screen. Additionally, Warren addressed the overflow crowd before her speech to the main crowd.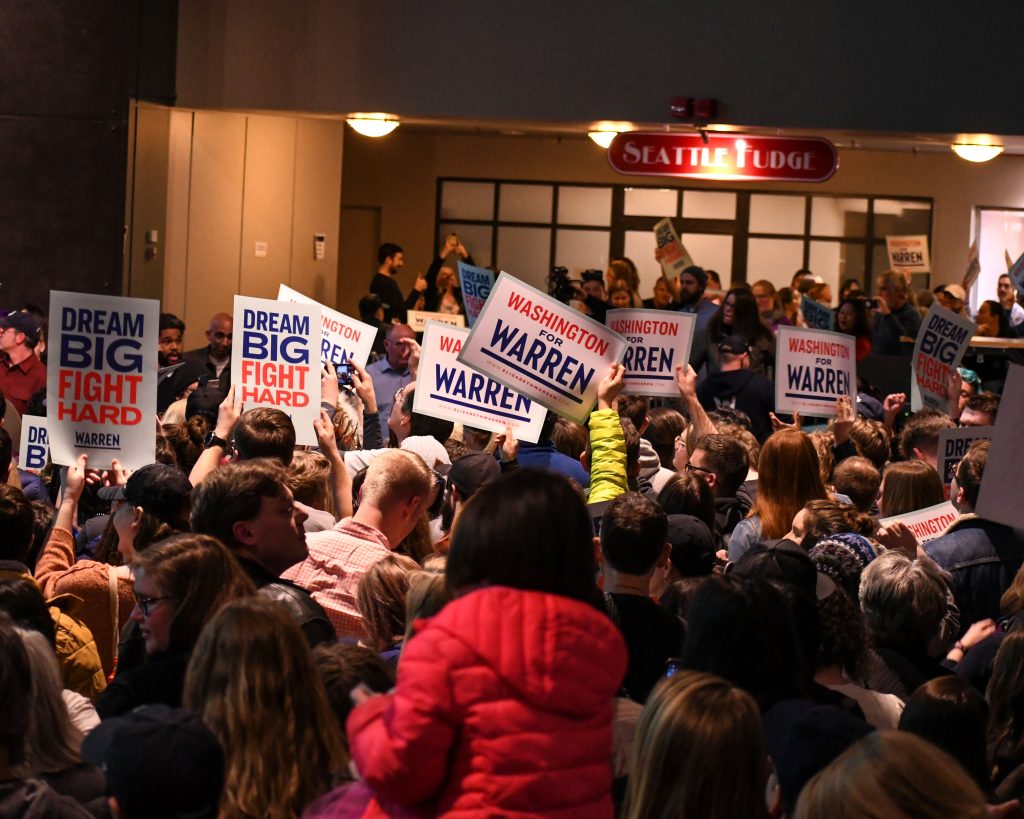 The Lynnwood Times spoke to several Warren supporters lined up for the event and asked why they were choosing her over other candidates. Every single attendee began their response almost identically by saying that "Warren has a plan for that." This is one of her campaign slogans, but it is something that all the supporters we talked to focused on.
Wendi Sargent praised Warren's ideas. "She's looking at everything from huge corporations not getting tax breaks to human beings who need health care… She's got a lot of heart, and I love a candidate with a lot of heart."
Another supporter, Malory, also admired all of Warren's plans. "I think that's one of the biggest things distinguishing her from Bernie Sanders. She actually has an action plan, and Sanders has a lot of things to say that sound good but no plan to actually get them done."
Jackson, an undecided voter, was leaning toward Warren. "She's not out to burn down the system… she actually favors making the systems work as they're supposed to."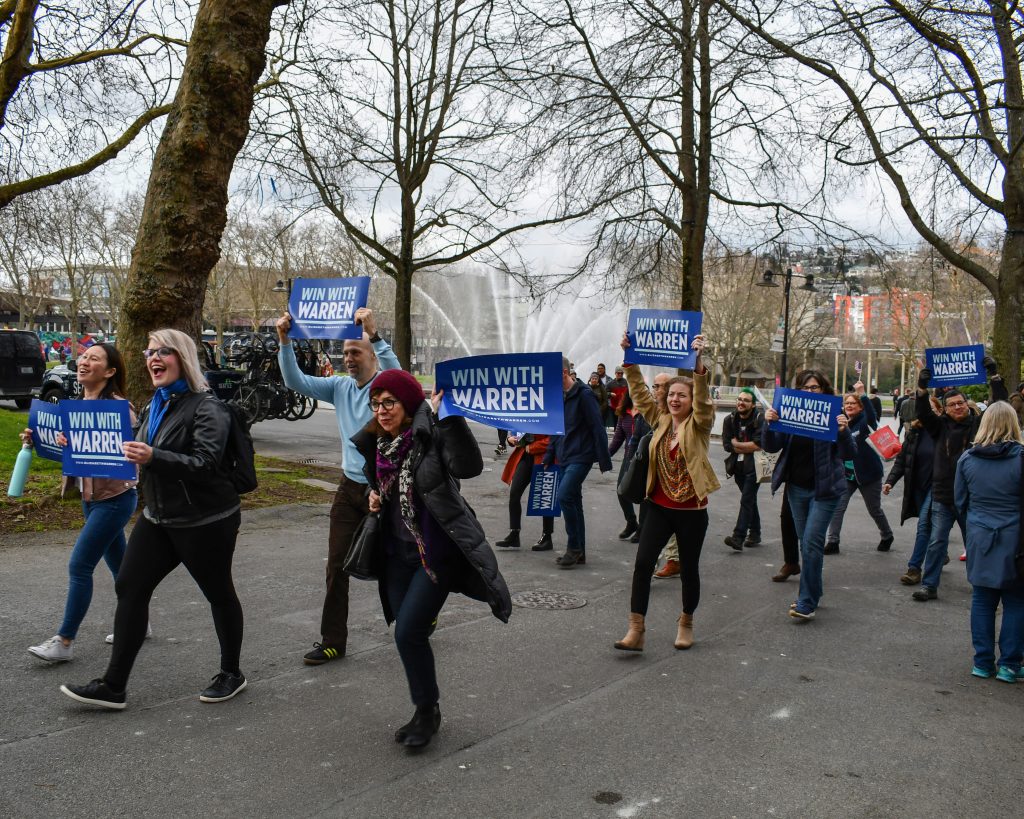 Among those that introduced Warren onstage were Jesus Carbajal, a campaign volunteer and U.S. Army veteran who served three tours in Afghanistan, and Toshiko Hasegawa, director of the Washington State Commission on Asian Pacific American Affairs.
"We are so motivated because we have a presidential candidate who understands what it is like to be part of a military family," Carbajal said. All three of Warren's older brothers served in the military, so Carbajal emphasized the importance of understanding the difficulties of having family members being overseas and not knowing if they'll come home.
"No party owns patriotism," Carbajal emphasized.
Hasegawa began by emphasizing the diversity of Washington and the nation as a whole. "We are not a monolith," she said. "[Warren] understands it is exactly our diversity that makes Washington State and the United States strong."
She also addressed this week being the 78th anniversary of Executive Order 9066 where President Franklin D. Roosevelt authorized the incarceration of Japanese Americans in certain military zones, internment camps.
"Our communities today do not deserve to be forcibly removed from their homes or locked in cages at the border. We deserve an immigration system that is both fair and welcoming, like the one Elizabeth has a plan for," Hasegawa said.
When Warren took the stage, she thanked Nevada for keeping her in the fight and congratulated Bernie Sanders on his win. She then switched to the "threat of Michael Bloomberg."
"He has skipped the first four states and plans to come in on Super Tuesday and immediately afterwards here in Washington, drop hundreds of millions of dollars and buy this election," she said.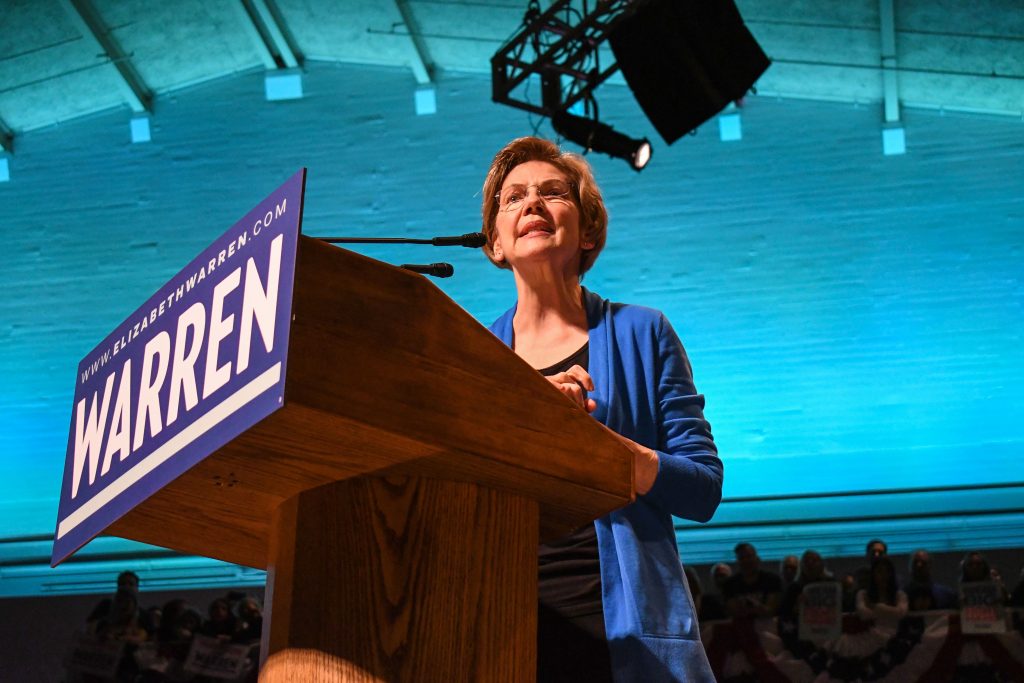 She mentioned Bloomberg's history of harassing women and defending polices she called racist like red-lining and stop and frisk.
"Let's think about that," Warren began. "a billionaire that hides his taxes, has a bad history with women and defends racist policies. Let me put it this way: we're not substituting one arrogant billionaire for another."
Beyond Bloomberg, she spoke about her accomplishment of establishing the Consumer Financial Protection Bureau. She was told by others that, even though it was a good idea, she shouldn't try. Warren said that she was told, "You'll be up against big money, Wall Street, all the republicans and heck, you're going to be up against half the democrats. You'll never get it done."
"All I could hear them say was 'fight harder.' So that's what I did," Warren said. "I'm not in this fight to talk about change. I am in this fight to make change."
To learn more about the Warren campaign, visit www.elizabethwarren.com.