Elected Officials discuss sports betting, guns and other issues at town hall
By Luke Putvin
On February 22, around 50 individuals gathered at Mariner High School to participate in a town hall discussion with the Legislative District 21 elected officials: Senator Marko Liias and Representatives Strom Peterson and Lilian Ortiz-Self.
Audience questions tackled a fairly wide range of issues, but there were multiple questions surrounding gun control/gun violence and the proposed bill to allow sports gambling in the state of Washington in tribal casinos.
One individual that worked at a card room asked the three to vote no on legalizing sports betting for tribal casinos only; rather, he wanted it to be open to everyone, like card rooms.
Peterson, the primary sponsor of HB 2638, said that they are taking a very conservative approach. He mentioned that if this were a broader approach, like legalizing it across the board, the bill would fail. He said this will be an opportunity to see what is happening with gambling in the state and that the gambling commission would come back annually with reports.
"The tribes have been incredible partners for the last 20 years when it comes to gaming and a lot longer than that when it comes to working with the state, and they do remarkable work with that gaming money," Peterson said.
Peterson mentioned visiting several reservations and their elected leaders. In Yakima, he said, across from their casino is a childcare center for all of the workers. Elsewhere there is an Early Childhood Education and Assistance Program (ECAP) open to not only tribal children but all children.
"I don't like gambling generally, so I appreciate that my seatmate and the new chair has tried to come up with a narrow approach that would be prudent and take one step forward," Liias said.
Another attendee asked about gun control, one of the bills being HB 2947 which would limit high capacity magazines. He said some of these bills are restrictive to those that can't afford safety classes, and also asked how they would correspond these ideas with people in the LGBTQ community that want to carry firearms to protect themselves.
After much delay, HB 2947 has not moved through the House due to many proposed amendments[p1] .
Another attendee thanked all of the representatives for their hard work on bills like HB 2947 and shared that she was at the airport in Fort Lauderdale during a mass shooting.
SB 6288, was recently passed with a 25-23 vote in the Senate on Feb. 18. The bill's prime sponsor, Sen. Manka Dhingra, D-Redmond, said the legislation is intended to bring a research-driven and data-based approach to recognizing the impacts of gun violence and suicide.
This bill creates an Office of Firearm Safety and Violence Prevention to collect data on gun violence. Liias said that bills like this are important and that we need to invest dollars into a public health response. He called gun violence in the state a public health emergency.
"It's not law-abiding gun owners," Liias said, "it is the threat of suicide and the threat of those with criminal intentions."
Peterson shared that he grew up in a hunting family and later taught gun safety classes. He also shared that his father committed suicide with a firearm. Peterson supported background checks that are more streamlined and thorough. This specific bill was HB 2467 which passed 66-32 with the support of 10 republicans.
"We can't have a healthy debate as long as we have agencies and organizations like the NRA buying people off," said Ortiz-Self. "Here's the problem: I never, in a million years, and I don't honestly know anybody in the Democratic Caucus that wants to take your guns away. Nobody wants to take your guns away."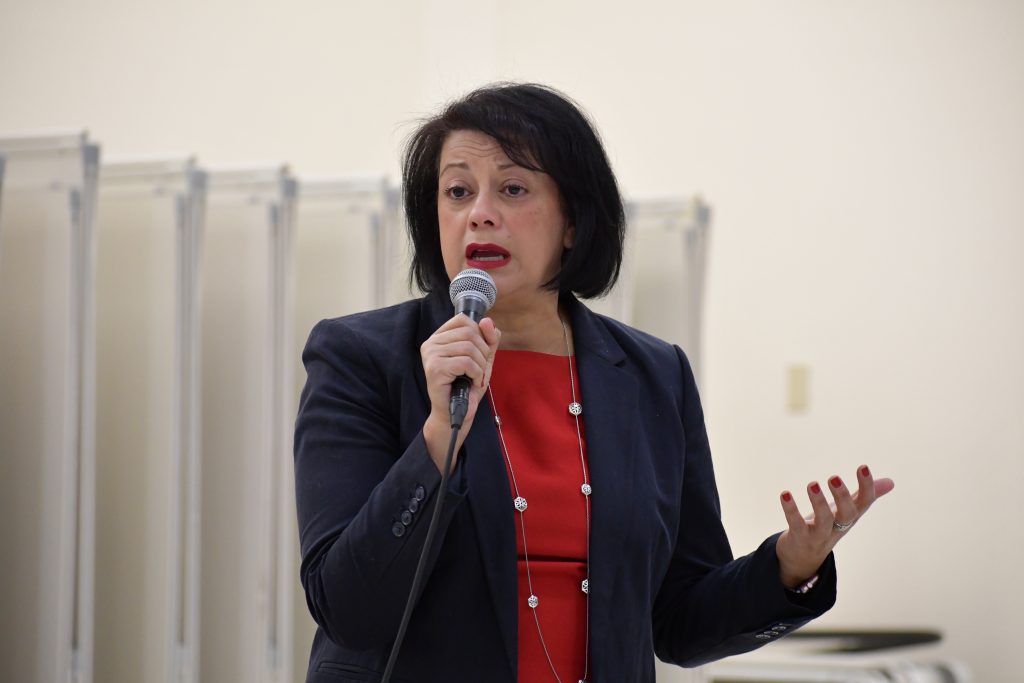 Ortiz-Self shared that she goes target shooting, has taken gun safety classes and has friends that are hunters. "The problem is when we talk about safety it becomes a 'they want to take your guns away' discussion and we don't get to do anything more."
The Lynnwood Times also asked some questions to the elected officials after the townhall. Peterson mentioned the issue of affordable housing throughout the state and said that, though they are working on solutions at the state level, cities also need to look at zoning changes. In asking what specific changes he would recommend, he mentioned loosening restrictions on accessory dwelling units and allowing for more density, potentially duplexes in some single-family zones.
Liias spoke to SB 6521, which would allow undocumented students to have student loan opportunities. We specifically asked about the challenges to have the interest rates be competitive with the current federal rates. "We're just trying to match the federally subsidized student loans and because those rates vary, we want to be clear in the law: let's be competitive with that program. We're going to provide funding that's matching private sector and foundation contributions, and that will be used to accomplish this… so that students that are undocumented would have access to the same kinds of loan products that students who have legal status have access to," Liias said.
Senate Bill 6561, now under consideration in the House, establishes a student loan program for undocumented immigrants, including DACA recipients, who are not currently eligible to receive federal financial aid.
SB 6561 was passed by the Senate Tuesday, Feb. 18 with a vote of 34-14 and is currently being heard in the House. If passed, it will be effective starting July 1, 2021.
Finally, we asked Ortiz-Self about SB 5395, a bill that would mandate comprehensive sexual education in public schools beginning as soon as kindergarten..
SB 5395 passed in the Senate with a 28-21 vote. It is currently in committee in the House.
"I think there's a lot of misinformation about that bill," she said. She specified that parents have the right to opt out and the bill gives school districts the decision of which parts of the curriculum to adopt.
"I understand that some people are uncomfortable with the idea of sexual education," Ortiz-Self said. "The arguments we heard the most were teaching morals and values and people that don't want to have kids exposed to respecting everyone's rights whether you're LGBTQ or the morals of abstinence. This bill does not ever touch the rights of parents and we encourage them to teach their morals and values to their children… I would not have voted for [the bill] if it did not say that."
For more information about your elected officials, including contact information, visit www.leg.wa.gov.