By Erin Freeman | Lynnwood Times
The Sno-Isle Genealogical Society (SIGS) hosted "Early Alderwood Manor" following a short monthly meeting at 6:30 p.m. on Wednesday, March 4 in the Wickers building at Lynnwood-Alderwood Heritage Association's Heritage Park. 
Cheri Ryan and Kevin Stadler, members of SIGS, a not-for-profit organization focused on genealogical research and education in Snohomish and Island counties, presented a history of the area and how chicken farming led to the city of Lynnwood's development.
"Alderwood Manor is our best-known secret," remarked Stadler.
The Puget Mill Company developed the community of Alderwood Manor in 1917, after seeking to reduce the taxes they paid on their land.
"By the early 1900s Puget Mill had accumulated almost 7,000 acres here in the south county area, so they were left with acres and acres of stumps that they were paying taxes on to the county," explained Ryan. "They didn't have a use for the land, and that's when the Alderwood manor plan came to be."
Puget Mills began to heavily advertise its land in five and ten-acre plots, promoting them as poultry farms. They showed new residents how to make a living raising chickens, building a 30-acre Demonstration Farm to appeal to first-time farm owners.
"People were buying the sites unseen, under the promise of being self-sufficient chicken farmers," said Ryan.
It wasn't long until Alderwood Manor's chicken industry presented success. "In 1929 Alderwood manor was the second-largest egg-producing area in the United States," said Stadler.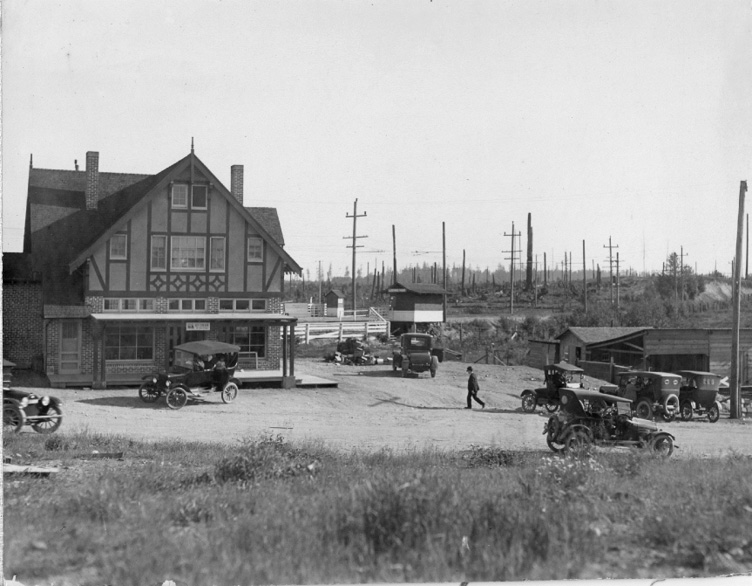 For the next 20 years, Alderwood Manor continued to grow, the surrounding area developing with the Interurban rail system, and the introduction of Highway 99 and Interstate 5.
"In 1937 a man named Karl O'Brian, he was a Seattle realtor, divided property he owned on 99 into 18 lots," explained Ryan. "He was inspired by the name Alderwood to the west and named the area Lynnwood after his wife Lynn."
Lynnwood quickly began to grow into a community of its own.
"In 1956 a group of 18 citizens formed an incorporation committee that focused on an area to the west of Alderwood Manor. In 1958 a vote was put on the ballot to form the city of Lynnwood, failing but passing in 1959," said Stadler.
With Lynnwood 's continued expansion, it incorporated much of the area that was once Alderwood Manor. Eventually, the area was annexed to the city of Lynnwood.
"In just a short amount of time, things have changed so much that it's really important to preserve the history of the area," concluded Stadler.
SIGS meetings are held on the first Wednesday of the month September through June, with annual membership priced at $25.00. They also offer a variety of free classes and workshops open to the public.
To learn more about SIGS visit https://snoislegen.org/. Visit https://www.alderwood.org/ to learn more about the Lynnwood-Alderwood Heritage Association.