Public schools closed through rest of school year
by Luke Putvin | Lynnwood Times Staff
Governor Jay Inslee was joined by State Superintendent of Public Instruction Chris Reykdal at his April 6 press conference. Due to the COVID-19 pandemic, public schools in Washington will not be allowed to have in-person learning for the rest of the school year. Inslee said that this was a difficult decision to make.
Though this decision and the "Stay Home, Stay Healthy" order have been difficult decisions from Inslee, he did say: "We do believe we're making some progress in our state, and Washingtonians should be proud of this."
Inslee noted that efforts are as important as the curve of the virus goes down as when the curve was going up. This order is trying to reduce deaths as the curve goes down.
Also mentioned was that high school seniors in good standing will receive their diplomas this year. Inslee told students: "Your grades will not suffer because of this, but we need you to do your part too."
School districts are expected to provide flexibility in expectations of staff and students, and local education associations are expected to be flexible in bargaining agreements, according to Inslee.
Closing schools like this presents the challenge in the need for equity, mentioned Inslee. This inequity comes not just in the need for internet at this time, but there are difficulties for those who speak English as a second language or those who have disabilities. These challenges are being addressed by allowing in-school activities for those students with stringent social distancing guidelines.
Inslee also said that if there are opportunities to bring students back for days later in the year, for example graduation ceremonies, those opportunities will be looked into.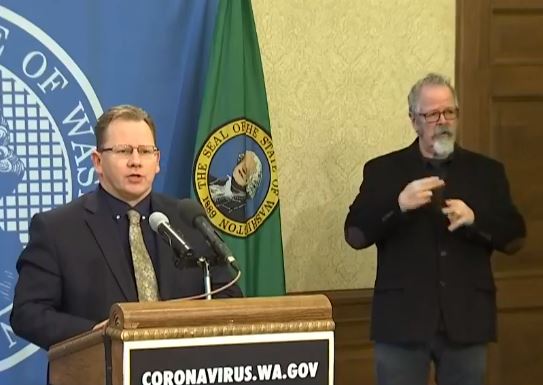 "We know the value of school and the value of learning," Reykdal said. He thanked Inslee's leadership and Washington's response during the COVID-19 pandemic, and he said that he took to heart concerns from parents, educators, principals and others.
Reykdal also cautioned rushing too soon back to schools which could put a significant risk in learning continuity. There is the concern of the curve of the virus spiking back up if rushing back to school too soon.
Reykdal argued that a situation like this showed that telecom should be seen as an essential utility like water and said that Washington should be the leader in this.
"From the seeds of crisis… comes the blossom of innovation," said Reykdal.
Current COVID-19 updates can be found at www.coronavirus.wa.gov.