by Luke Putvin | Lynnwood Times Staff
On April 28, six of seven Lynnwood City Council members addressed a letter to Governor Jay Inslee advocating he broaden the types of businesses currently deemed essential, to open with social distancing measures in place and encourages vulnerable communities to stay home.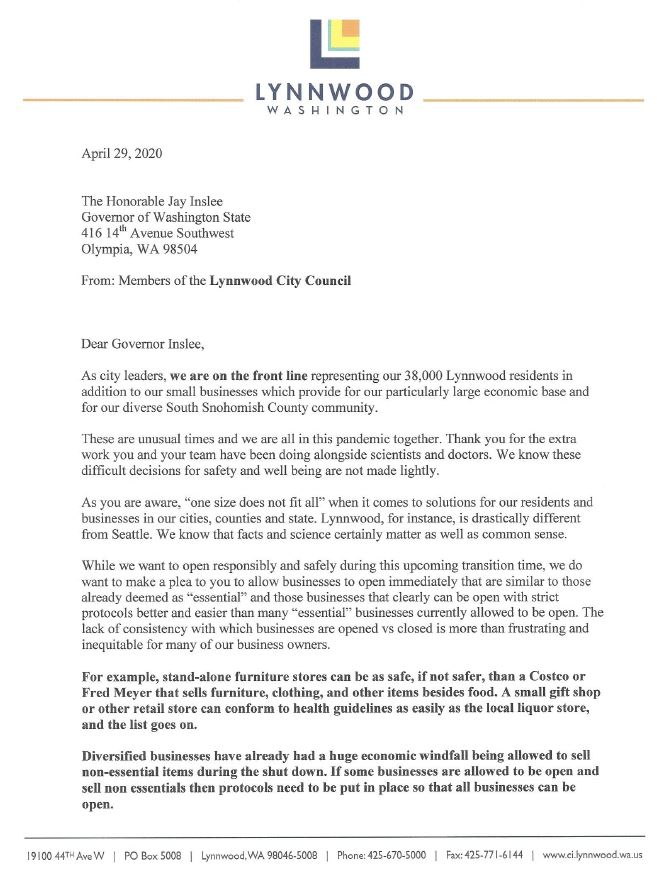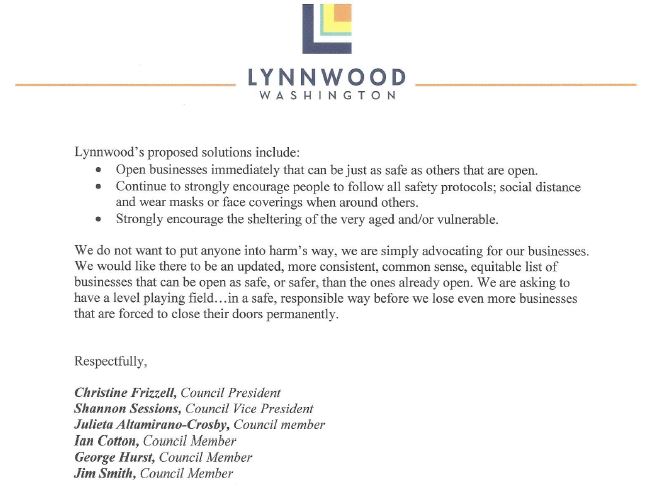 "The seven [council] members are the closest to the people and stakeholders of Lynnwood," council member Jim Smith said. "No one sees the or understands the 'front lines' more than we do."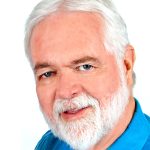 When asked if the council would be willing to compromise or make changes to suggestions in the letter, Smith said that he would be open to mitigate with the governor. "I believe in win-win scenarios," he said.
Smith also urged other cities to take similar action. "[City councils] represent the people of their cities. We have written to the Governor what is happening on the ground in Lynnwood. As a Lynnwood Councilmember, I would never pretend to speak for the people of Snohomish, Arlington, etc. Lynnwood is very different from Seattle. We don't want to be governed by Seattle standards."
The letter stated that "one size does not fit all" in regard to solutions for cities across the state.
"Lynnwood, for instance, is drastically different from Seattle. We know that facts and science certainly matter as well as common sense," the letter said.
"The facts are that multiple curves have not only flattened, but have plummeted. The number of cases, according to the Snohomish County Health District, peaked in mid-March. And deaths, although always tragic to the families, has nearly flat lined. This is true data that can guide you," the letter continued.
"We are not asking for putting anyone into harm's way," the letter said. "We are asking to begin with a level playing field… in a safe, responsible way. Stand-alone furniture stores, for example, can be as safe, if not safer, than a Costco that sells furniture, clothing, and other items besides food. A small gift shop or other retail store can conform to health guidelines as easily as the local liquor store. And the list goes on."
The letter was signed by Council President Christine Frizzell, Council Vice President Shannon Sessions and council members Ian Cotton, Jim Smith, Julieta Altamirano-Crosby and George Hurst. Councilmember Ruth Ross did not sign the letter.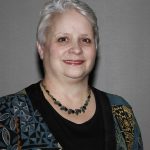 "I think the governor has much better information about the appropriate steps to take and how to implement a safe return to work for everyone. Much more so than us," Ross said.
"I also think he and his staff are fully aware of these issues. I get tired of the second guessing, grandstanding, and making political points at this horrible time. I want to see a plan for our city, and for us to be prepared for our reopening, the rest is just posturing and nonsense," added Ross.
Mayor Nicola Smith also commented on the council sending the letter to the governor.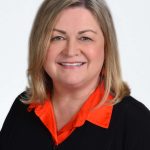 "We are all anxious to learn more about the Governor's Recovery Plan, and we are very concerned for the well-being of our local business community," Smith said.
"Our businesses bring a great vitality to our community and we know that many people are struggling right now. Although we are eager to begin to return to public life, our City remains committed to following the Governor and the Snohomish Health District's direction in order to put the health and safety of our community members as a top priority."
According to WA State Department of Health, as of April 29 there were 814 COVID-19 related deaths in the state out of 14,327 confirmed cases, which equates to a death rate of 5.7% of confirmed cases or 0.011% of the state's 7.615 million inhabitants. Of the confirmed COVID-19 related deaths, 53% were 80 years old or older and 91% were 60 years old or older.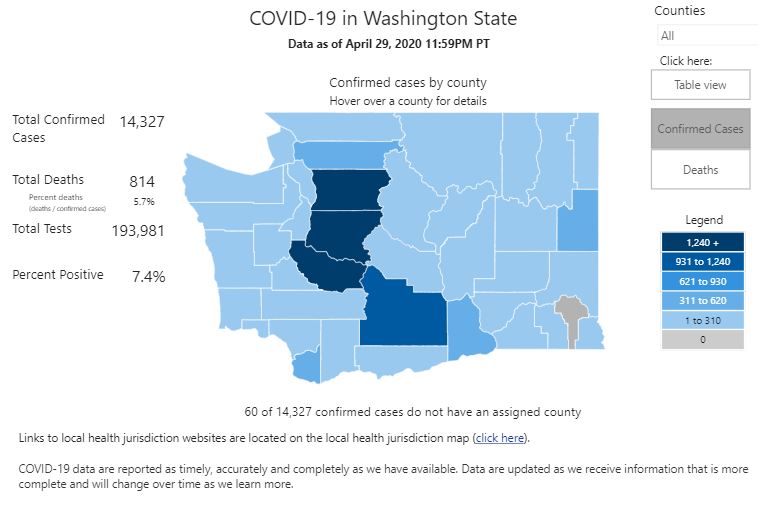 According to Snohomish County Health District, as of April 30 there were 109 COVID-19 related deaths in Snohomish County out of 2,447 confirmed cases, which equates to a death rate of 4.5% of confirmed cases or 0.013% of the county's 822,083 inhabitants.  Of the confirmed COVID-19 related deaths, 44% were 80 years old or older, 74.3% were 70 years old or older, and 86.2% were 60 years old or older.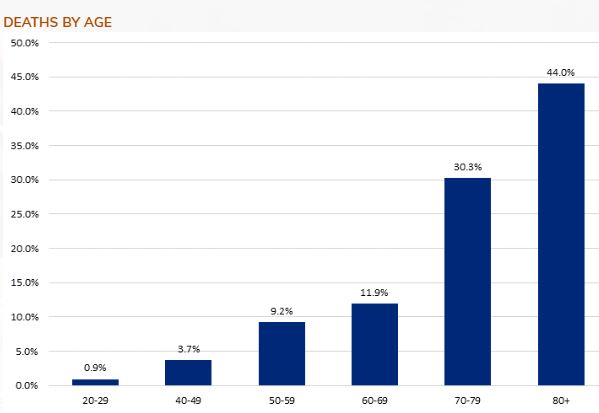 As of April 30, a total of 507 COVID-19 cases were reported in Lynnwood of which 16 resulted in death. This would equate to a death rate of 3.16% of confirmed cases or 0.042% of the city's 38,511 inhabitants or 0.016% of the 101,145 residents in both the city and unincorporated Lynnwood.