DOH admits inflated COVID-19 death numbers
By Maxford Nelson | Freedom Foundation Press Release
On May 21 officials at the Washington State Department of Health (DOH) confirmed that, as the Freedom Foundation reported on Monday, the state is counting in its COVID-19 death total the deaths of persons who tested positive for the virus but died from other causes.
In remarks made during a telephonic press briefing (click to listen to briefing), DOH officials even acknowledged knowingly including multiple deaths caused by gunshot wounds in the state's COVID-19 fatality count.
The Freedom Foundation's original report, based on DOH documents and statements provided to the Foundation, concluded that, of the 828 COVID-19 deaths reported as of May 8:
681 (82 percent) "list some variation of 'COVID-19' in one of the causes of death" on the death certificate;
41 (5 percent) of the death certificates do not list COVID-19 as a cause of death, but indicate it was a "significant condition contributing to death."
106 (13 percent) deaths involved persons who had previously tested positive for COVID-19 but did not have the virus listed anywhere on their death certificate as either causing or contributing to death.
When asked about the Foundation's report at a press conference Monday, Gov. Jay Inslee dismissed it as "dangerous," "disgusting" and "malarkey." He further accused the Freedom Foundation of "fanning these conspiracy claims from the planet Pluto" and not caring about the lives lost to COVID-19.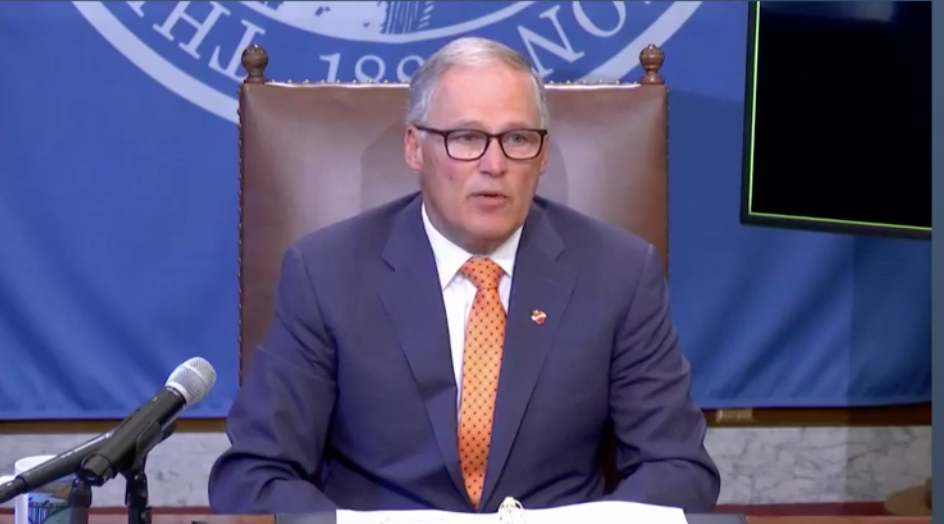 Yet DOH officials largely confirmed the main findings of the Foundation's report in Thursday's briefing.
The following are some of the key takeaways from the briefing. Quoted statements were made by Katie Hutchinson, a DOH health statistics manager.
1. DOH includes deaths of all persons who tested positive for COVID-19 in its totals, even if the victims died from other causes, such as gunshot wounds.
"Our (DOH COVID-19) dashboard numbers do include any deaths to a person that has tested positive to COVID-19."
"We don't always know the cause of death for a death when it is first reported on our dashboard. That is true. Over the course of the outbreak, we have been monitoring and recording the causes of death as we know it. We currently do have some deaths that are being reported that are clearly from other causes. We have about five deaths — less than five deaths — that we know of that are related to obvious other causes. In this case, they are from gunshot wounds."
2. DOH may update the way it reports COVID-19 deaths going forward.
"Over the course of the outbreak, we have been very aware of a small number of deaths being reported on our dashboard that end up not being due to COVID… We will be removing them over time from our death count."
"Our current dashboards reflect anybody that has died from COVID irrespective of cause of death. Those numbers will be adjusted."
"We are really trying to figure out how best to report out the information on the COVID deaths in a way that is more understandable and still is accurate and is in real time as possible."
3. DOH really doesn't know how many deaths are due to COVID-19.
"Our process for identifying COVID-19 deaths basically speeds up our regular process but cuts out much of the data-quality processes."
"Ultimately… we suspect that we are actually more likely to be under-counting deaths than over-counting them… It may take up to a year or more to get final counts on COVID-19 deaths."
"We also have a number of certificates where it's really unclear at all what the person died from… For these deaths, we really don't — aren't able to make a determination on whether they died from COVID or not."
4. DOH will likely begin counting "probable" cases of COVID-19 in its infection and death counts.
When asked by Jerry Cornfield of the Everett Herald whether DOH had any plans to begin counting "probable" cases of COVID-19, Cathy Wasserman, a state epidemiologist for non-infectious conditions, said the state was working on implementing new guidance from the Council of State and Territorial Epidemiologists.
As the Freedom Foundation explained in its report Monday, this guidance does provide for the inclusion of "probable" cases of COVID-19 that have not been confirmed by a lab test.
Following Colorado's lead
The controversy could have been easily avoided if Inslee's administration had followed the lead of Gov. Jared Polis' administration in Colorado.
Last week, after it was reported that, like Washington, Colorado was counting deaths of all COVID-19 positive persons regardless of cause (which had resulted in the inclusion of deaths from alcohol poisoning), the Colorado Department of Health and Environment began to differentiate between deaths "among people with COVID-19" and "deaths due to COVID-19."
Gov. Polis, a Democrat, described the reason for the change over the weekend, stating that he wanted to "inspire confidence so that (the death count) wouldn't be politicized." He called on other government officials to do likewise, noting that, "The CDC criteria include anybody who has died with COVID-19, but what the people of Colorado and the people of the country want to know is how many people died of COVID-19."
Conclusion
Given the measures taken by Gov. Jay Inslee and local officials to combat COVID-19, it is critically important the public be provided with accurate information about the severity of the virus. Most reasonable people will likely assume the number of COVID-19 deaths reported by the state represents people who died because of the virus.
Counting COVID-19-positive persons who died from other causes and including the deaths of persons who have not tested positive for COVID-19 — without disclosing either of these facts on the DOH dashboards the public and media rely on to monitor COVID-19 cases and deaths — calls into question the trustworthiness of government officials directing the COVID-19 response.
Thankfully, it's not too late for Gov. Inslee to follow Colorado's lead and increase the transparency of Washington's COVID-19 fatality numbers.