South County Fire holds parade for 3-year-old Lynnwood boy
by Luke Putvin | Lynnwood Times Staff
On May 19, the Make-A-Wish Foundation and South County Fire honored Eli Kincaid, 3, with a parade of South County Fire vehicles. Kincaid suffers from Alexander Disease.
Kincaid was originally going to go to Disney World, but with the COVID-19 pandemic, the park has been shut down. Make-A-Wish still has plans for Eli and his family to go, but this is meant to be something in the meantime, especially since Kincaid loves fire engines and firefighters.
Among those at the parade were two volunteers from the Make a Wish Foundation, Jordan Pennington and Shelby Slaughter.
"When we met with Eli last year, we got to know his interests, and he just absolutely loves firetrucks and Toy Story," said Pennington. "We were planning to do a tour of the fire department, but when everything got shut down, Shelby suggested a parade."
"This is just a little enhancement while he's waiting for his wish; his wish will still happen," Slaughter said. "We've had to postpone 135 wishes, and there are 520 wish kids waiting for their wishes to happen."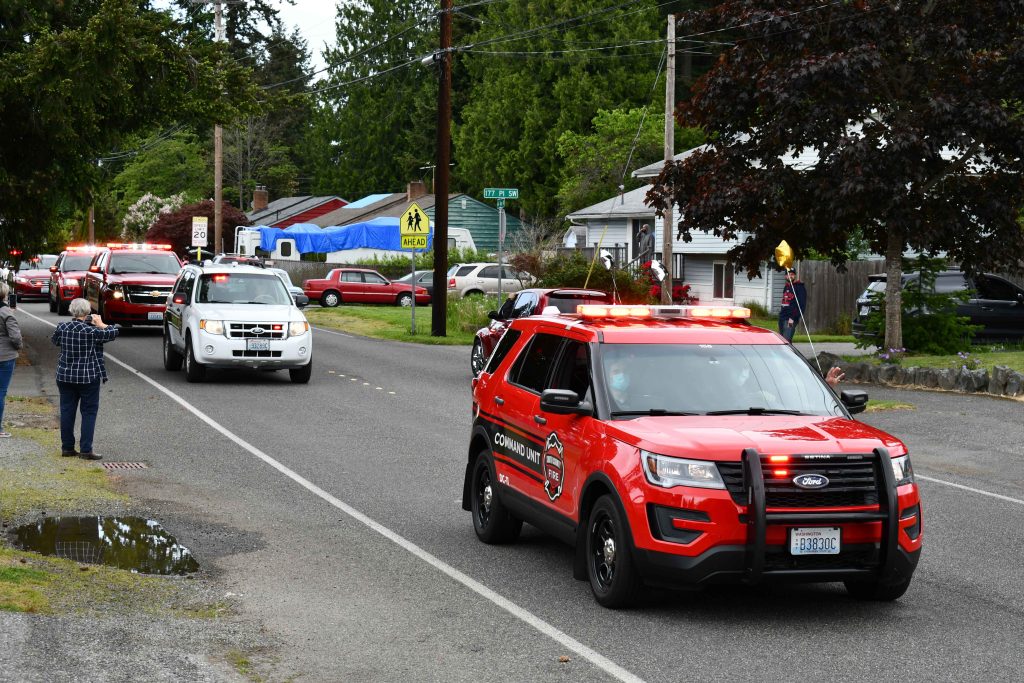 Pennington thanked South County Fire for all of its cooperation. "[South County Fire] has been amazing. They've been very supportive, quick to respond and great at throwing out and suggesting on how to best handle social distancing."
Eli's parents, Jill and Tyler Kincaid, offered their thanks to South County Fire as well.
"Especially in this time of COVID, everyone's spirits are already down," Jill Kincaid said. "Dealing with Eli's condition and not being able to do our special Make-A-Wish Trip, this is kind of an awesome way to get everyone's spirits up and find hope in this time. For him, the firetrucks were just his whole world, so it was totally worth it."
When asked what it was like when they learned they wouldn't be able to go to Disney World like planned, Tyler Kincaid mentioned that he wasn't surprised when the news arrived. "We kind of knew it was coming," he said. "We're blessed enough; Eli is in a place where he can wait to go, but there are a lot of kids who can't wait. And their trips got cancelled… I know Make-A-Wish have had a hard time letting families know that."
Eli's parents wanted to give special recognition to Grayson's Ladder, a non-profit that raises money to research Alexander Disease.
"[Grayson's Ladder] is one of the leading non-profits that are raising money for his diagnosis. As much as we can promote them, that's where our hearts are at," Jill Kincaid said.
For more information about Grayson's Ladder, visit www.graysonsladder.org.