Inslee announces state's long term care testing plan and farmworker protections
Lynwood Times

Inslee announces state's long term care testing plan and farmworker protections-

Widespread testing for employees and residents of long term care facilities and protections for farmworkers in housing, transportation, and job sites.
By Office of thr Governor | Press Release
Gov. Jay Inslee today laid out additional health and safety guidelines for the agriculture industry and announced the state's plan to begin broad testing within long term care facilities.
Farmworker Protections
Inslee issued a proclamation providing additional health and safety guidelines to protect farmworkers in the agriculture industry. These standards address worker housing, transportation, and job site requirements.
Washington is home to more than 100,000 agriculture workers and hundreds of agriculture employers that are working every day to provide aid to the estimated 1.7 million food insecure people in the state.
Farmworker Protections Requirements
"We are fighting to keep everyone in Washington healthy, including an acute focus on health standards for all job sites," Inslee said. "This task has been particularly challenging for agriculture. From the fields, to employer-provided transportation and housing, to other congregate settings like packing houses, there are countless points of exposure risk."
These requirements clarify and expand the standards necessary to implement a cohort model described in the previously released housing rules. The cohort model can reduce the risk of transmission of the virus and enables contact tracing efforts to quickly identify, trace, test and isolate close contacts of workers.
The requirements in this proclamation will protect workers:
In the fields and orchards,
In packing houses for fruit and vegetables, and
On employer provided transportation.
These requirements do not apply to meat or other food processing operations.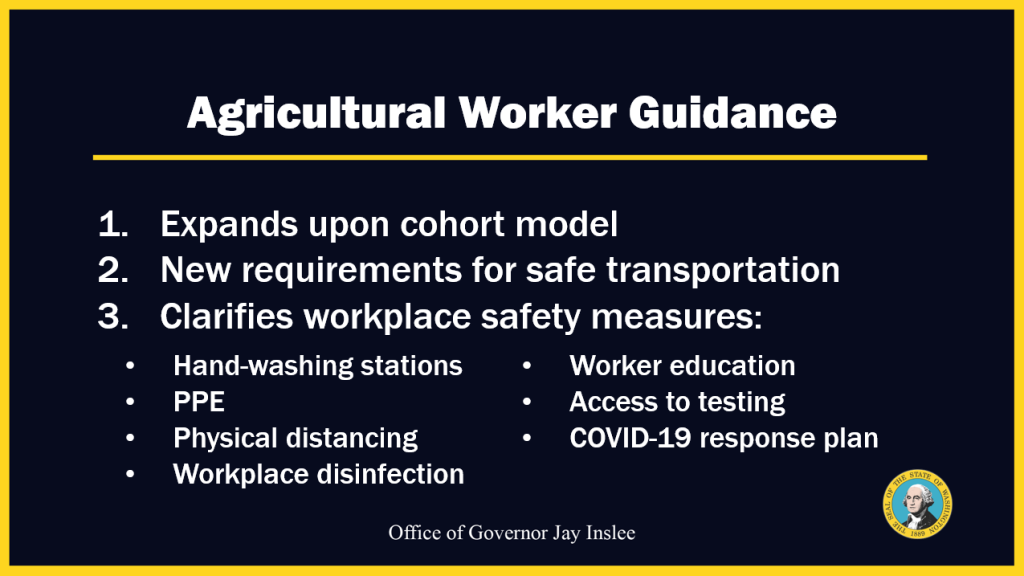 Workers in small cohorts are protected from exposure to other groups of workers, whether in housing or transportation. This model can tremendously reduce the risk of transmission of the virus and aid our efforts to swiftly identify, trace and isolate individuals upon any known exposure.
In addition to transportation and housing protections, the proclamation lays out sanitation and PPE requirements for workers and employers, including:
Large worksites will have roughly four times as many hand-washing stations than what was previously required.
Employers, operators and providers must supply, at no cost to employees, all PPE mandated by these requirements, and cloth facial coverings must be worn by every employee not working alone on the job site.
Physical distancing of six feet must be observed. If that isn't possible, other prevention measures such as more PPE, barriers and ventilation are required.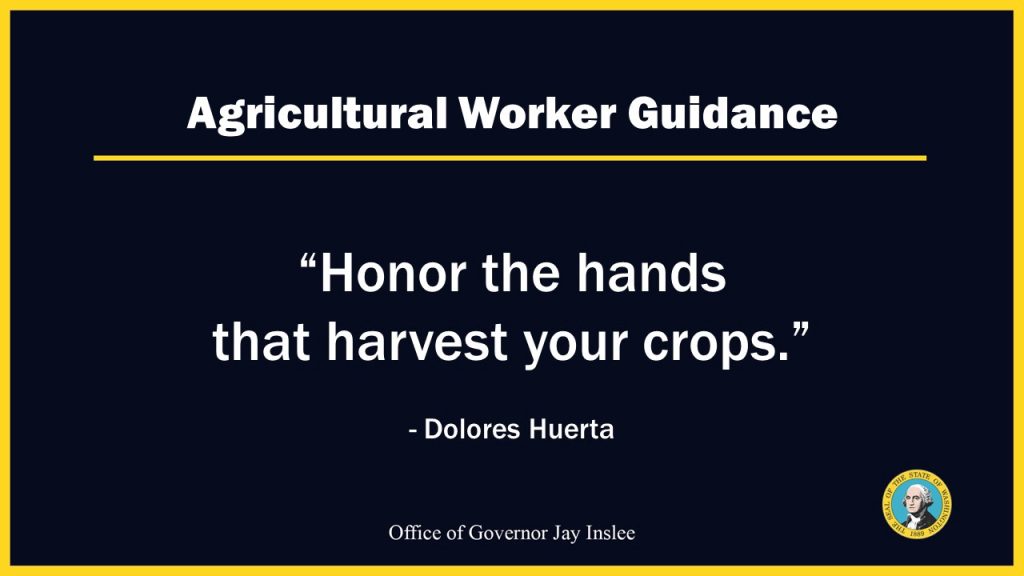 "The coronavirus presents unique challenges in keeping workers safe, but there are many things that can be done to reduce risk. We expect agricultural employers to know and follow these new requirements, and join together with workers to make job sites and their communities as safe as possible," said Labor & Industries Director Joel Sacks.
Read the full guidance here.
Long term care testing
The state Department of Health issued today an order that will require widespread testing within long term care facilities. Residents and staff in nursing homes will be tested within approximately two weeks, with a completion goal date of June 12. All residents and staff in assisted living facilities with a memory care unit will be tested within four weeks, with a completion goal date of June 26.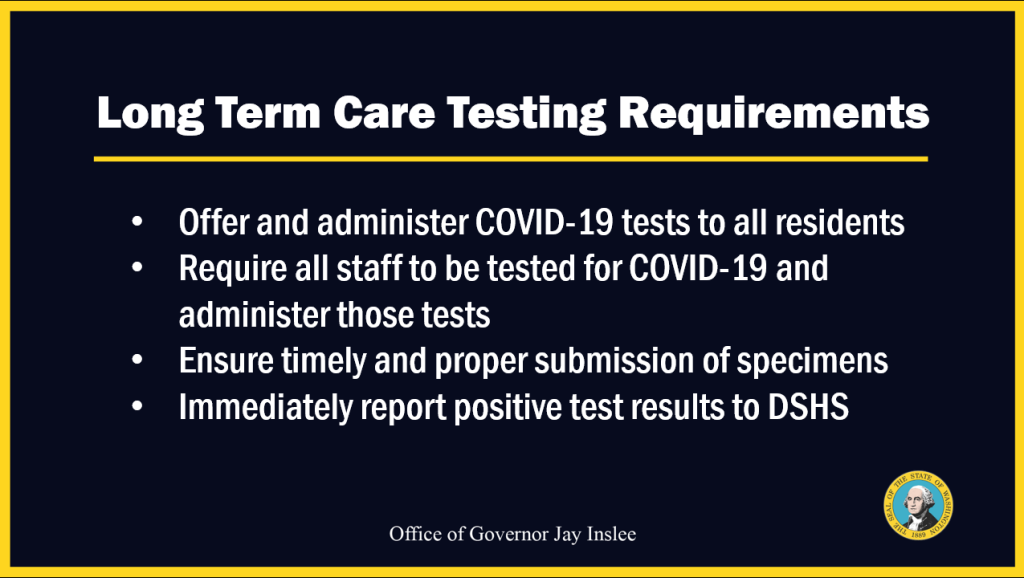 "Residents of long-term care centers are some of our state's most vulnerable," Inslee said during Thursday's press conference. "This effort will serve as an invaluable tool to reduce any introduction of COVID-19 into these facilities. Especially as we reopen the state, we must double down on these efforts."
Facilities that completed a COVID-19 point prevalence survey of residents and staff on or after April 1 will be excluded from this round of testing.
To help in this effort, the state will pay for the cost of the tests and the PPE necessary to administer them for staff, which is estimated to total $1.5 million for nursing homes alone. Cost estimates for other facilities are continuing through the Office of Financial Management and other state agencies.
Facilities unable to meet these requirements in the designated time frame must notify the Department of Health to avoid violations of the order.
"It is critical that we test residents and staff in these facilities to understand the scope and magnitude of COVID-19 infections. This work will help protect our most vulnerable friends and family members, and will inform future prevention and control efforts as we continue to respond to this unprecedented pandemic," said Secretary of Health John Wiesman.

"Testing will be offered at no cost to the facility, residents or staff at every nursing facility and memory care unit in the state," said Dr. Charissa Fotinos, Deputy Chief Medical Officer for the Washington State Health Care Authority.
Read the full order here.