Inslee requires facial coverings or face misdemeanor
By Katrina Kukhar | Lynnwood Times Staff
Update: June 24, statement by Republican House leader J.T. Willcox. "The Governor's mask mandate is going to be counter productive. His moral authority was expended when he persisted in enforcing unfair mandates that didn't make sense to fair-minded people and ignored his responsibility to enforce the law for all. It's tragic.
A more common sense approach as we learned about the disease would have preserved the ability to re-open safely. Americans are not here to be ruled by emergency mandates. House Republicans are already sponsoring bills to make emergency proclamations subject to legislative approval and initiative 1114 has already been filed for use if legislation is blocked. The lawsuits testing constitutionality of emergency orders are still in progress.
In the end, most of these issues will be decided by the outcome of votes in November. Unfortunately for many people a great deal of damage will already be done, both in terms of health and the economy."
During his press conference on June 23, Governor Jay Inslee announced that Washington state will be enforcing mandatory facial coverings to stop the spread of COVID-19 infection. Effective June 26, facial coverings will be required indoors in public and outdoors when one cannot maintain 6 feet of social distancing.
On the individual level, "willful violation of this order is tantamount to a misdemeanor," declared Inslee. Whereas sanctions for businesses for non-compliance on a legally-binding order could include "loss of business license or fines or potentially injunctive relief."
Governor Inslee announced that Secretary of Health, John Weisman will be signing the public health order regarding this mandate.
"The science is clear that when we use face coverings, we limit the spread of droplets being passed on to others when we talk, cough or sneeze. While some of us are wearing face coverings in public, we must increase usage to best control the virus. Washington's strategy to restart the economy and get people back to work will only be successful if, together, we act safely and follow health recommendations," Wiesman said.
This order comes on the heel of COVID-19 infection rates spiking in Yakima which the Governor responded with a rigid "mask up" order in Yakima.
Regarding the situation in Yakima, Governor Inslee said, "Because of the severity of the cases in Yakima, mandatory face masks are not only legally binding on individuals and citizens, it is also a legally binding order upon businesses who have to have a business license to operate."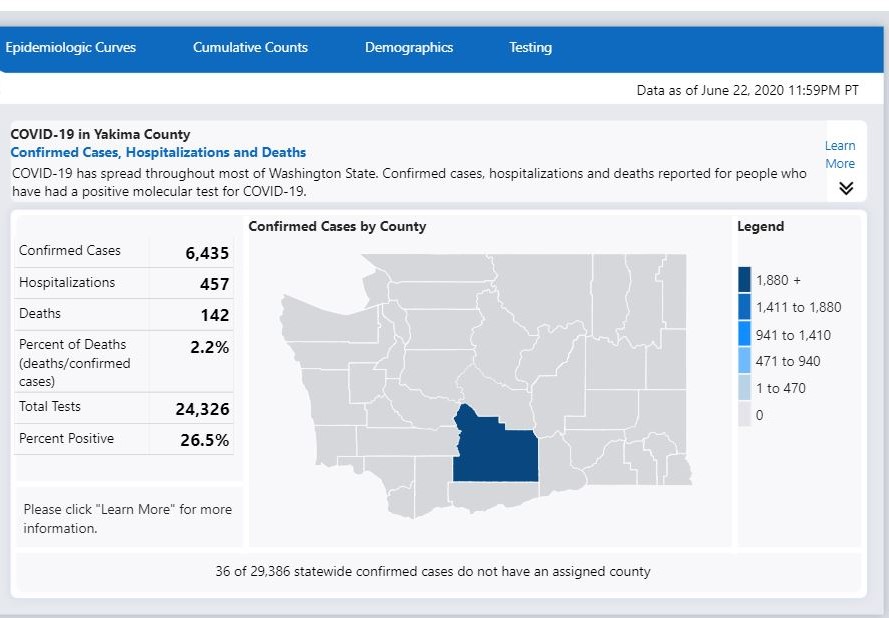 "We are experiencing an uptick in COVID-19 virus activity in our state. We know that if we are going to stop the spread of this virus, we need to remain vigilant and diligent and resourceful." said the Governor.
Facial Covering Requirements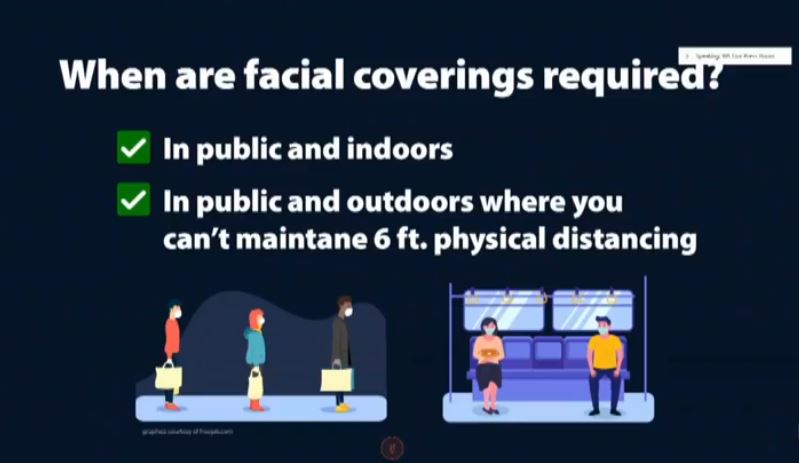 The following guidelines were highlighted during the press conference:
Everyone over 5 years old are required to wear a mask
Exception for the deaf or hard of hearing
Those who have a medical condition that makes wearing a mask difficult
People involved in outdoor recreation alone or with members of their households can remove masks
People seated at restaurants need not wear masks but should observe social distancing rules.
The mask should fit snugly around the mouth and nose
With regards to how this mandate will be enforced statewide, a spokesman for Inslee said that violation of the statewide mask order is punishable by up to 90 days in jail and up to a $1,000 fine.
However, during the press conference, Inslee hopes Washingtonians will willfully comply with the order to avoid penalties.
"We just think people will respond as they had to our first Stay at Home order where there was vast compliance," said Inslee. "Enforcement could be used but shouldn't be necessary."
When a reporter from KOMO News, asked the governor, how to prevent neighbor turning against neighbor? Should people take actions themselves or do they call the police when they see someone without a mask?
Inslee replied, "This is not cause for anything more than a gentle word and I think over time, I think that would be enough…The best way to convince someone else to wear a mask is to wear a mask yourself. This is largely a cultural change and one part of that is a legal requirement and this is a legal requirement."
Legislative Response
The Lynnwood Times reached out to both minority and majority legislative leaders for comment. As of the publishing of this article, late night June 23, we have not received a response.
Jim Walsh, House Representative of the 19th Legislative District questions the legality of the order.
"This is not law," said Walsh. "The governor is working on his own as the Executive branch with no involvement of the legislature, so this not law. What this is… is a process that the governor feels is a legal process for making policy during a time of declared emergency."
Walsh continued, "It is not clear how this would be a misdemeanor…He could try and put enforcement pressure on businesses as he did in Yakima."
"So this is going to be a mandate he calls it, enforceable we aren't sure how…He would need some law enforcement entity to enforce the misdemeanor," concluded Walsh.
Joanna Small, Public Information Officer for the Lynnwood Police Department, told the Lynnwood Times, "We [LPD] are approaching this the same way we've approached all of the Governor's orders related to Stay Home Stay Safe; we start with education and ask for compliance."
Jennifer Gregerson, Mayor of Mukilteo, in a Facebook post told the Lynnwood Times that it is "too soon to respond" if the Mukilteo Police Department will enforce the mandate.
"Because it's a misdemeanor, maybe? However we have found success so far with conversations and education on the other parts of the stay home order. Those were enforceable via labor and industries and other state agencies. I don't know what the state expectation is on this yet- we haven't heard anything other than the press conference."
Until the order has is released, details of the order and its enforcement are in question. The mandate will go into effect Friday, June 26.
Latest COVID Data & Information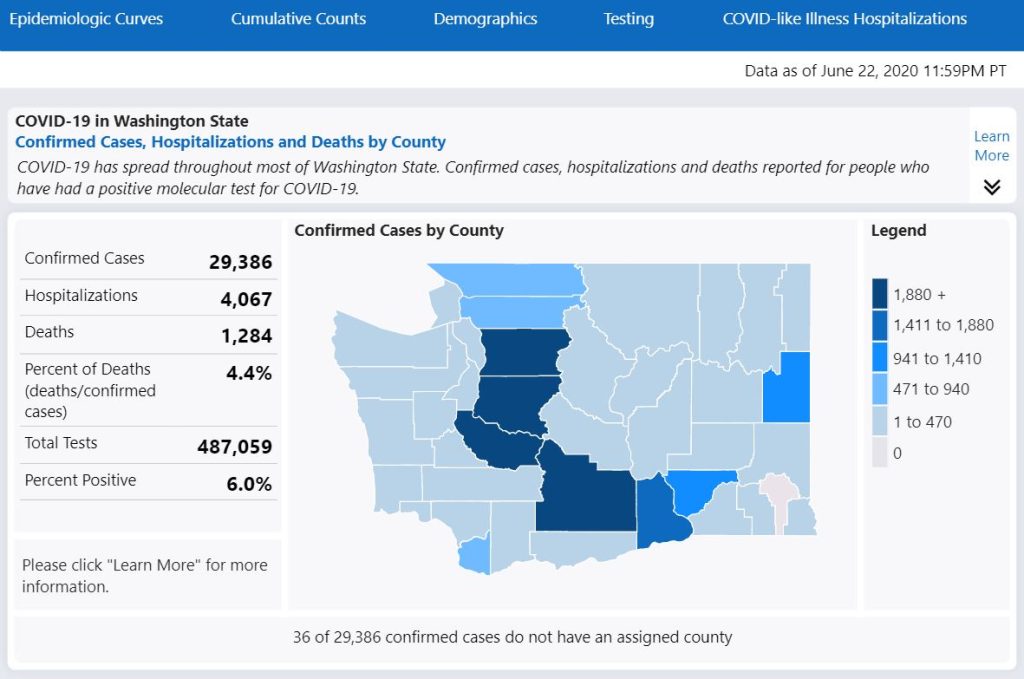 According to the Washington state Department of Health, as of June 22 there were 1,284 deaths in Washington state out of 29,386 confirmed COVID-19 cases for a 4.4% death rate against confirms cases or a 0.017% death rate against the population of Washington.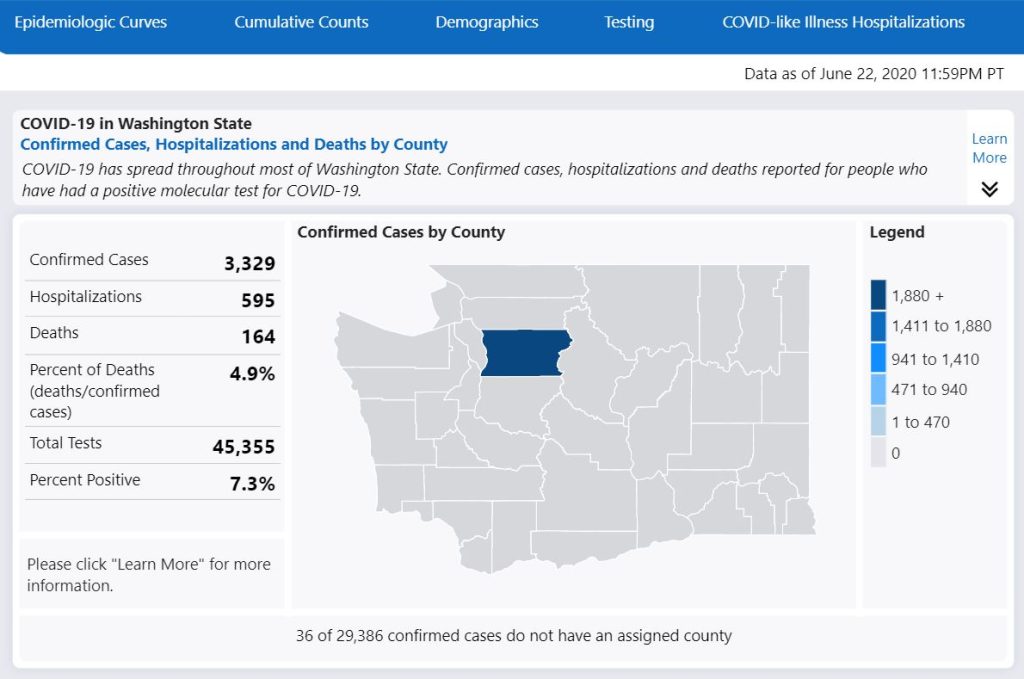 According to the Washington state Department of Health, as of June 22 there were 585 deaths in Snohomish County out of 3,329 confirmed COVID-19 cases for a 4.9% death rate against confirms cases or a 0.07% death rate against the population of Snohomish County.
Racial Injustice Task Force
Inslee concluded his press conference sharing the status of his task force addressing issues of policing and racial injustice. Inslee has asked the task force in partnership with legislators to develop a statewide investigative unit for cases of alleged police misconduct resulting in deaths or serious harm.
One can expect that the details of the legislation will be disclosed during a possible special session later in the year.