Family, community, and a desire to serve propelled new fire chief Thad Hovis to position
Family, community, and a desire to serve propelled new fire chief Thad Hovis to position
By Alec Dietz | Lynnwood Times Staff
In late January, Thad Hovis, then the Assistant Chief of Operations at South County Fire, received a call with news all the way down from the CDC.
The first known positive COVID-19 patient had been identified, and Hovis' department would be the one responsible for transferring that patient to Providence Hospital in Everett.
Since then, it's been a whirlwind year for the new Fire Chief of South County Fire, who had been serving as the Interim Chief since previous Fire Chief Doug Dahl retired in March. Responsible for navigating the regional fire authority through the COVID-19 pandemic, a new fire benefit charge ballot measure in November, a growing community and other new duties, Hovis has hit the ground running.
"There's no pillow underneath my desk, that's for sure," Hovis said.
Officially sworn in Aug. 5, Hovis' road to his new role began well before this year. Since he was a kid, Hovis had a calling to serve as a firefighter and leader. While he says he got his start when he played firefighter as a kid with his cousin, Hovis says a large part of his desire to serve came from his family, particularly his aunt, Melanie.
Serving as one of Seattle's first female firefighters in the early 1980s, Hovis said his aunt identified that he would also be a good firefighter, and instilled values of service and caring for others at an early age.
His aunt died early in his career of cancer, and to this day, Hovis still takes the lessons he learned from her and other firefighters in his family.
"I got a big place in my heart to help people," he said. "To communicate with people and connect with people, and care about them."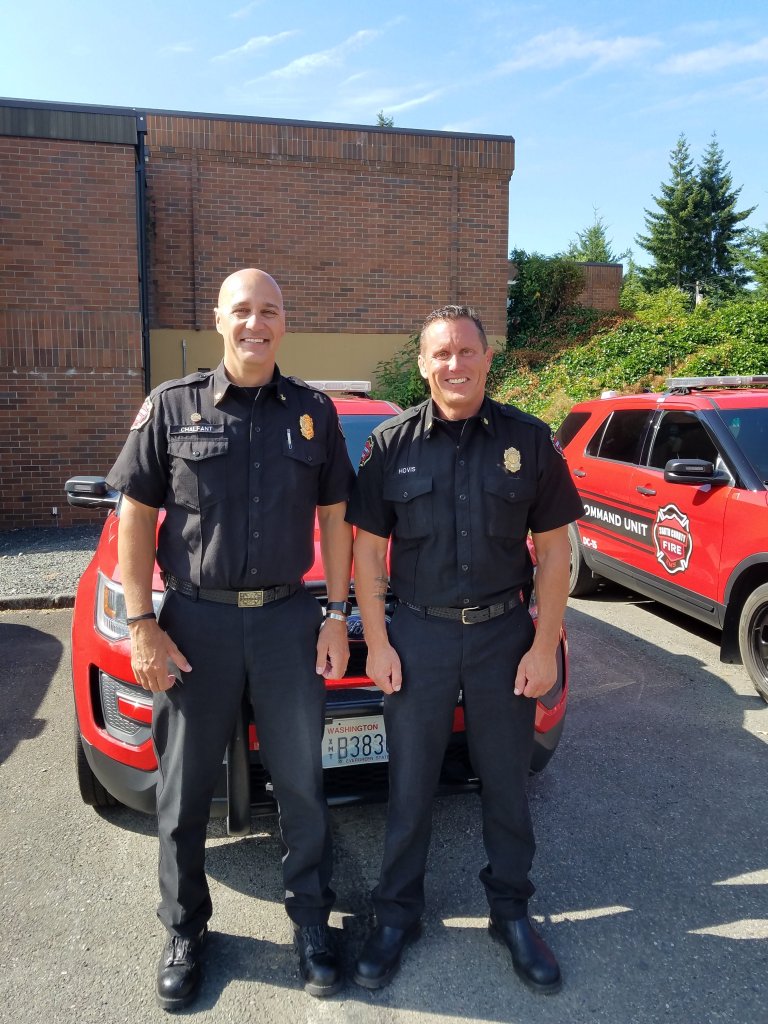 Growing up in Edmonds, going to Edmonds High School, and serving the local community for over 20 years, Hovis said he has a deep connection with the community and that makes what he does special.
"It's nice when somebody calls 911 and they actually recognize you or you knew them from school or you knew their mother or father," Hovis said. "I've had those calls and it is nice. I know people appreciate recognizing a last name or a face from the local community; I know that's big for people."
Because of that connection with the community, Hovis has taken it upon himself and his department, even in the midst of a global pandemic and crisis, to better himself and his department.
Whether it's reading books in his free time on firefighting, strategic thinking, or leadership — with his latest being "True Alignment" by Edgar Papke — or re-evaluating and adapting how the fire authority can improve service, it all comes down to one thing for Hovis.
"At some level, wanting to do something is different than really knowing in your heart that you can do it," he said. Since his first assignment over 20 years ago, to the present accepting a new position amid a pandemic, Hovis remains committed to the same ideals he was taught by his family and the same community and work family that raised him.
"South County Fire is a really progressive organization, made up of great men and women helping their community," he said. "As the Fire Chief, my main job is to keep that momentum going and to continue to carry out our mission, which is to enhance the lives of the public that we serve. We talk a lot of values and I want to represent those. I want the men and women that work here to continue to do that as well."
Hovis also stressed the importance of following social distancing guidelines and wearing face coverings, citing that the regulations put in place are helping.
"We'll continue to ask the public to follow as closely as they can the guidelines that are there to continue to keep them safe so we can keep past COVID-19 as quickly as possible. They are making a difference. It's how each of us individually can really make a difference."