How Washington state can utilize mobile devices to slow the spread of COVID-19
By Alec Dietz | Lynnwood Times Staff
With most Washington counties still stuck in Phase 2 of Governor Jay Inslee's "Safe Start" plan, several alternatives and plans to help slow the spread of COVID-19 are being discussed at the local and state level.
So far in the state of Washington, state employees, national guard members, volunteers and staff members of the Department of Health have been doing most of the contact tracing work, but alternatives have been discussed.
Arielle Dreher of the Spokesman Review reported that Washington has sought out private firms to aid contract tracing efforts. Mathematica, Comagine Health, and Allegis will help the state's contact tracing efforts until Feb. 1, per the Spokesman Review.
Aside from a state-led mission to alert people who came into contact with someone infected by coronavirus within 24 hours of contact, third parties have begun processes to aid the effort.
In late April, it was announced that an app was in development at the University of Washington that would alert people about potential exposure to COVID-19, "without giving up anyone's privacy." As of Aug. 30, 2020, the app has not been released to app stores and is still only available to download on the "CovidSafe" website as a demo.
Apple and Google have begun "Phase Two" of their plan to introduce contact tracing capabilities to the operating system level in six U.S. states, though currently there are no plans to introduce those capabilities to Washington State.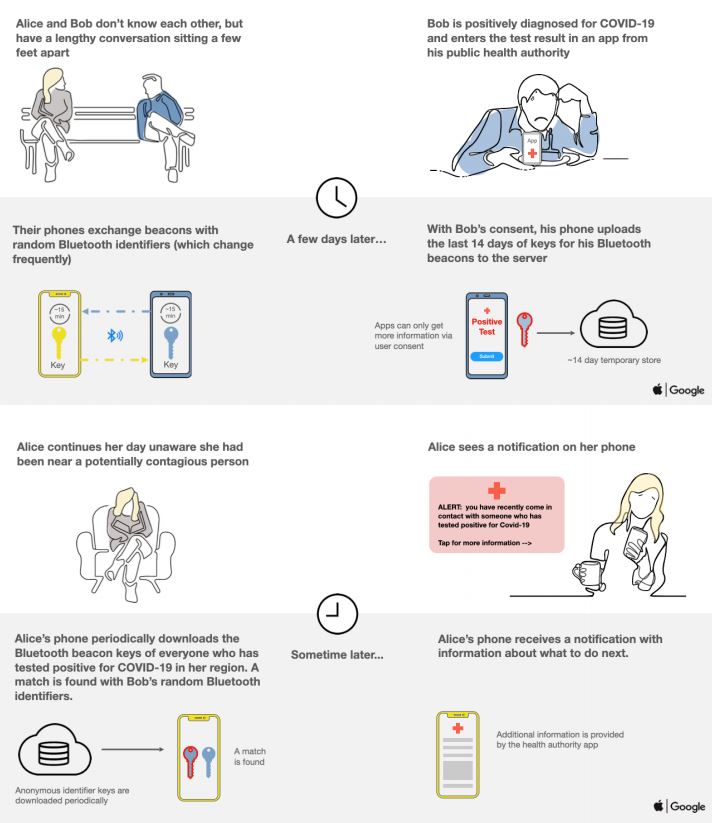 If it were to be introduced to Washington, it would give Apple and Google users the opportunity to opt in to a system in their settings that would alert them if they had potentially been exposed to COVID-19. Per Apple, it was a completely voluntary service that you can opt in and out of at any time. 
In a press conference in May, Inslee stated that contact tracing would be completely voluntary, and that patients have the right to refuse to share information with contact tracers. However, both the state and Snohomish County strongly urged patients to share that information to help slow the spread.
"Contact tracing is another tool in our toolbox for tackling COVID-19 in Washington," Inslee said in May. "While we need to continue physical distancing, this will allow us to get a better handle on who gets sick and how the virus is spread, which is vital to re-opening our economy."
Snohomish County's target goal of 90% of cases reached by phone or in person within 24 hours of a receipt of a positive lab test report is currently at 73%, where it has stayed for much of August.
In June, with a lower amount of reported cases, that number averaged to be around 50%, but dropped as low as 32% in particular weeks. Since July, that number has risen steadily, climbing to a record high 73% as of Aug. 15.
While Washington State hasn't implemented a contact tracing app of its own as of yet, and have just started working with private firms to reach its targeted goals, major tech companies and third parties are working through alternatives to help state governments.
Both the UW app in development and the software updates that Apple and Google have implemented in other states have stressed the importance of privacy and outlined that patients would have to opt into the service and that information would not be shared without consent.
But with a seemingly low turnout and usage rate with the app and software in other states, state and county governments are still working on how they can improve their contact tracing service.
Below are snapshots from the Apple's iOS 13.5 update with COVID-19 contact tracing feature: