Tuesday is your last day to enjoy indoor dining before the holidays
By Dio Alexander | Lynnwood Times Staff
Restaurants and bars will be closed for indoor service starting 11:59pm on Tuesday, November 17. Only outdoor dining and to-go service is permitted following current guidelines. Table size will be limited to five persons for outdoor dining. Retail and grocery stores will be limited to 25% occupancy and common areas like food courts are closed.
All restrictions will be in effect for at least four weeks until Monday, December 14. Inslee hopes to have a decrease in cases by then so that "further restrictions would be unnecessary."
"Today, Sunday, November 15, 2020, is the most dangerous public health day in the last 100 years in our state's great history," Governor Jay Inslee said from his desk at the Governors Conference Room in Olympia.
"We have seen previously two waves of growth of this pandemic in our state. This is the third wave," Inslee said, tensely turning the page in his binder.
"We are facing a third wave that is trending to be more dangerous than any we have seen before," Inslee warned Sunday morning.
"Inaction here is not an option; we have to take bold, decisive action and we are doing that today," as Inslee announced sweeping new statewide restrictions on businesses, restaurant shutdowns and all indoor gatherings.
As of November 7, Snohomish Health District reports 11,357 COVID-19 cases since January 2020. There have been 252 deaths due to COVID-19 in Snohomish County of which 94.4% or 238 had underlying health conditions. According to the US Census Bureau, Snohomish County has an estimated 2020 population of 822,000.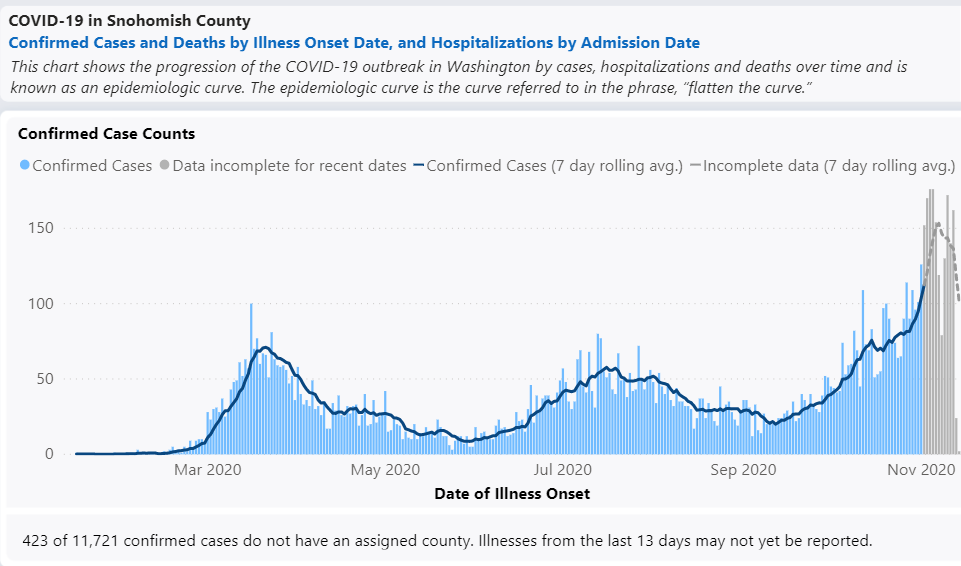 In Lynnwood, there have been a total of 1,675 COVID-19 cases since January 2020 of which 33 cases have resulted in death. Greater Lynnwood (zip codes 98036, 98037, and 98087) has an estimated 2020 population of 92,875 residents.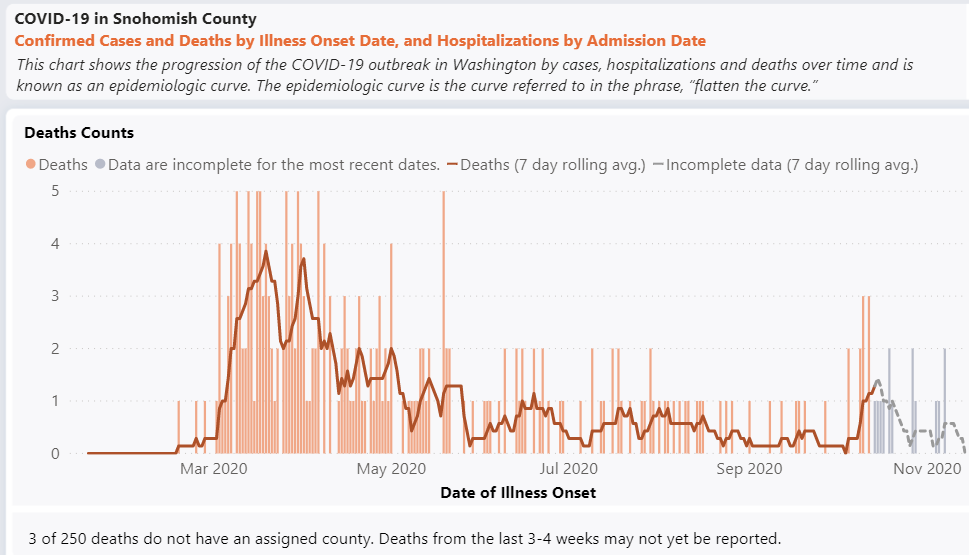 The following restrictions were effective 11:59pm on Monday, November 16, are part of the effort to slow Washington's COVID-19 cases which have steadily risen since November 1.
Religious services are limited to 25% occupancy or no more than 200 people, whichever is fewer. No choir, band, or ensemble performances will be allowed, except for solo performances. Congregations will not be permitted to sing and face masks are required at all times during services.
Non-family indoor social gatherings are prohibited unless participants quarantine for 14 days prior to the gathering or quarantine for seven days prior to receiving a negative COVID-19 test within two days of the scheduled gathering. Outdoor social gatherings are limited to no more than five people outside of the household.
Fitness facilities and gyms will be closed for indoor operations during the four-week period. Only outdoor activities with a maximum of five people are permitted. Other indoor businesses, such as bowling alleys and movie theaters, must remain closed.
Schools and the court system are exempt from the new restrictions. Construction and manufacturing industries will also remain open.
Despite the broad restrictions, Inslee stated enforcement will be limited.
"You're not going to expect state troopers coming to your door if you have a big Thanksgiving dinner," Inslee said. "We do hope people who want to abide by the law will abide by the law."
Locals elected officials weighed in on the governor's restrictions.
Lynnwood Mayor Nicola Smith agreed with the new restrictions and encouraged residents to wear a face mask, maintain social distancing, limit social gatherings, and support local businesses via holiday shopping. Smith also said that the City will continue to press for federal funding to support those economically impacted by the pandemic.
Mayor Jennifer Gregerson of Mukilteo told the Lynnwood Times that case counts and hospitalization rates "make it clear that we need to make changes now."
"I appreciate the sacrifices that our residents and business community have already made," Gregerson said. "I hope that all of us will continue to be kind to one another, support local businesses when we are able, and know that there is a light at the end of the tunnel."
On the county side, Snohomish Health District Health Officer Dr. Chris Spitters supported Inslee's actions urging Snohomish County residents to "respect the restrictions" to combat the rising tide of cases.
Snohomish County Executive Dave Somers sympathized with the sacrifices that residents must make during the holiday season, noting he is frustrated with the measures but that they are "necessary to push the curve back down."
"We've done it before and can do it again," Somers said.