Inslee proposes equity-based budget for Washington state
For the first time, the governor directed state agencies to center budgetary decision packages and legislation around equity.
By Office of the Governor
Gov. Jay Inslee today announced a historic equity policy package for the upcoming 2021 legislative session, including $365M for equity-related decision packages and budget items. For the first time, the governor directed state agencies to center budgetary decision packages and legislation around equity.
The proposed investments follow an unprecedented year that exposed the inequities that communities of color have faced for generations. These proposals showcase Washington's commitment to not just changing policies affecting these communities but investing in them as well.
Inslee was joined by Rep. Melanie Morgan, Rep. Mia Gregerson and Commissioner Mike Kreidler for the announcement.
"I firmly believe Washington will be an anti-racist state, and I will be taking actions that hold our state to that commitment," Inslee said during a press conference Monday. "We need our policies and budget to reflect our dedication toward disrupting the harmful systemic cycle of racism and inequity.

"We have seen Black, Indigenous and other people of color disproportionately impacted by COVID-19 because of longstanding racial gaps all of which have as a root cause — racism. Now is the time to implement real change that will have a positive impact on the lives of those most impacted by this crisis."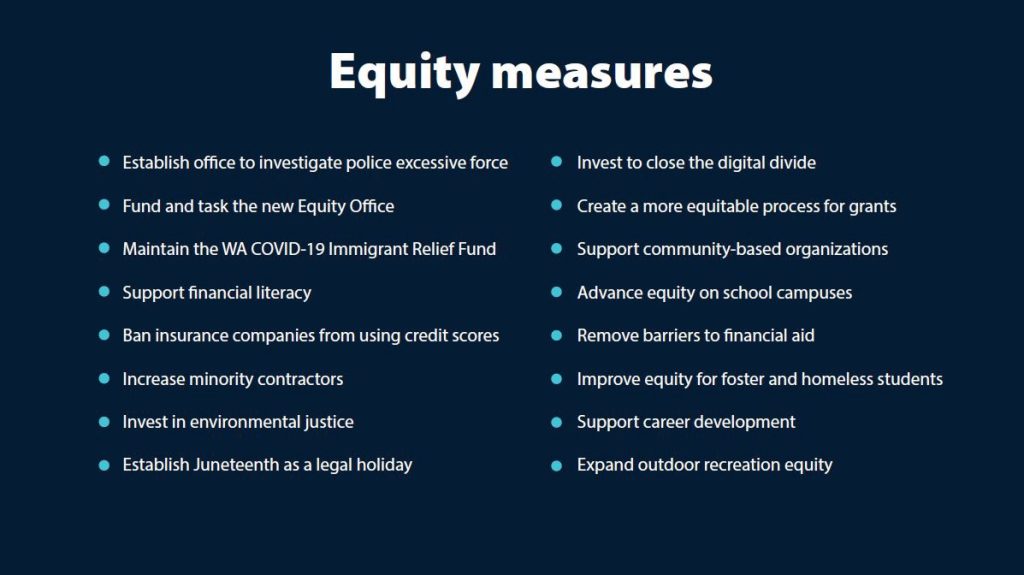 Inslee's legislative and budget proposals would:
Establish Juneteenth as a legal holiday.
Stand up and task the Washington Equity Office.
Mandate independent investigations of police use-of-force.
Continue to fund the Immigrant Relief Fund.
Ban making insurance decisions based off credit scores.
Invest directly in communities of color.
Juneteenth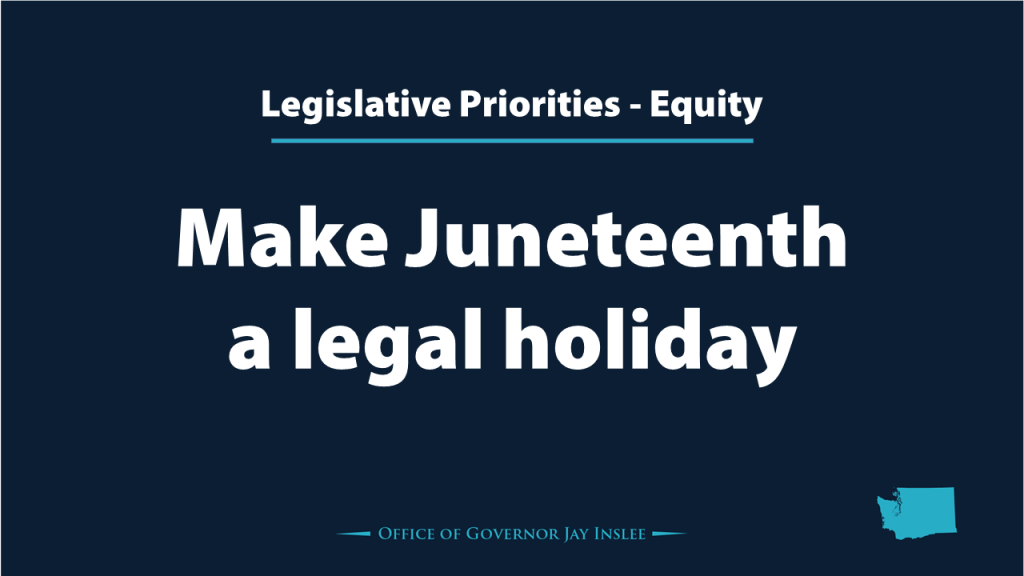 Inslee supported establishing Juneteenth as a legal state holiday. Observing June 19 as Juneteenth will recognize America's history of slavery while acknowledging the oppression from institutional racism that remains today.
The holiday is a somber celebration of the resiliency and spirit of Black Americans, reminding of past moral failures alongside a persistent hope of a more equitable future.
Rep. Melanie Morgan, sponsor of the bill that would establish the holiday, said that the move was a step in the right direction toward honoring the history of Black Americans.
"Juneteenth is an important part of American history and deserves its place as a paid state holiday, so that all Washington residents can appropriately reflect and celebrate the day in which chattel enslaved Africans were finally informed of their freedom," Morgan said. "For more than two years after the Emancipation Proclamation, Africans were still held in bondage until the Union troops arrived in Galveston, Texas and announced that they were free. The legislature intends to designate Juneteenth as a state legal holiday to celebrate the end of chattel slavery. This is a critical and necessary step forward in racial reconciliation.

"Although this day has special significance for Black/African Americans in the state of Washington, the rejoicing of the end of this atrocity should be acknowledged and celebrated by all Washingtonians. Let us continue to fellowship with Black/African Americans; to revisit our solidarity and commitment to antiracism; and continue to lead the way on ensuring that all of our communities live in an equitable, diverse, and inclusive state."
Washington Equity Office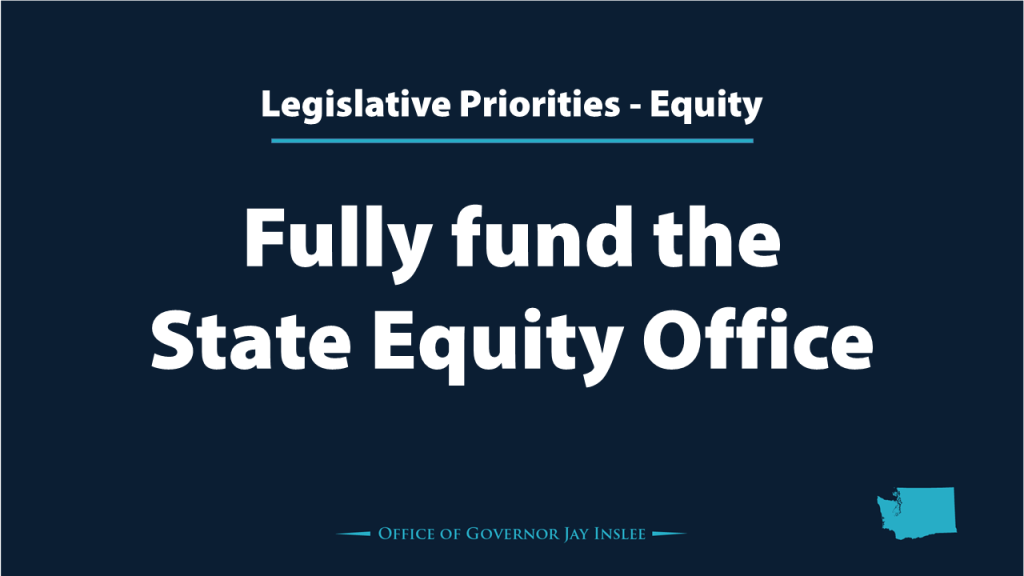 The governor announced he's supporting $2.5 million of funding for the state Equity Office, created in the 2020 legislative session. The eight-person office will develop and implement a five-year equity plan for the state and assist agencies in developing their own diversity, equity and inclusion (DEI) plans.
The office will create an online performance dashboard monitoring agency progress towards goals set out in their DEI plans in order to stay accountable to Washingtonians.
Rep. Mia Gregerson, who sponsored the bill creating the Office of Equity, expressed her support of the governor's funding proposal and stressed the impact the office will have on Washingtonians across the state.
"Becoming one of the first states in the nation to establish a statewide Office of Equity was no small feat, and it could not have been done without your advocacy, your time, and personal stories," Gregerson said. "It is a much better product because of the diversity of individuals — and places we traveled across the state — who were actively and passionately involved. We did this together. We should be proud of ourselves in being bold and calling for action — that is what truly makes our state a great place to live and work. We must stay focused to ensure that our promise to our communities is fulfilled. This Office is a promise to you that your expertise and vulnerabilities must be accounted for and brought to the table every time. I am truly grateful for the people who stewarded this process and the thoughtfulness that has been taken in every part of this journey.

"With the Office of Equity, so many more of us are creating a more equitable and healthier Washington — a livelihood in which everyone deserves to feel that they belong without shame and can thrive with dignity."
Independent investigations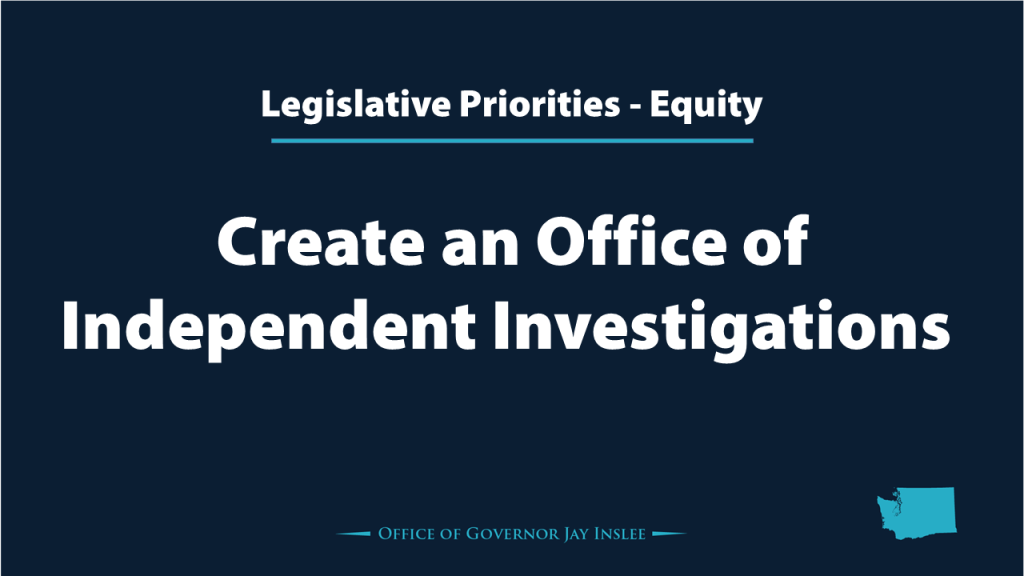 The governor will request legislation that would create the Office of Independent Investigations to ensure investigations of police use of force are conducted thoroughly, fairly, transparently and with an anti-racism lens.
After the death of George Floyd and Manuel Ellis, the governor announced the formation of a task force to gather input from community members, law enforcement and family members on how the state can improve how it investigates police use-of-force. The task force's recommendations shaped the office in the legislation.
Inslee is proposing $26 million in the 2021–23 biennium for the creation of the Office of Independent investigations. After 2023, the office will cost approximately $17 million per year.
Immigrant Relief Fund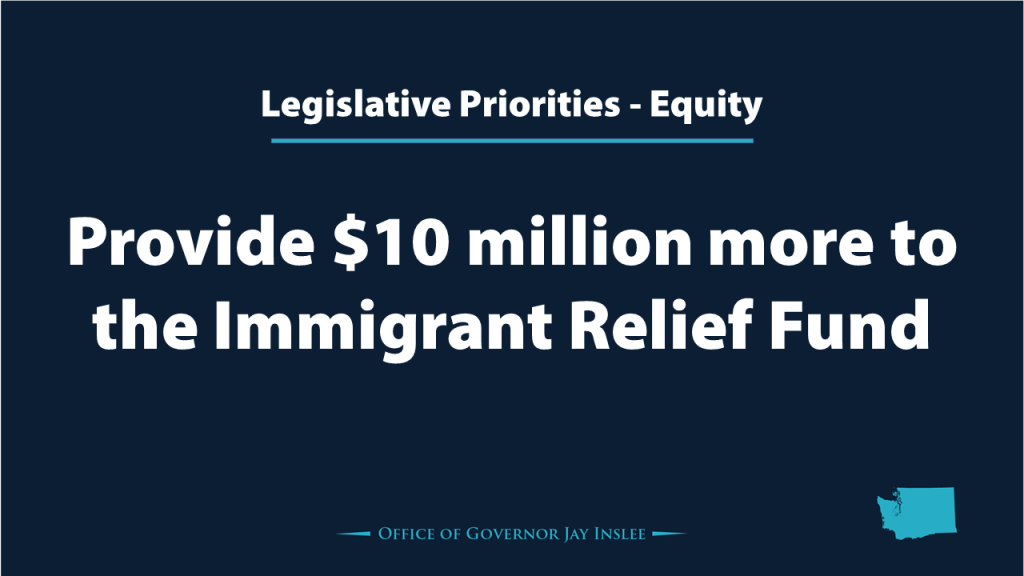 In his 2021 proposals, Inslee will be recommending an additional $10 million for the Washington COVID-19 Immigrant Relief Fund. The fund is a vital resource for Washington's immigrant workers, unable to access most economic supports made available during the pandemic. The $10 million will be added to $62.6 million previously allocated.
"It's important that we work just as hard to serve a crucial Washington community that works every day to serve their neighbors," Inslee said. "Immigration status cannot be a what stands between a person and shelter, or food, or safety. This fund has and will continue to fund much needed relief."
Credit score bill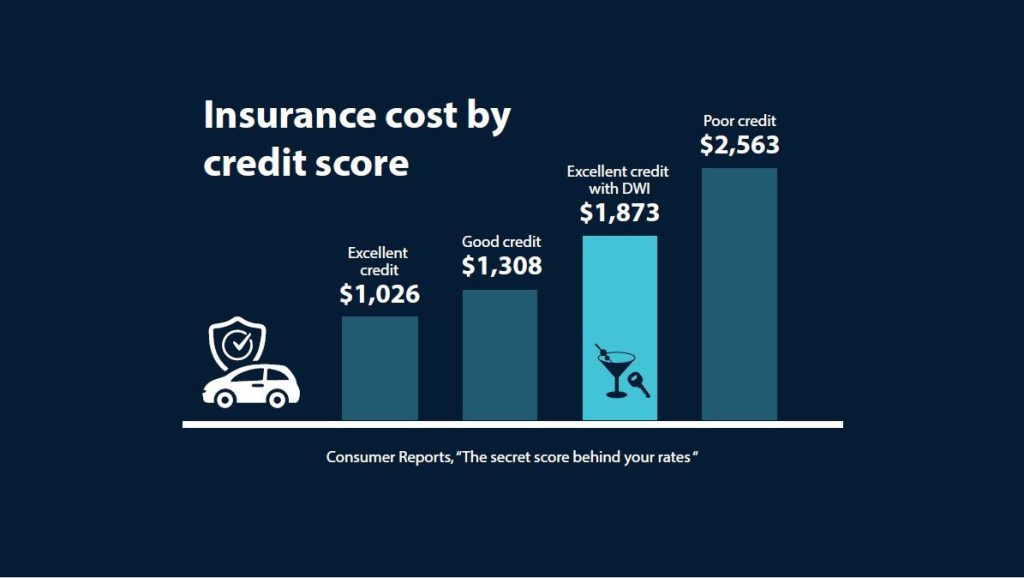 Inslee also jointly proposed legislation with Insurance Commissioner Mike Kreidler that would ban the use of credit scoring in considering auto, homeowner, renter and boat insurance rates. The bill addresses systemic racism within the credit system. Historically, credit-based insurance scores have disproportionally affected communities of color.
The commissioner said that this bill will be vital in helping Washingtonians obtain insurance, protecting their lives and the lives of their loved ones.
"Banning the use of credit scores in insurance is an economic and racial justice issue," Kreidler said. "For too long, insurers have been relying on a secret black box of data to set your insurance premium.

"The people hit hardest during this pandemic are those with lower incomes and minority communities and they're seeing their credit scores suffer, too. Asking them to pay more for their insurance on top of everything else is wrong. Insurers spoke out this summer in support of racial justice. They need to join us to ban this unfair practice, once and for all."
Capital investments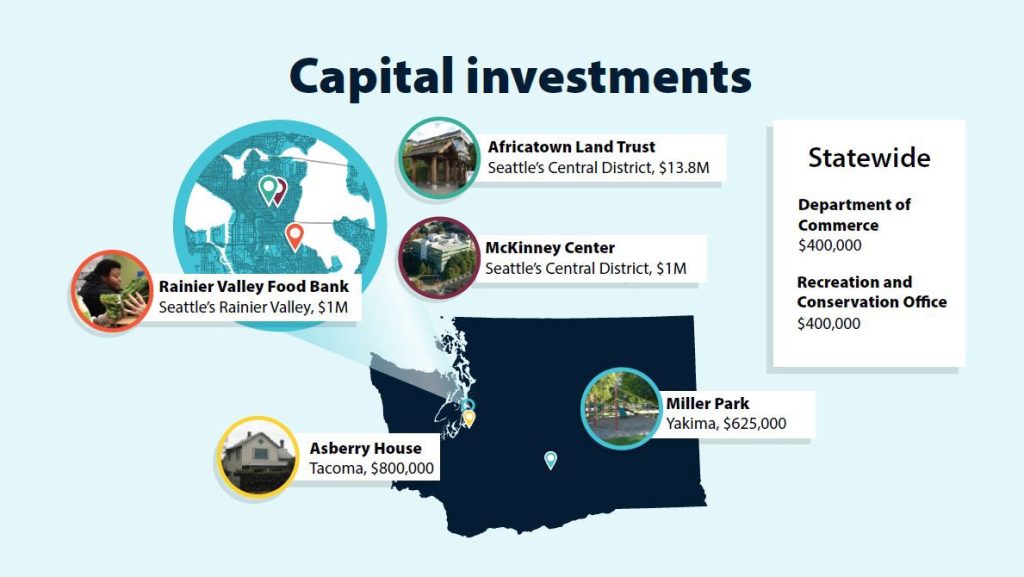 The governor is proposing new equity investments in the capital budget, including formation of grants and investing in BIPOC community-based organizations.
The investments include $400,000 in capital bonds for the Department of Commerce to create an equity committee to develop strategies for equitable investing and policy, looking at individual and community needs of underserved populations. He is also proposing $400,000 in capital bonds for the Recreation and Conservation Office to review equitable distribution of state grant programs.
In addition to the $800,000 in capital bonds to the two state agencies, Inslee will be recommending investments in five different capital projects across the state to support organizations, such as food banks, community centers, affordable housing and recreation in BIPOC communities.
"These are only some of the ways I am proposing we begin the long process of dismantling inequities, replacing our aspirations for a better society with concrete commitments to a better life for all," Inslee said.

"We intend to disrupt the systemic racism that depresses the economic growth of BIPOC communities. We will invest directly in under-served communities experiencing gentrification; and we will increase individuals' access to opportunity to stop this insidious cycle."
Also included in the equity package is funding to:
Support financial literacy,
Increase minority contractor hires,
Build capacity in community-based organizations,
Invest in environmental justice,
Close the digital divide,
Advance equity on school campuses,
Remove barriers to financial aid,
Improve equity outcomes for foster and homeless students,
Support career development, and
Expand outdoor recreation equity.
Read the full equity package policy brief here.