Inslee proposes $3.5 billion Capital Gains tax in 2021–2023 budget proposal
By Office of the Governor
The next biennium remains more than $3.3 billion below where it was before the pandemic hit.
A new 9% tax to capital gains earnings above $25,000 for individuals and $50,000 for joint filers. A new capital gains tax on the sale of stocks, bonds and other assets. Exemptions are provided for sole proprietor businesses, retirement accounts, homes, farms and forestry.
A new "covered lives assessment" fee to be paid by health insurers, Medicaid managed care organizations, limited health services contractors and third-party administrators.
Gov. Inslee announced the details of his 2021–2023 biennial budget proposal Thursday, which included significant funding for public health, economic supports for workers and businesses, and other services that Washingtonians need to recover from the impacts of the COVID-19.
"We must invest in the relief, recovery and resilience of Washington. We cannot cut the things that we need most during a pandemic," Inslee said during a press conference Thursday. "In my proposed operating, capital and transportation budgets, I am investing in the people of our state."
Inslee's budget proposals would:
Continue an aggressive response to the ongoing pandemic and build more capacity for tackling future public health crises.
Rebuild the state's economy and continue efforts to support households, students, workers and businesses impacted by the pandemic.
Address racial and economic inequity.
Protect previous investments in areas such as education, childcare and early learning, climate action, behavioral health reform, combating homelessness and access to health care.
Economic supports for workers and businesses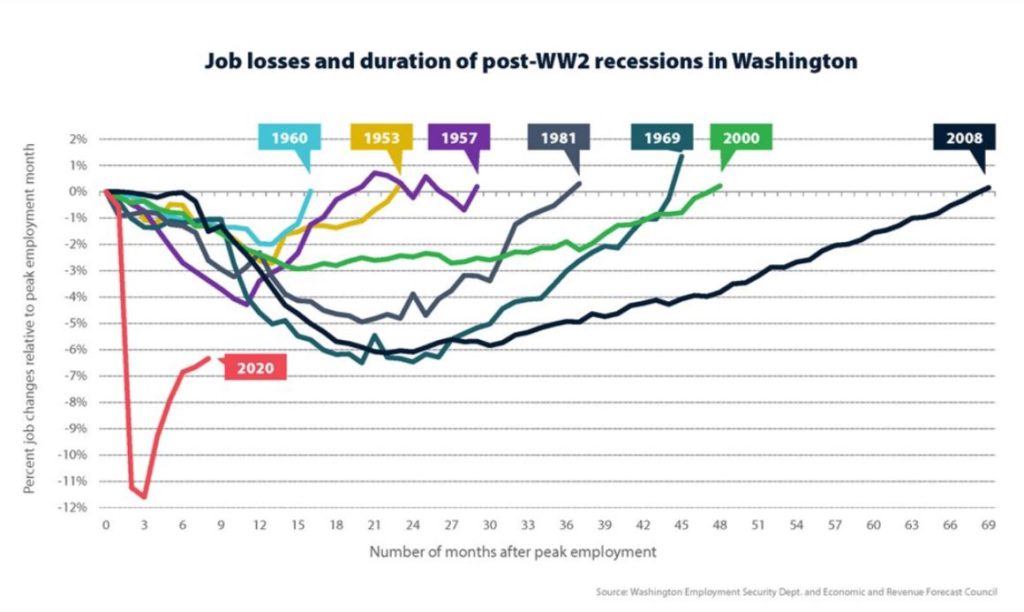 Inslee stressed the need to rebuild the state's economy and continue efforts to support households, students, workers and businesses impacted by the pandemic. This includes additional protections for workers and funding for the state Labor and Industries to investigate issues at businesses and agricultural work sites.
The governor's budget also includes funding to shore up the state's unemployment system, which was put under enormous strain due to staggering job losses, especially during the first months of the pandemic.
Inslee is proposing legislation that would ease unemployment insurance rate increases on businesses and increase minimum weekly benefit amounts for unemployed workers. The proposal increases staffing in the division of occupational safety and health, a critical resource for workers and employers to understand safety protocols on the job and ensure timely response.
Additional protections proposed include significant new funding for rent and foreclosure assistance, and other measures to keep people from homelessness.
Read about Inslee's Safe Start workgroups and how they helped inform his budget decisions.
Public health funding
Inslee laid out policy proposals that build more capacity for tackling future public health crises, including $397 million for the state's public health system. The programs include investments in data infrastructure for public health for sharing information that turns data into actionable information for decisions and policymaking throughout the state.
Also included in the budget are resources for personal protective equipment, testing supplies and lab costs, contact tracing, and our public health lab and epidemiology work. It will fund planning for rapid response to disease outbreaks and other disasters that require strong relationships between city, county and state emergency management departments.
Sen. June Robinson supports the proposal and joined Inslee for Thursday's press conference.
"As a public health professional, I've seen the challenges with the public health system firsthand throughout the COVID pandemic," Robinson said. "Now is the time to reimagine the structures of our public health system and infuse the system with a much needed stable funding source."
As the pandemic has raged across the state, disparities in local health jurisdictions have emerged.
"I believe health districts can be more effective when addressing the needs of multiple adjoining counties and focusing on the best public health outcomes for their communities," Inslee said. "Therefore, I am putting forward legislation that creates a regional, coordinated approach to local public health through comprehensive public health districts. Combining services across counties in regionalized health districts will lead to a more efficient delivery of services."
Rep. Marcus Riccelli said that strengthening public health districts is key to ensuring care for all Washingtonians.
"Our current public health system isn't working for everyone. Rural and underserved communities need help, and we've seen what happens when politics is put over public health in a pandemic," Riccelli said. "It's time for us to recognize that diseases don't care where you live or what county you are in. By creating stronger public health districts focused on accountability and effectiveness, this bill will help make sure that our public health system is serving everyone in Washington state."
Education and child care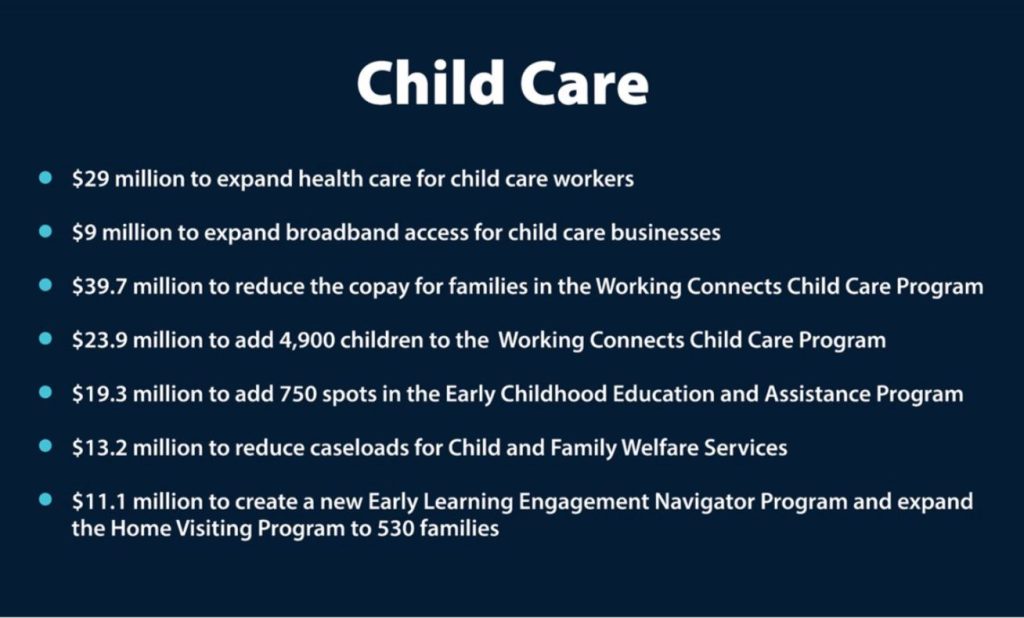 The pandemic caused major disruptions for families all across the state. The governor's budget focuses on equitable student supports, including new funding to provide broadband connections for families who cannot afford internet services.
Following unprecedented investments in education over the previous four years, Inslee's budget proposal makes major new investments aimed at expanding learning opportunities and increasing equitable support for students to get back on track.
Education funding includes $400 million to improve educational outcomes for all students and to address learning loss and educational opportunity gaps. The governor also proposed increasing staffing levels for counselors in elementary schools to help students who may be falling behind academically and need trusted adults.
As childcare providers have also been hard hit by the pandemic, Inslee approved using nearly $191 million in federal CARES Act funding to support childcare businesses and help low-income families afford childcare this spring — and his 2021–23 budget continues those efforts.
Food assistance and job skills
More than 2 million adults and children in Washington — one in three Washingtonians — have lacked access to adequate food supplies during the pandemic.
The governor proposes $31 million to:
Expand the capacity of the state Emergency Food Assistance Program.
Provide grants to food banks and school districts for purchasing fresh products directly from Washington farms.
Distribute vouchers for low-income families to purchase fruits and vegetables.
Inslee also proposes growing the state's Job Skills Program, specifically for technology training for businesses and workers displaced by the pandemic. Funding is included for the Career Connect learning program that connects more students to high-demand careers and paid learning opportunities.
Revenue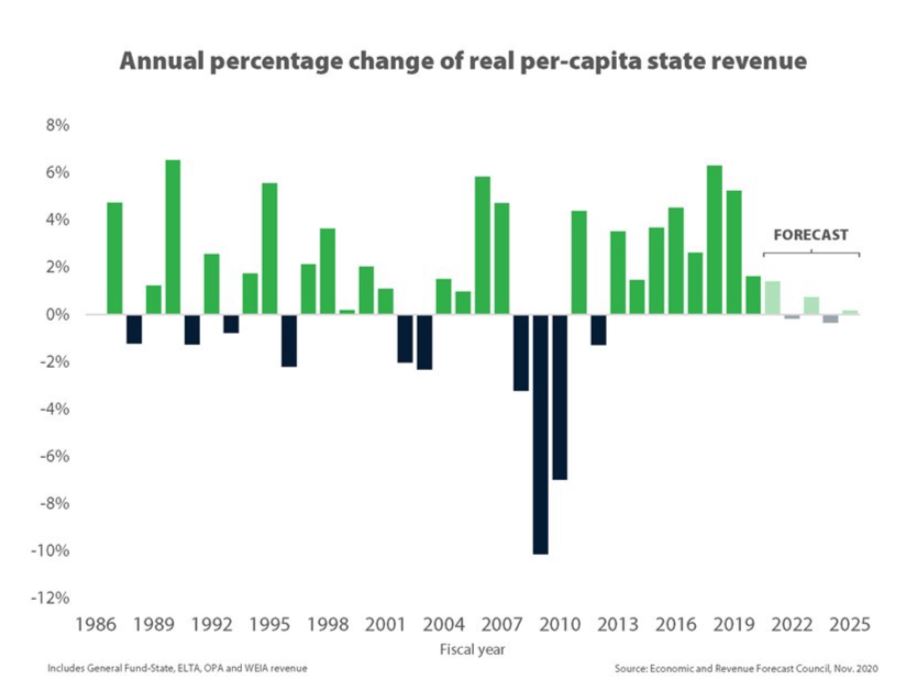 While the budget picture has improved since spring, the state still faces significant fiscal challenges.
In addition to dipping into reserves, Inslee's budget relies on savings in a number of areas. But the state needs additional revenue to continue and strengthen the state's pandemic response and recovery effort, while also protecting previous investments in other state services.
As in previous budgets, the governor proposes a new capital gains tax on the sale of stocks, bonds and other assets (See p. 63 in link). This would not apply to sole proprietor businesses, retirement accounts, homes, farms and forestry. Earned income from salaries and wages are not capital gains, and would not be taxed at all.
The proposed tax change — which will not go into effect until the second year of the 2021–23 biennium — would raise more than $3.5 billion over the next four years.
With the tax geared to very large capital gains, only a tiny fraction of the state's wealthiest taxpayers would be affected.
Creating jobs with the capital budget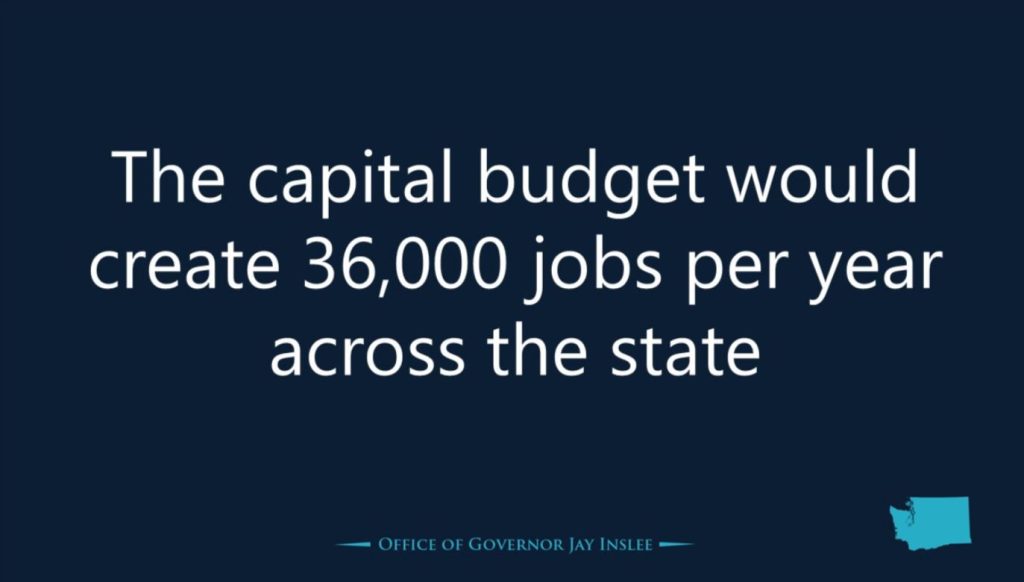 "We must create jobs and stimulate economic growth throughout the state. Therefore, I am proposing a large capital budget," Inslee said. "One way to do that is tap future bond capacity now to help stimulate the economy and retain construction jobs. I am proposing we start work on projects earlier than projected. This will support an estimate 36,000 jobs per year statewide over the biennium."
To help address the state's homelessness crisis, which has been compounded by the pandemic, the budget includes nearly $400 million to build more affordable housing units and preserve the state's existing housing stock.
The budget sends $150 million to the state's Public Works Assistance Program, which provides low- or no-interest loans that local governments can use to repair everything from bridges and roads to water and sewer systems.
The capital budget also includes money for school projects; funds to expand broadband access for underserved homes and businesses; money to fund design work and site demolition for a new 350-bed forensic psychiatric hospital at Western State Hospital; and funds to design and construct a new 120-bed nursing facility to care for clients with intellectual and physical disabilities.
Transportation budget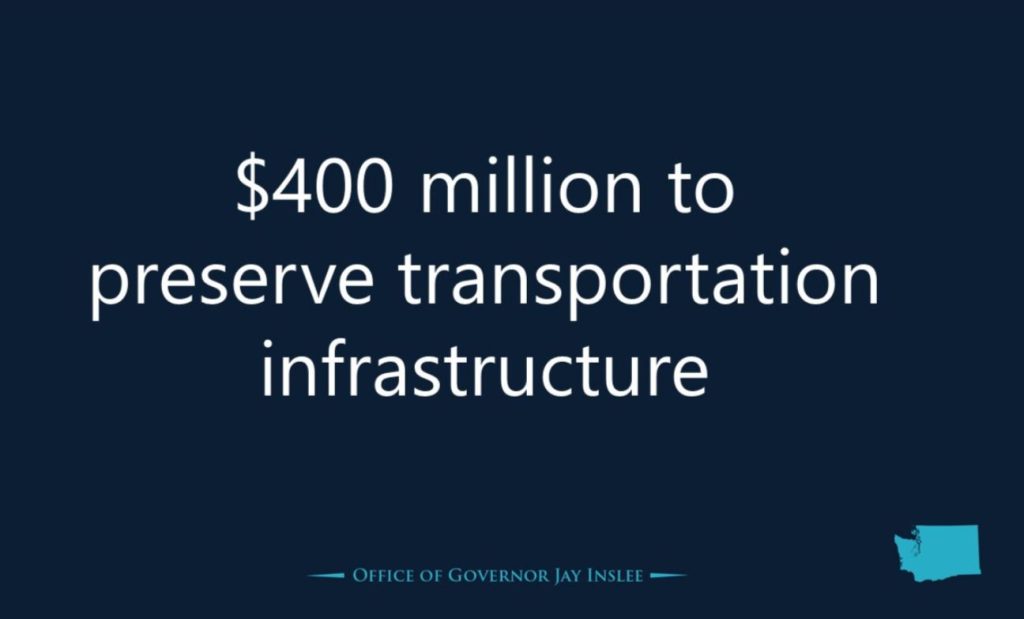 In the proposed transportation budget, the state will make major progress toward meeting a federal court injunction to remove culverts that block habitat for migrating salmon and steelhead. The budget provides $724 million that will help the department design 136 barrier-removal projects and construct an additional 114 projects.
The transportation budget also includes $400 million for preservation work on the state's transportation infrastructure, and continues efforts to reduce greenhouse gas emissions by investing in clean transportation.
"My focus is on helping our state recover from the health and economic impacts of the pandemic," Inslee said. "I also want to continue to make investments in all the programs that people need to help them through these times. This is not the time for budget cuts — this is a time for investing in Washington."
Read the proposed 2021–2023 Budget and Policy Highlights.
Read the Health and Economy policy brief.