Snohomish County detective recognized nationally as Top Forensic Examiner
You aren't gonna get away when Quick is on the case!
By Mario Lotmore | Lynnwood Times Staff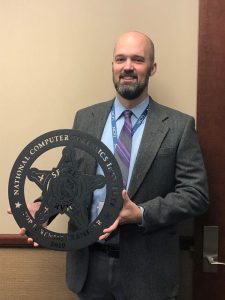 Detective Tyler Quick, a Digital Forensics Investigator with the Snohomish County Sheriff's Office and a member of the regional U.S. Secret Service Electronic Crimes Task Force, has been awarded Top Forensic Examiner by the National Computer Forensics Institute. The Task Force presented Det. Quick with the award for the large number of electronic devices he analyzed in 2019.
The National Computer Forensic Institute (NCFI) is a dedicated to training state and local officials in digital evidence and cyber-crime investigations.
The Electronic Crimes Task Force is an alliance of federal, state, county and local law enforcement, private industry and academia working together to protect the nation's critical infrastructure. Its goal is to prevent attacks against the nation's critical infrastructure, particularly in the electronic or cyber arena, through information sharing, criminal investigations, computer forensics and training.
Det. Quick and Det. James Headrick, make up the Digital Forensics Unit at the Snohomish County Sheriff's Office. The unit is responsible for assisting the other Investigations Units (Major Crimes, Special Investigations, Property, etc.) by performing examinations on items that contain digital evidence such as: phones, computers, digital video surveillance, etc.
Majority of the unit's cases involve homicide and crimes against children – e.g. sexual and physical abuse, sexual exploitation, etc. Their role is to use best practices and techniques to examine the evidence be admissible in court.
Det. Quick started his career as a patrol deputy, working out the of East, South, and North precincts. In 2010 he was selected to work in the Special Investigations Unit, where he spent three years investigating child abuse cases.
In 2013, Quick was selected to work in the Digital Forensics Unit. Quick was motivated to work in digital forensics because he "enjoys working with technology and working on the most challenging cases." Det. Quick is one of the top five forensic investigators in the country.
When asked what cases most impacted his life, Det. Quick in a statement to the Lynnwood Times wrote, "Assisting Special Investigations Unit has definitely impacted my life the most. The detectives who work in that unit do some of the most challenging work in law enforcement, working first-hand with the victims of child abuse and their families to provide services and bring justice. They are the real heroes in law enforcement."