Snohomish County in Phase 1 of State's 2-phase system that starts Monday
By Snohomish Health District | Press Release
Snohomish County now under the new Puget Sound Region with King and Pierce counties
Entire Region must meet all criteria be move to Phase 2
Indoor gatherings with non-household members prohibited in Phase 1
Nearly 11,000 vaccinated in the first three weeks in Snohomish County
SNOHOMISH COUNTY, Wash., January 8, 2021 – The Healthy Washington: Roadmap to Recovery announced by Governor Jay Inslee provides a framework for regions to safely ease some restrictions while also maintaining crucial hospital capacity. For the week starting January 11, Snohomish County will fall under Phase 1 of the new roadmap. This allows for some modest expansion of economic activity.
For link to full presentation click here.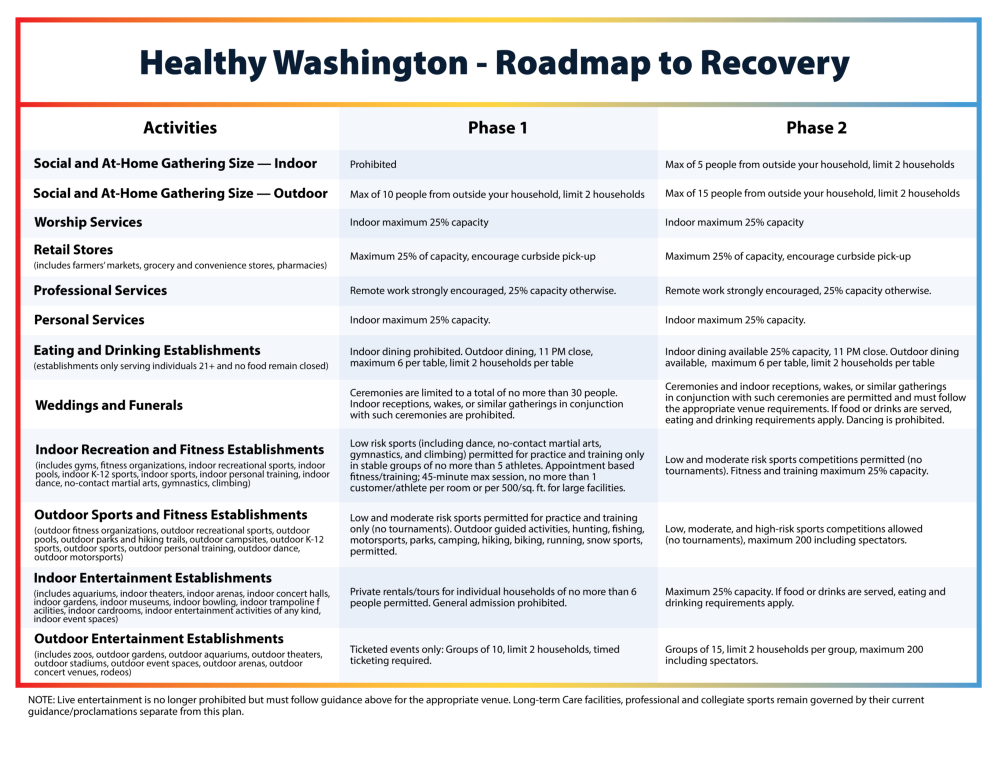 With Snohomish County now incorporated into the new Puget Sound Region with King and Pierce counties, movement will be based on meeting all four metrics for the region:
A 10 percent or greater decrease in the rate of COVID cases per 100,000 population in most recent 14-day period measured compared to the prior 14-day period
A 10 percent or greater decrease in the rate of new COVID hospital admission rates per 100,000 in most recent 14-day period measured compared to the prior 14-day period
Test positivity of less than 10% for the most recent 7-day period measured
Total ICU occupancy of less than 90% for the most recent 7-day period measured
The Washington State Department of Health (DOH) will compile updated data by region every Friday. Regions that meet all four criteria above are eligible to move to Phase 2 on the following Monday. Based on the first dashboard update, the Puget Sound Region is only meeting three of the four criteria and is therefore not eligible to advance yet.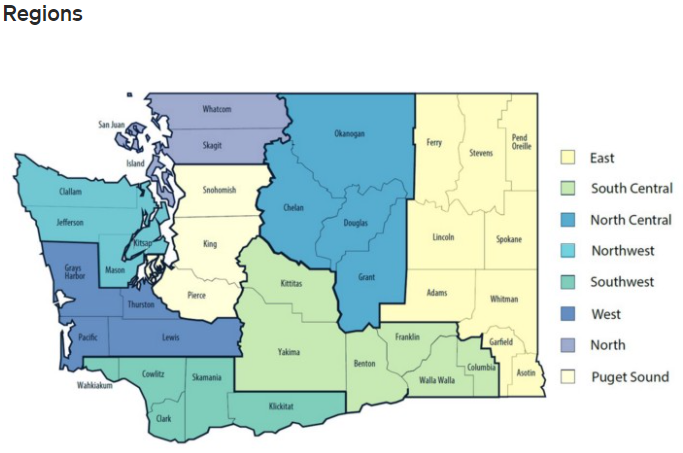 The region needs to see a 10 percent or greater decrease in hospital admission rates per 100,000 when comparing two-week periods. The period from December 20 to January 2 saw a 1 percent increase in hospital admission rates across the region compared to the period from December 9 to December 19.
"Hospital trends usually follow 2-3 weeks after the number of COVID-19 infections increase. While it may take a few weeks before the new hospital admission rates decrease enough, the other metrics are in everyone's control today," said Dr. Chris Spitters, Health Officer for the Snohomish Health District. "Please be patient, keep masking up and social distancing when around people you don't live with, and keep those social bubbles as small as possible, and keep things outdoors or well ventilated.
Dr. Spitters adds that the seemingly favorable recent trends in reported case rates and test positivity may reflect multiple factors from the holidays and may not represent truly sustained improvements. These factors include, but aren't limited to, decreased test-seeking through the holidays and delays in transmission of test results from laboratories to public health entities.
As a reminder, indoor gatherings with non-household members are still prohibited in our current phase. Those behaviors, along with good hand hygiene, are the key to getting test positivity and case rates down.
The DOH and coronavirus.wa.gov data dashboards will continue to be available online. Additional data regarding the new criteria for the Roadmap to Recovery will be provided separately for the near term. The risk assessment dashboards will be revised in the future, but there should be no break in the availability of COVID-19 data.
UPDATES ON VACCINE DISTRIBUTION AND PLANNING
In the first three weeks, just shy of 30,000 vaccines were distributed to 13 vaccine provider groups in Snohomish County. Another 8,600 doses had been allocated for this week. This number does not include doses distributed to sovereign nations or through the Federal Pharmacy-LTCF program.
The Health District will begin reporting vaccine data at www.snohd.org/covidvaccine on Tuesdays, with information through the previous Saturday. The information through January 2 is as follows: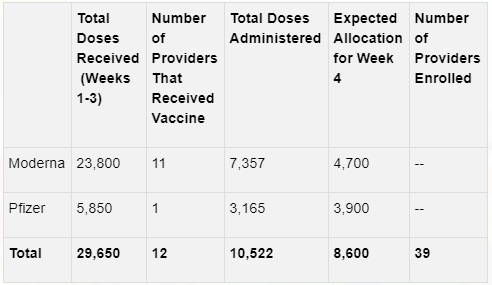 The nearly 11,000 vaccinated in the first three weeks represents one-quarter of the roughly 40,000 people in Snohomish County who are eligible within Phase 1a.
While most people currently eligible will receive their vaccines through their employer or through the health care system where they usually get care, the Health District has created a voucher program for Phase 1a-eligible employees of smaller agencies to be vaccinated by a participating partner. Since late-December, the Health District has processed more than 6,300 vouchers for eligible individuals.
"I know there are a lot of people anxiously waiting for their turn to get the vaccine. Like any new process, it takes time to achieve maximum velocity," said Dr. Spitters. "We will continue to follow state and federal guidance to make the best use of vaccine supply and our collective capacity to administer it. I ask for everyone's patience and cooperation with the phased process of this massive undertaking over the next 6-9 months."
Health District staff have also been working to increase the number of groups enrolled as a vaccine provider. Close to 200 groups are in various stages of the process, with 39 that have been approved and another 54 currently pending approval.
"Most vaccination campaigns that occur under non-emergency conditions take at least a year to plan and several years to reach good coverage," Dr. Spitters adds. "Considering that multiple vaccines were developed and manufactured within a year of the virus being identified in this country, and that we now have thousands of people already vaccinated here in Snohomish County, I find that pretty remarkable."
The state released information about the next phase of prioritization. Based on that information, the Snohomish County Vaccine Task Force created an estimated timeline for local distribution for each phase and tier or subcategory.
In the coming weeks and months, the COVID vaccine distribution and administration process is expected to become much smoother and the pace of vaccination will increase significantly. Several vaccination sites are under development by the Snohomish County Vaccine Taskforce. These sites are meant to enhance vaccination efforts and supplement the existing healthcare system. Vaccination at these sites will be by appointment only, and information these sites and eligibility will be announced as soon as the details is finalized.
The Health District encourages people to visit www.snohd.org/covidvaccine or bit.ly/SnoCoHub for updates.
SCHEDULE FOR DRIVE-THRU TESTING
The locations and schedules for next week's drive-thru testing operated by the Health District are as follows:
3900 Broadway site in Everett – open seven days a week from 9 a.m. to 4 p.m.
Everett Community College site at 915 N. Broadway – open Monday-Wednesday and Friday from 9 a.m. to 4 p.m.
Lynnwood Food Bank site at 5320 176th St SW – open Monday and Tuesday from 9 a.m. to 4 p.m., and Thursday from 9 a.m. to noon
Evergreen State Fairgrounds in the front parking lot off of 179th Ave SE in Monroe – open Monday-Thursday from 9 a.m. to 4 p.m.
Sultan Elementary School site at 501 Date St – open Friday from 9 a.m. to 3 p.m.
Testing is by appointment only and registration is now open at www.snohd.org/testing. Those without internet access or needing language assistance can reach the Health District's call center at 425.339.5278. The call center is staffed 8:30 a.m. to 4:30 p.m. Monday through Friday. Callers after hours or on weekends can leave a message, which will be returned on the next business day.
Testing is open to anyone, regardless of symptoms, but remains strongly encouraged for individuals that fit the following criteria:
Anyone with any of the following COVID-19 symptoms (fever or chills, cough, shortness of breath or difficulty breathing, fatigue, muscle or body aches, headaches, new loss of taste or smell, sore throat, congestion or runny nose, nausea or vomiting, diarrhea); or
Close contact of a confirmed case; or
Anyone who lives or works in a congregate setting; or
Work in healthcare, EMS, law enforcement or other fields where work settings have a higher risk of catching or spreading COVID-19; or
Part of a family or social network that has had a case.