Snohomish County K9 Rex recovery and replacement
Link to K9 Rex's GoFundMe page here.
K9 Rex, a 16 month old Belgium Malinois, is the newest member of the Snohomish County K9 Unit. He was purchased in October of this 2020 through a generous grant from the Stillaguamish Tribe of Indians. Rex immediately began training with his handler, Sergeant Boyer. K9 Rex and Sergeant Boyer completed 370 of the required 400 hours to certify as a Patrol K9 team.
Rex lived with Sergeant Boyer and his family. Rex was welcomed as the newest member of their family, quickly becoming loved and adored by them. Rex is a goofy, loving animal with an over the top drive to play and work. He loves coming to work and training.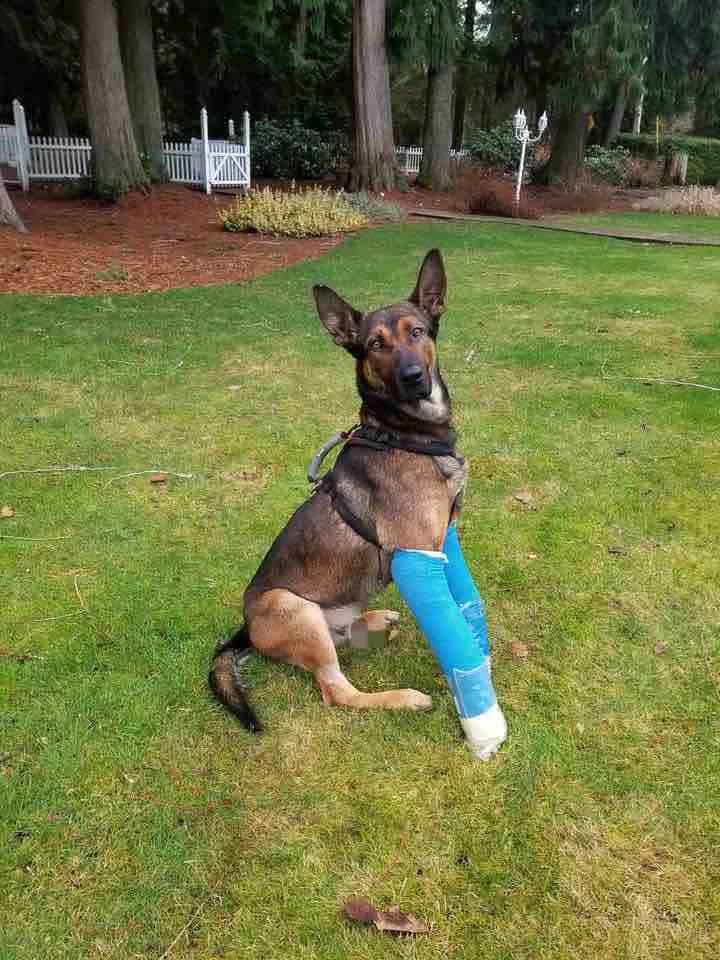 On January 7, Rex suffered what is likely career ending injuries in what can only be described as a freak accident during training. Rex fell from a third story hallway to the first floor entrance. He landed on his front legs destroying the tendons and ligaments in his elbows and wrist. He was rushed to Pilchuck Veterinary Hospital in Snohomish for emergency treatment.
Thankfully Rex did not suffer life threating injuries, but his road ahead is a long one. After consulting with Seattle Veterinary Specialist in Kirkland it was determined that Rex's injuries were possibly career ending. The bones in Rex's elbows and wrist will be fused together allowing him to walk and even run eventually. That said he has a long hard road of recovery ahead of him.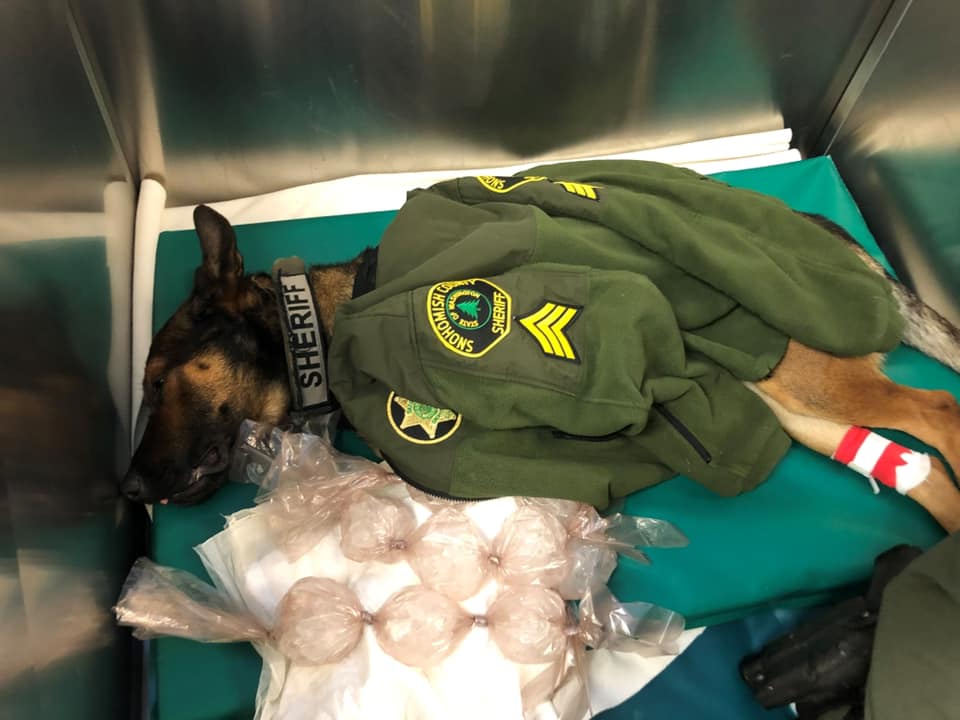 The cost of surgery, treatment and rehab are expected to be $25,000 or more. In addition to medical bills, the K9 unit will need to purchase another K9 to fill Rex's spot as a working dog while he recovers.
Rex, as with several of the other K9's, was purchased at Von Liche Kennels, out of Denver, Indiana. The K9's cost between $10,000 – $12,000 with an associated $3,000 – $4,000 of expenses (travel, vet visits, equipment, etc.) to get them home and into training. These costs, especially in this sudden and unexpected event, pose a significant hurdle to overcome.
The Snohomish County K9 Foundation has started a GoFundMe with the goal of taking care of Rex and getting him healthy. The K9 Foundation aims to cover the cost of his medical bills and the impending replacement of Rex on the Snohomish County Sheriff's Office K9 team.  The initial fundraising goal of $25,000 has been chosen. The support from the community for these dogs is overwhelming and we would like to thank you ahead of time for your generous donation. Any funds remaining after all medical expenses are covered will be put towards cost of filling Rex's spot in the unit and continuing to support local K9 teams.
---
The Snohomish County K9 Foundation is a 501c3 devoted to supporting Police Canine Teams within Snohomish County. The K9 Foundation, formerly Pennies for Puppies and Ponies, was founded in 2002 by Carole White.  Since then the K9 Foundation has been able to purchase almost all of the K9s for the Snohomish County Sheriff Canine Unit. Additionally the Foundation has been able to provide needed equipment and training for the K9s and Handlers that would otherwise not been possible. This is only made possible through generosity and commitment of the Community these K9's and their Handlers serve.