Pitre and Hunter discuss WSU value to Everett in EASC's coffee chat
By Noel Pai-Young | Lynnwood Times Contributor
EVERERTT, Wash., January 19, 2021 – Two speakers from Washington State University (WSU), Chancellor of the Everett campus, Dr. Paul Pitre, and Dean of Carson College of Business, Dr. Larry W. "Chip" Hunter, addressed the new Everett campus, higher education, and enrollment on last Tuesday's Economic Alliance of Snohomish County coffee chat.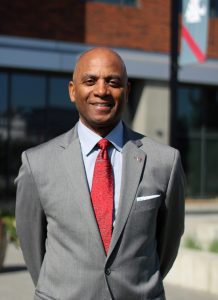 Pitre opened by addressing a wide range of themes in higher education which lower enrollment, such as: social unrest, the global pandemic and ongoing affordability issues.
He also challenged the widely accepted cultural notion of the relevancy of higher education by sharing statistics that those with a two-year degree make an average of 19% more than those with a high school diploma. Those with a bachelor's degree make an average of 67% more.
"Some key assets of our Everett campus are that students from all programs have access to incredible local internships and they collaborate so frequently in group projects, co-curricular and extra-curricular activities. It often inspires students to earn a minor in another program or double major" Pitre said in a 2020 press release from the college.
"Adding a popular, contemporary and innovative bachelor's degree program in Business Administration makes all our graduates more career ready and attractive to local employers,"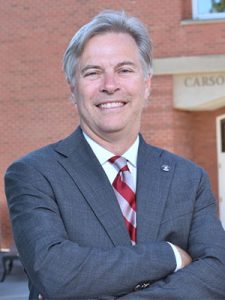 Hunter gave a positive report on the retainment of enrollment numbers and a Carson College of Business graduate employment rate of 80% — an achievement considering the widespread economic hardship the pandemic has proposed.
The college also makes an effort, as Hunter addressed, to meet different motivation and learning styles. Understanding that some students study online by choice, and some out of necessity, they make an effort to make their online college competitive and practical to address different kinds of learners.
Hunter also explained that the college will benefit Everett because of the growing research center — what they expect will bring further economic and community development.
The WSU press release stated:
"All WSU Everett bachelor's degree programs are designed for transfer students, but even students currently at a community college or participating in Running Start or College in the High School are eligible to dual-enroll at WSU Everett, and programs are accessible to those who have some college experience but have not completed their degree. Contact WSU Everett admissions staff at everett.admission@wsu.edu or 425-405-1600 for individual advising."
To learn more of The Economic Alliance of Snohomish County's regular coffee chats, click here.
To find out more about WSU Everett, click here.