ChildStrive board names Mary Cline-Stively as new CEO
By ChildStrive | Press Release
Everett, Wash., January 12, 2021 — Longtime ChildStrive strategist Mary Cline-Stively is the nonprofit organization's new CEO.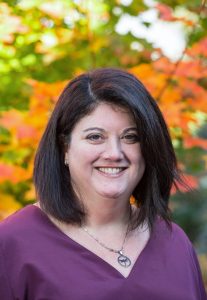 Cline-Stively, of Edmonds, is taking over after former CEO Jim Welsh announced a move to California to serve as the Executive Director of Support for Families of Children with Disabilities. Welsh led ChildStrive for four years, as ChildStrive doubled its staff and tripled its capacity to serve children and families.
Cline-Stively, who has been the Chief Strategy and Programs Officer at ChildStrive for over a decade and was previously a strategy consultant, will provide strong leadership, Welsh wrote.
"I cannot think of anyone better prepared or with more passion to lead the agency and continue our vision and work," Welsh wrote.
For the past 57 years, ChildStrive has helped thousands of families. In each of its programs, ChildStrive families work one-on-one with a professionally trained home visitor who help identify learning opportunities in daily family routines such as bath time, mealtime, or during play; provide essential early childhood development information; and help set goals for the child and their family.
John Chambers, who chairs ChildStrive's board of directors, said "Mary's intimate knowledge of the organization and our programs, as well as the relationships she has built with our staff, stakeholders, and our board will allow her to hit the ground running. Under Mary's leadership, ChildStrive's board and staff look forward to advancing our vision of a community where all children will be ready to succeed in school and in life!"
Cline-Stively has a master's degree in Organizational Psychology as well as a graduate certificate in Restorative Practice. She has partnered with Snohomish County Human Services for the past several years to build a restorative, trauma informed community through the CARE initiative. Cline-Stively, who has two daughters, has also volunteered with Girl Scouts for the past 10 years.
To learn more or support ChildStrive click here.