Community bands together to help wounded bald eagle in Mukilteo
By Erin Freeman | Lynnwood Times Staff
Mukilteo, WA- A park ranger, an off-duty police officer, a retired police sergeant, and a concerned citizen banded together to catch an injured Bald Eagle on Tuesday, January 12.
Out on a morning walk at Picnic Point Trail, resident Chris Severtsen made his way down to the nearby ravine, where he spotted a Bald Eagle walking adjacent to him about 20 yards away, where it then proceeded to spring up, stumbling instead.
"I could tell right away it was injured," Severtsen said.
After calling every number he could find relating to wildlife and rehabilitation- met with voicemails or inabilities to immediately rescue it, and then attempting to (and failing) to catch it himself, he apologized and nodded to the bird, heading home.
As multiple Mukilteo residents began noticing the injured Bald Eagle in the ravine trail system, Mukilteo Police Department (MPD) Animal Control Officer Shanita Duke's radio flooded with calls requesting its rescue. Yet, he was unable to help as he was already occupied with a separate animal call.
That's when Officer Duke called in backup, requesting MPD Park Ranger Ryan Fox and retired MPD Sergeant and animal lover Shaun Greenmun pilot the rescue.
Greenmun, a volunteer at the Progressive Animal Welfare Society (PAWS) Wildlife Center, invited his wife, MPD Officer Brenda Greenmun, who was off duty but readily available.
The Greenmuns responded to the Picnic Point Ravine trail with Ranger Fox, where Severtsen was waiting for them, who had been notified by the Washington Department of Fish and Wildlife that they had found a ranger.
Seversten then led the rescue team down the trail to the edge of the ravine, where he pointed out the eagle, perched on a log about 15 yards above the trail. It then soared down to the creek below, unable to use its wing to fly any higher.
"Chris was there waiting and was able to show us where the eagle was," Branda Greenmun explained. "The eagle clearly had an injured right wing and could not fly."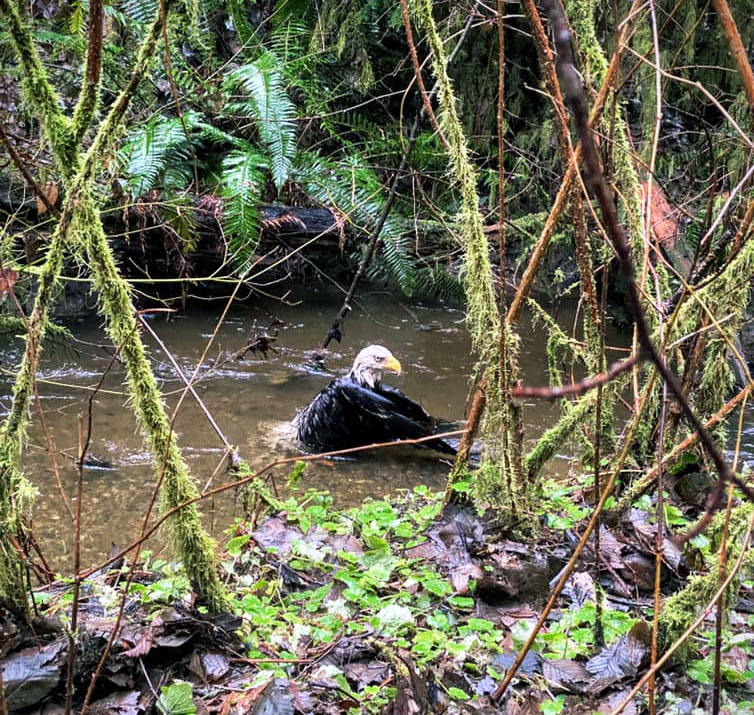 The team waded into the creek, a stream of giggles surfacing as Brenda Greemun's foot grounded in a deeper area, shooting her waist down into the water.
"We all laughed and had a good time with that," she exclaimed.
Within arm's length of the Bald Eagle, they worked quickly, Seversten distracting it and Ranger Fox and Shaun Greenmun corralling and safely netting it, handling the bird with heavy-duty gloves.
A quilted patchwork blanket was then gently placed over the net, where the pair carefully carried the captured eagle back to the parking lot.
The eagle was transported to PAWS in Lynnwood and taken in by one of the on-duty staff members, Brenda Greenmun said.
Upon their arrival at the wildlife rehabilitation center, the team discovered their rescue was the second Bald Eagle transported to PAWS that very day.
"They were reportedly working on that eagle when we dropped off ours," Greenmun stated.
According to PAWS spokesperson Laura Follis, the Bald Eagle already in their care was presumably in a fight with another Bald Eagle. It had suffered soft tissue injuries to his wing and legs, found 100 yards away from the other earlier that day.
While it cannot be confirmed if the Bald Eagle rescued by the MPD was its opponent, PAWS animal staff believe it to be plausible the two injured Bald Eagles had a physical altercation.
Bald Eagles tend to exhibit aggressive behavior when competing for food; similar to their territorial aggression during the breeding season, and the similarities between the two eagles' injuries, led to PAWS Naturalist Jeff Brown's suspicion they had been in conflict.
The PAWS vet team treated the wounds of the first arrival, providing two weeks of recovery before his release at Harbour Pointe Golf Course on January 28. The one brought in by the MPD didn't make it, arriving in critical condition- mentation dull, energy low, and feathers soaking wet- with extensive injuries on his legs, wings, and foot, Brown explained.
For three days, the vet team provided stabilization with fluids, pain medication, antibiotics, heat support, and wound management, but the eagle's health continued to decline, said Brown, despite their best efforts.
"While our feathered friend did not survive, we were all given the chance to work together to make a difference in the wildlife and Mukilteo communities," Greenmun said.
Greenmun says that she is a firm believer in doing what someone can to make the communities they live, work, and visit a better place. Instilled with a great appreciation and love for nature and the great outdoors by her father, it's moving to be part of a team effort to assist an injured animal. In her 21-year career with the MPD, "This event will forever stand out as one of the more amazing moments," she said.