U.S. House strips Rep. Marjorie Taylor Greene of her committee assignments
By Mario Lotmore | Lynwood Times Staff
WASHINGTON DC, February 4, 2021 – Today, the U.S. House of Representatives voted 230-199 on H. Res. 72 – 117th Congress: Removing a certain Member from certain standing committees of the House of Representatives. The resolution, which is sponsored by Rep. Debbie Wasserman Schultz (FL-23 D), will remove Rep. Marjorie Taylor Greene from her committee roles. Rep. Greene serves on the House Budget Committee and the Education and Labor Committee.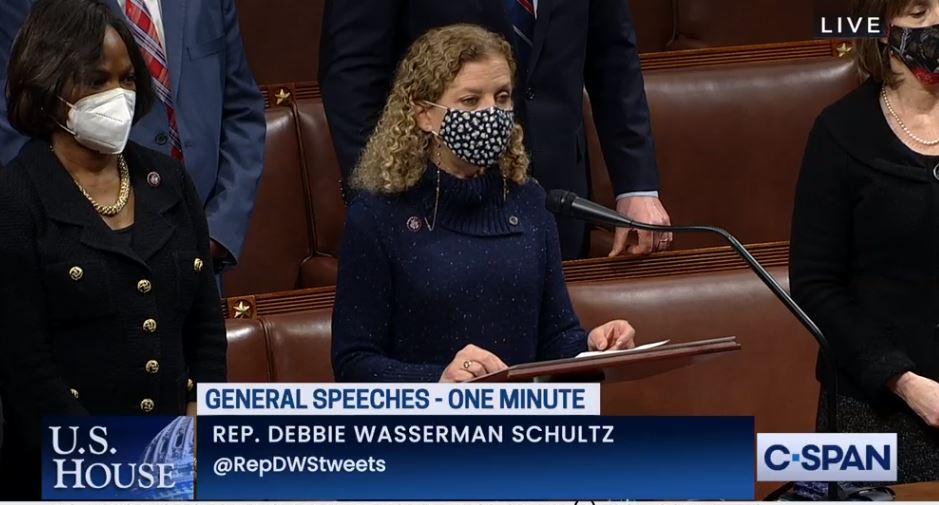 Eleven Republicans voted with 219 Democrats to approve the resolution. All Washington state Democrat House Representatives voted in favor of the resolution, whereas, the three Republican House Representatives voted against it.
Washington Congressman Rick Larsen (WA-02 D) thanked the eleven Republicans for their vote.

The resolution is in response to Facebook comments in support of QAnon in 2018 prior to Rep. Greene being elected to office. QAnon is considered a conspiracy theory which casts President Donald J Trump in an international fight against a "deep state" cabal of Satan worshippers and political elites.
Representative Pramila Jayapal (WA-07 D) who voted to remove Rep. Greene, stated in a Twitter post today that the congresswoman "should not be allowed near Congress."
On Wednesday, House GOP leader Kevin McCarthy released a statement stating the call to remove Rep. Greene's committee assignments a partisan act.
"While Democrats pursue a resolution on Congresswoman Greene, they continue to do nothing about Democrats serving on the Foreign Affairs Committee who have spread anti-Semitic tropes, Democrats on the House Intelligence and Homeland Security Committee compromised by Chinese spies, or the Chairwoman of the House Financial Services Committee who advocated for violence against public servants."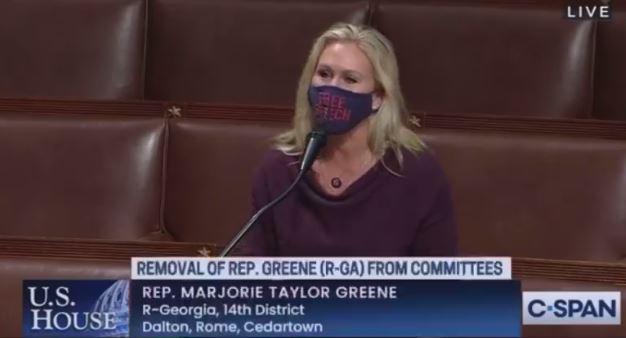 Rep. Marjorie Taylor Greene in her statement today stated President Donald J Trump inspired her to get into politics.  She admitted to being intrigued by QAnon theory but stopped believing it when she discovered misinformation and inconsistencies.
"When I started finding misinformation in the QAnon posts I stopped believing it," said Rep. Greene. She continued, "Any source of information that is a mix of truth and a mix of lies is dangerous."
Greene shared that she is proud of her life and has never broken the law nor taken drugs.
"If it weren't for the Facebook posts and comments that I liked in 2018, I wouldn't be standing here today and you couldn't point a finger and accuse me of anything wrong; because I have lived a very good life that I am very proud of, that family is proud of, my husband is proud of, and my children are proud of. The is what my district elected me for."
Greene criticized Big Tech's censorship of free speech and how it targets conservative viewpoints.
"Cancel culture is a real thing…it is very real. And when big tech companies like Twitter you can scroll through and see where someone may have retweeted porn…this is a problem. This is a terrible terrible thing. Yet when I say that I absolutely believe with all my heart that God's creation as he created them male and female, and that should not be denied, when I am censored for saying those typed of things, that is wrong."