Two Lynnwood locals complete community projects, earn Eagle Scout rank
By Erin Freeman | Lynnwood Times Staff
Lynnwood, Wash. – In efforts to earn scouting's highest honor, a Meadowdale High School student worked to improve access on a wooded trail at Pioneer Park.
17-year-old Noah Reid of Troop 312 (pictured to the right in the featured image above) completed his Eagle Scout service project on January 31, designing, constructing and installing a set of stairs on a steep incline at the park.
Serving as an important connection from Pioneer Park and 36th Ave., the steep trail has been in need of improvements said the city of Lynnwood spokesperson Julie Moore.
"His work has improved access and addressed an important deferred maintenance issue at Pioneer Park," she said.
Before settling on a service project, Reid began exploring potential projects that would make a difference in the lives of the community. That's when he noticed the lacking accessible walkway at Pioneer Park and its potential safety hazards.
"It seemed like something that would have a lasting impact," he said.
The labor of building and installing the staircase took about four days, said Reid. However, gathering all of the necessary materials, and having his project approved by the city of Lynnwood and by the Eagle Scout Board took almost two months.
Local construction companies donated the materials and without their support would've cost $2,000, Reid said.
While completing his service project, a family strolling down the trail and noticed the under-construction staircase. They were incredibly interested and appreciative, remembers Reid.
"I feel like that was the response I wanted from my project, from the people that are living there and using the trail," Reid said.
According to the Boy Scouts of America, only 8% percent of all Scouts earned the Eagle Scout rank in 2019.
"Being an eagle scout is something that distinguishes you because not many people are eagle scouts," Reid said.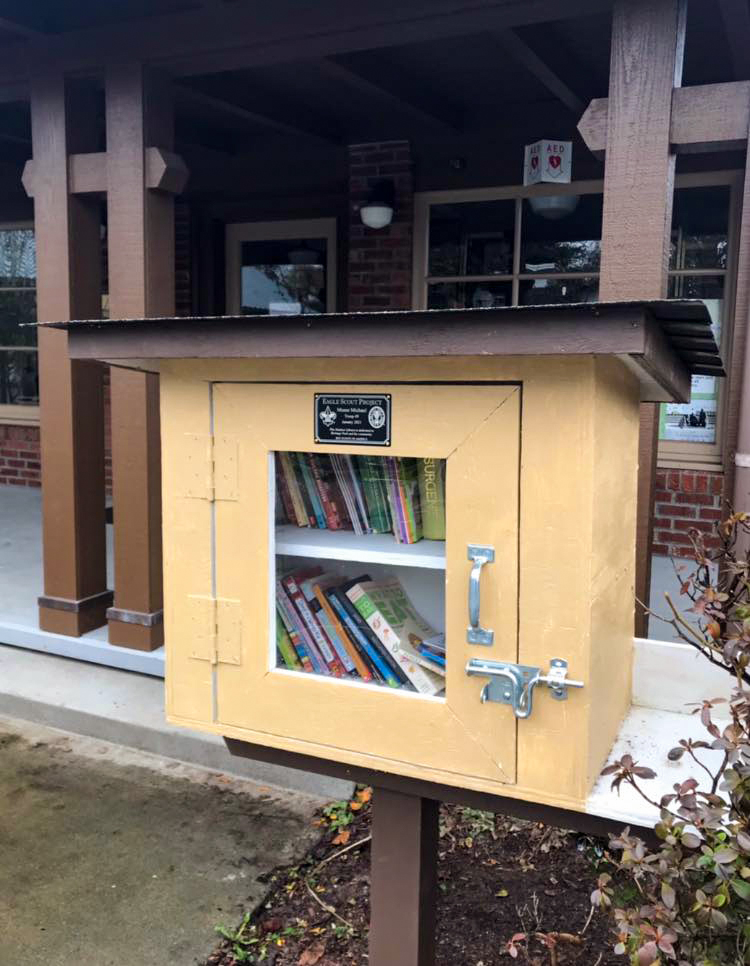 The city of Lynnwood was the recipient of another Eagle Scout project on January 16.
Lynnwood High School student, 18-year-old Musse Michael of Troop 49, built and installed a little library at Heritage Park, allowing community members to freely take or share a book out of a public book-sharing box.
Searching for a project service idea, Michael began asking family and friends about different ways to improve the community. His mother, a book lover, recommended he build a little library. His design was inspired by the historic buildings throughout the park.
Michael says that his little library will provide community members with a convenient way to obtain reading materials, especially during the coronavirus pandemic when access to books at local libraries is limited.
While stocking the shelves of his recently completed project, a passing-by family commented on how they appreciated his contribution to Heritage Park- a place that they already enjoy.
Michael also held a book drive to stock the library with reading material.
"I cannot give a number on the number of books I received, all I know is that it was enough to fill up the backseat and the entire trunk of my Honda Civic," Michael exclaimed. "Way more than enough books."