Kamiak Youth Football kicks off season thanks to the Mukilteo Boys and Girls Club
By Noel Pai-Young and Mario Lotmore | Lynnwood Times Reporter
Mukilteo, Wash., March 3, 2021 – Monday was the first night of practice for the Kamiak Youth Football league since November of 2019. Coaches and parents were excited to have kids out playing sports again.
"We had two parents that started crying," said coach Thomas Waverly, President of the Kamiak Youth Football league. Coach Thomas has been with the league for 14 years.
Kamiak Youth Football is a feeder model youth football program for Kamiak High School located in Mukilteo, WA that serves athletes between the ages of 5 to 14 years old within the Mukilteo School District. It is a member of the North Sound Junior Football League which is dedicated to instructing young players in the safe and proper fundamentals of tackle football.
Approximately 60 athletes from multiple team divisions – peewees (ages 5 through 7), 89ers (ages 8 and 9), juniors (ages 10 and 11) and seniors (ages 13 and 14) – practiced at the Mukilteo Boys and Girls Club baseball field for 90 minutes doing basic conditioning drills – handoffs, catching, bear crawls, and high knees. They will use the field four days a week.
"We understand the situation with the pandemic and the risks associated with it," Coach Thomas shared when asked of his thoughts to returning to the field. "However, we also understand children need some kind of interaction, they need the exercise."
Before practice begins, each athlete is screened with a temperature gun. Sanitizer wipes are available, and masks are required, and state guidelines are followed.
Coach Thomas described his athletes as being amazed at seeing each other after a year and explained the importance of exercise and camaraderie that football brings them.
"Football is just the tool. We are trying to develop young men and, in some cases, young women out here," said Coach Thomas. "Football is just the tool to do it."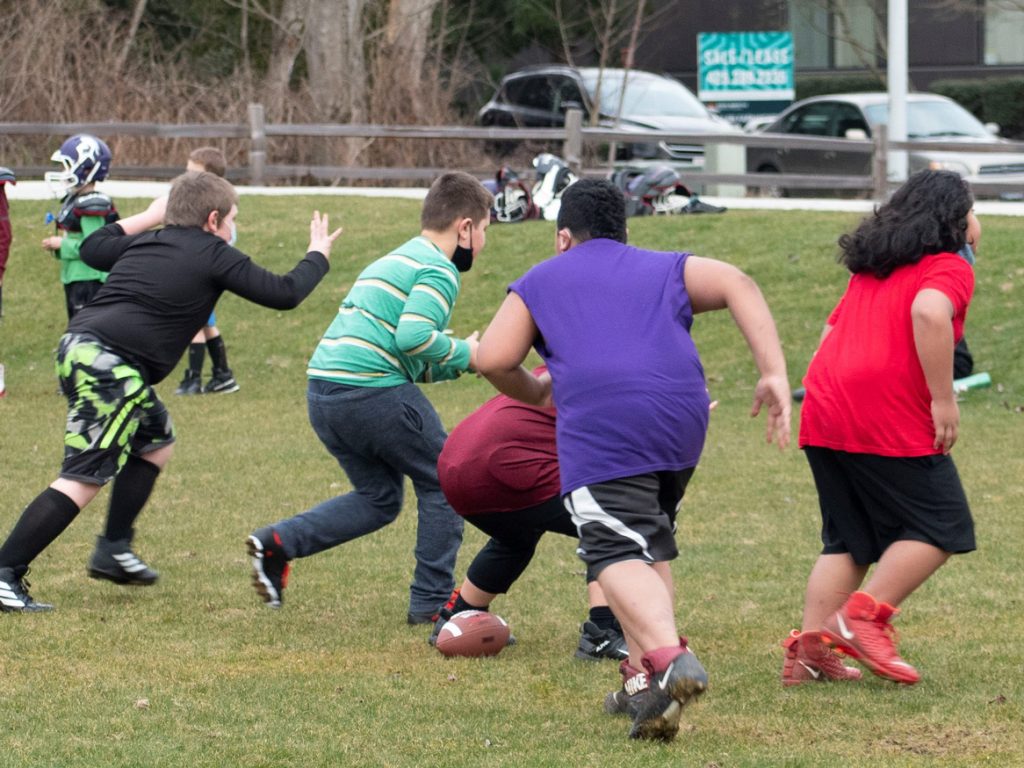 Although the first game of the league is within two weeks, games will be what is called "away games" as local fields in the area are not open for use.
"Up until Saturday we have been reaching out to schools, city of Everett, parks, anywhere to get a field," said Coach Thomas. "We were blessed with this opportunity to get this field Saturday at 3 o'clock."
Parents received notice a few weeks prior to football season that practice would start on March 1. However, for one Mukilteo School District parent, Peter Zieve, he found it odd when the Saturday before the start of practice his son hadn't received confirmation from the coaches to receive his equipment.
After some inquiries, Zieve discovered the coaches were out of ideas on how to get the team playing again due to the lack of an available field by the school district.
Zieve asked Coach Thomas, "Why not just use the Boys and Girls Club field?"
After some quick negotiating by Zieve and Coach Thomas with the Mukilteo Boys and Girls club, the baseball field was approved for use. Zieve owns the parking lot used by the club.
After learning the challenges basketball coaches are having, Zieve told the Lynnwood Times that he is now clearing out a building at Electroimpact for basketball teams to use.
With regards to using school district facilities, Zieve reported that he heard nothing from the Mukilteo School District.
"I think there's something very disingenuous going on," said Zieve. "Everywhere I go schools are opening. Everett schools are opening but Mukilteo School District is saying that parents don't want schools open. But every parent I talk to says they do want it open."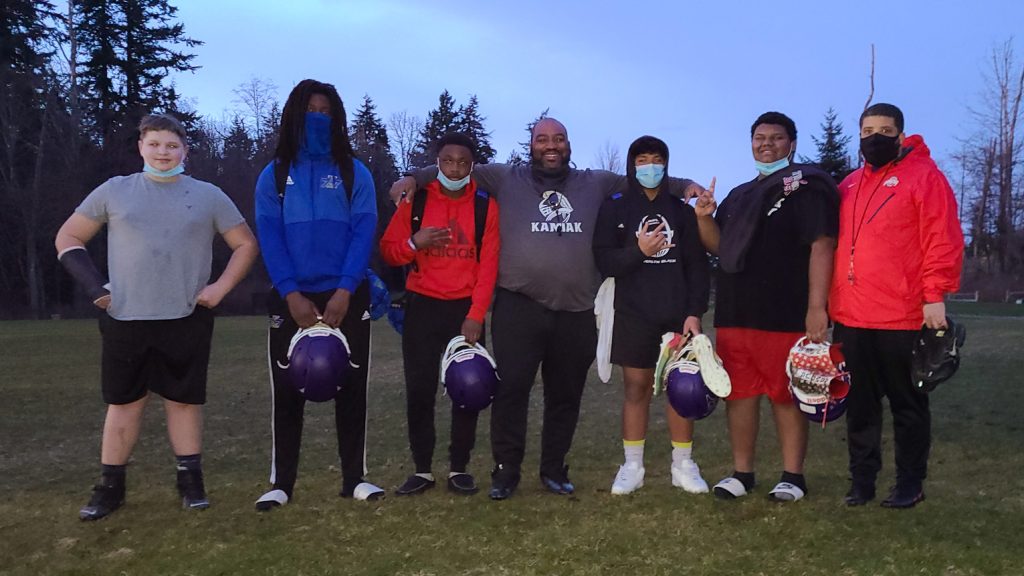 All school districts in the area began the school year with 100% remote learning. However, each school district reopening plan varies.
Everett Public Schools, which commenced hybrid learning on January 19 for developmental Kindergarten students is currently in Stage 4a of its model. This allows for restricted optional in-person learning for Kindergarten through grade 3. Everett Public Schools anticipates expanding its hybrid learning model to grades 4 and 5 on March 15.
Within the Lake Stevens School District, grades K to 2 returned to hybrid in-person learning February 16. Grades 3 to 5 began school on March 2 with plans to expand to grades 6 and 7 by mid-March and grades 8 to 12 after Spring Break.
Snohomish School District welcomed back grades 5 and 6 on March 3 to its in-person hybrid learning model. In-person learning commenced for developmental preschool and Early Childhood Education and Assistance Program (ECEAP) students on February 2; whereas, Kindergarten through grade 2 began on February 22.
For Marysville School District students in grades 2 and 3, in-person hybrid learning will return March 8 and expand to grades 4 and 5 on March 22. Marysville School District is currently in Step 3 of its six step Reconnect Plan which commenced February 17. Kindergarten and first grade students are also participating in the District's hybrid in-person learning model.
According to the Mukilteo School District's website, first grade is tentatively scheduled to return to optional in-person learning on March 22. ECEAP and preschool students are currently allowed to participate in the District's hybrid learning model with Kindergarten tentatively scheduled for March 29. No decision to expand hybrid learning to other grades have been released.
Edmonds School District (ESD) is currently in Stage 1 of its four-stage model – technically there are five stages as post-stage 4 is a full return to normal in-person operations. Stage 1 provides for limited Special Education programs and services in some schools with Stage 2 set to begin March 22. In-person hybrid learning for 2nd grade is scheduled to begin March 22 with 1st grade and Kindergarten scheduled for March 29 and April 12, respectively.
All parents interviewed that attended practice with their kids expressed the need for in-person activities and how hard extended isolation has been on their children's mental health and educational development.
Amanda, a mom from the Edmonds School District, told the Lynnwood Times when asked about her thoughts to her six-year-old son returning to practice, "I love it. I've been wanting it to start sooner."
She also shared how remote learning has impacted her son who is in kindergarten at Meadowdale Elementary.
"Every day he's bored… To sit at a computer, he doesn't get to have any of that experience of the social aspect. When you have other kids with you it is competitive and makes you want to learn. It's been hard on him."
"He was in pre-school two years prior to get him ready for school. So, he is learning the same stuff all over again. But if he were in class, they [his teachers] would be able to do some one-on-one, see where he is at and do more advance stuff. But because he is online, he is only learning the same stuff everyone else is and he is way past it."
Amanda shared her concern for returning to in-person learning but remains hopeful.
"I understand people are scared of getting sick, but we can't stop living. We were made to love and touch and interact and be social. When you take that out, it causes depression."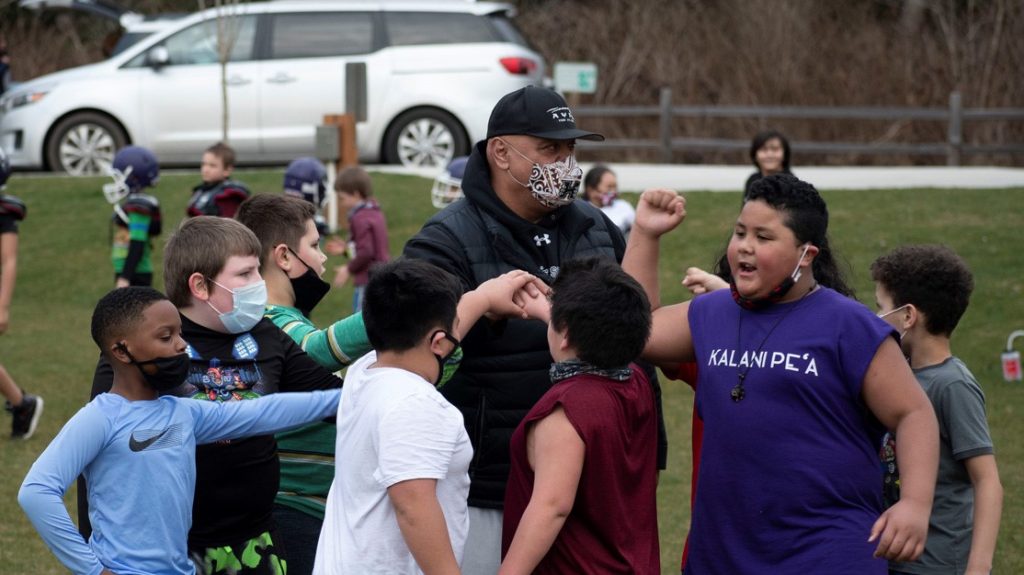 "It's about time," said coach Jack Baker when asked about his thoughts to returning to practice. "It's going to be a while to get our kids back into shape… but to have a turnout like this is awesome."
This is Baker's forth season coaching with the Kamiak Youth Football league. Previously he was a coach at Meadowdale High School for 17 years and Mountlake Terrence High School for two years.
Tyler's eight-year-old son attends Picnic Point Elementary. He also expressed gratitude and relief for football to have started again and would like to see a return to in-person learning within the Mukilteo School District, "I think they should be going to school… Definitely."
Another parent from the Mukilteo School District named Mark whose nine-year-old son attends Fairmount Elementary told the Lynnwood Times, "I couldn't wait for this moment," when asked about his thoughts to his son returning to football practice.
"During this pandemic we need to take precautions, but the kids need school," he continued. "For us parents it is frustrating. All they [kids] do is sit at home and eat."
Francis a mom with three boys in the Edmonds School District is happy that her son is doing something other than playing video games.
"I'm ok with them being out here…there is too much video games…too much screen time at home," said Francis.
Who ever thought that youth football would bring a community together, to overcome what could have been a crisis for scores of young athletes.
"We want the kids to have fun, we want the kids to stay in shape and we want the kids to understand the responsibility of the precautions and why they are needed," said Coach Thomas. "But at the end of the day, kids need to associate with each other…they need to have fun. We feel blessed to be able to provide them a vehicle to be able to do it."