Biden proclaims National Volunteer Week: April 18-24
On April 16, President Joe Biden Jr. proclaims April 18 through April 24, 2021, as National Volunteer Week.
According to a 2018 Volunteering in America report 77 million adults volunteered through an organization last year. Americans volunteered nearly 6.9 billion hours, worth an estimated $167 billion in economic value.
"I call upon all Americans to observe this week by volunteering in service projects across the country and pledging to make service a part of their daily lives," proclaimed Biden.
The proclamation recognized the efforts of volunteers with the COVID-19 response.
"All across the country, retired doctors and nurses, students and veterans, personnel from across the Federal Government, and countless others have given their time and talent to administer vaccines, staff vaccination centers, boost testing, tracing, and other life-saving public health measures, and provide food, water, and other necessities to those at heightened risk so they can remain safely at home."
"By helping others, volunteers also help themselves. They learn new skills, expand their professional networks, connect with neighbors, and experience the satisfaction that comes from serving a larger cause. Service can provide a pathway to employment, education, and other career-building opportunities. As we reopen our economy and build back better, volunteerism can help the unemployed find work and make our communities more resilient and prepared."
Key facts for Washington state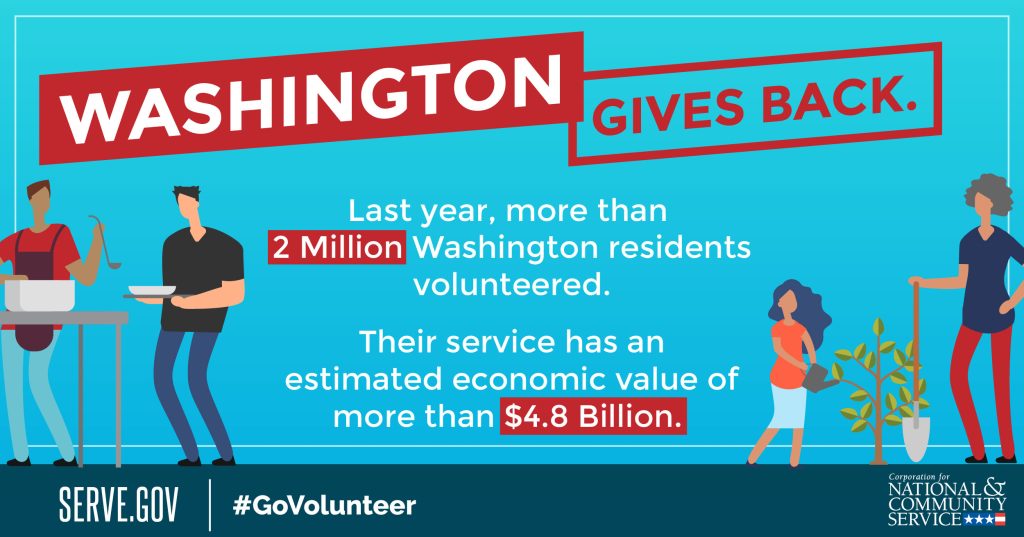 According to Nationalservice.gov, 35.7% of Washington state residents volunteer, ranking it 17th among states. Utah out ranks all 50 states at number 1 with 51.0% of it residents volunteering last year.
In Washington state:
2,086,604 volunteers contribute 202.2 million hours of service
Volunteer service worth an estimated $4.8 billion
98.7% of residents regularly talk or spend time with friends and family
56.4% of residents do favors for neighbors
24.7% of residents do something positive for the neighborhood
31.3% of residents participate in local groups or organizations
55.7% of residents donate $25 or more to charity
The city of Seattle ranked 8th with 38.1% of residents volunteering last year. Seattleites contributed 121.1 million hours of service worth an estimated $2.9 billion. Minneapolis-St. Paul ranked number 1. To view other cite rankings click here.
What volunteer activities do Washingtonians partake?