Safety, a top priority to Sound Transit
In a study conducted by Morgan Neiss, Department of Economics at the University of Akron, in 2015, it was found that public transportation affects crime rates in neighborhoods surrounding its implementation.
"It can give criminals easier access to potential targets and decrease the probability of getting caught" according to Neiss, Morgan (2015) 'Does Public Transit Affect Crime?' The Journal of Economics and Politics: Vol. 22 : Iss. 1 , Article 3.
However, given Sound Transit's crime history, John Gallagher, Public Information Officer for Sound Transit, assures that with the opening of the Lynnwood station in 2024 there is nothing to worry about – safety is a top priority.
"Riding Link and using Link stations is very, very, safe. The safety and security of passengers is Sound Transit's top priority which is the focus of multiple levels of staffing and investments", Gallagher said.
Security begins with the designs of the facilities. Stations are designed with ample lighting and consideration of maintaining lines of sight within passenger areas. They have security cameras, as well as alarms that passengers can trigger in an emergency. Sound Transit also makes significant investments in security staffing, employing uniformed guards who patrol stations and trains, and fare checkers aboard the trains who also provide watchful eyes for public safety.
Sound Transit also maintains a force of uniformed police officers contracted from the King County Sheriff's Department who patrol facilities . They have $40.4 million budgeted this year for security and law enforcement, which will only grow as new stations – like Lynnwood – open, according to Gallagher.
"We have not yet identified the specific budget that will be in place when the Lynnwood extension opens," Gallagher said.
Both Sound Transit's law enforcement officers and security work in close partnership with local law enforcement. There are already strong lines of communication in place with the Lynnwood Police Department, whose officers already maintain a presence at and around the existing Lynnwood Transit Center.
In 2019 there were 225 property crimes and 64 violent crimes on Sound Transit vehicles and property. Of the property crimes, more than half (117) were trespassing and vandalism. The majority of the violent crimes (44) were assaults, mostly disputes among passengers.
In 2020 there were 218 property crimes, of which 171 were trespassing and vandalism. There were 58 violent crimes, of which 47 were assaults, according to Gallagher.
Link served 26 million riders in 2019.
"The Neiss study isn't really applicable to the Lynnwood Link extension in that a bus line with 58 stops in a dense urban area isn't comparable to a light rail line running through largely suburban areas with three new stops over eight miles. In addition, the Lynnwood Transit Center already is a transit hub, not a new one," Gallagher said of the Neiss study.
When the light rail to Lynnwood opens in 2024, it will connect Seattle and Snohomish County residents to numerous destinations across a 62-mile light rail system—nearly triple the 22 miles operating today—that is linked to bus and Sounder services.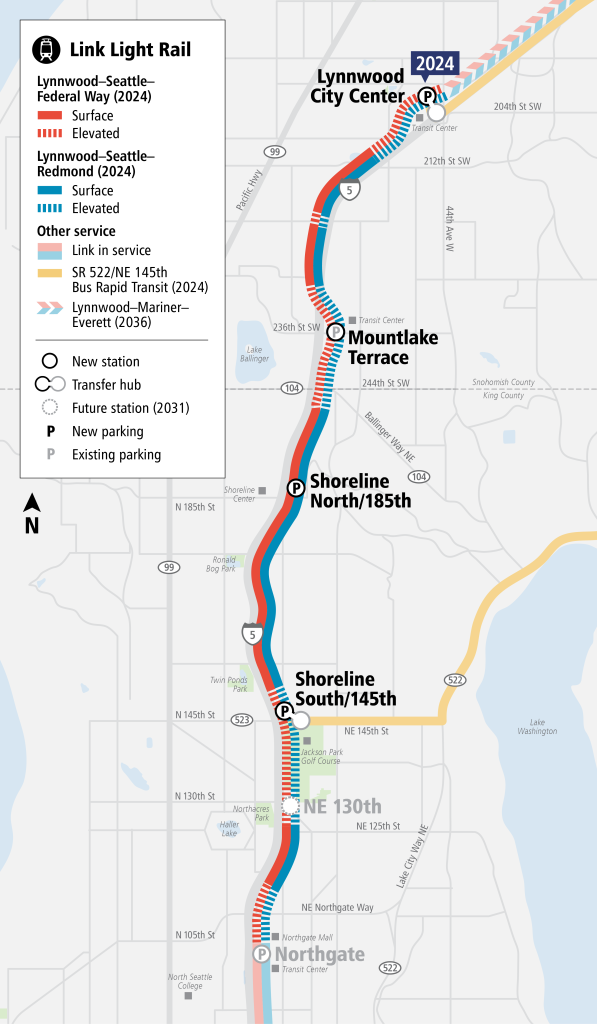 Later voter-approved light rail extensions are planned to increase the Link system to 116 miles, providing fast, frequent and congestion-free travel. Benefits in Snohomish County will be particularly noteworthy, with its I-5 corridor being one of the most congested in the nation.
Riding Link from Lynnwood to downtown Seattle will take just 27 minutes, which will save passengers hours every week compared to sitting in traffic.
The environmental benefits of light rail, powered entirely by electrically from sustainable sources, are also huge in a state where transportation is the largest source of greenhouse gas emissions.
The ST2 initiative, passed by voters in 2008, estimated that the expanded transit projects would result in a savings of more than 138,000 metric tons of CO2 annually, (ST 2 includes Lynnwood Link, Federal Way Link and East Link) according to Gallagher.