Beverly Elementary PTA organized a rock garden for Earth Day
LYNNWOOD, Wash., – Under the motto, "Take one for inspiration, leave one for motivation," was an April 24 event organized by the Beverly Elementary School PTA that culminated with a rock garden. This event, held at the Sundquist Family Nature Park in Lynnwood was part of the Earth Day celebration and had intention to bring the community together.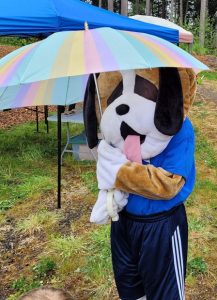 A rock painting party that culminated with a rock garden, was the main activity that brought together children and their families in this area of town. Another important reason was preservation of the park, which has potential to attract more nature lovers.
Cutting the Beverly Elementary rock garden ribbon and giving a start to the occasion was a special guest: The school mascot which, no surprises, is a dog named Beverly. The participants had a chance to not only display their rock painting skills but also to show love for nature by volunteering to trim, clean and cut bushes around the park.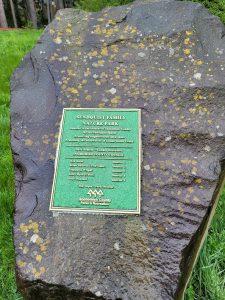 "It has a good impact for the community. We have the rock paint garden as a symbol for preservation of the earth. By doing this we are doing a fun activity while taking care of the area around the park. This way we give something to nature and bring the community together," said Regina Jeffers, vice president of Beverly Elementary School PTA. Jeffers was one of the main organizers of the Rock Paint Garden event.
The event, which took place under strict social distancing rules including the use of disinfectant, hand sanitizer and masks, continued, even when a rainy afternoon tried unsuccessfully to ruin plans.
To be part of the event, everyone reserved their spot ahead of time. There were different time slots, with a limit of four people per table. The attendees, who were mainly school students and their parents, could bring their already painted rocks or paint one on the spot.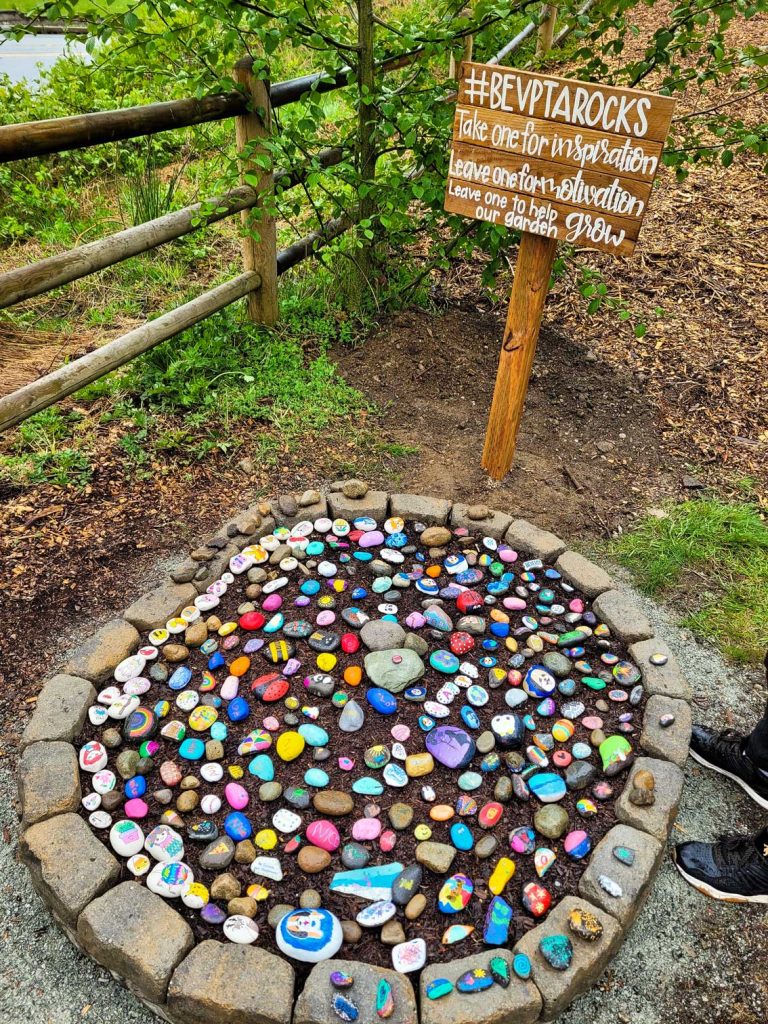 "Everyone can bring or paint one rock and leave it for the garden but also can take one and hide it in the neighborhood for someone else to find. This will spread out the sense of community inspired by the garden," continued Ms. Jeffers. The painted rocks included different artwork but mostly earth symbols as a tribute to Earth Day.
Friends of Sundquist Nature Park secured approval of the garden space from Snohomish County Parks and Recreation Department. The garden will be maintained by the Beverly PTA. They promised this will not be the last activity of this kind.
The board plans to bring almost monthly, a similar get together for the neighborhood, including a carnival themed party in June that will take place in the parking lot of Beverly Elementary School.