Pause on COVID reopening plan, Snohomish County to remain in Phase 3
Olympia, Wash., May 4, 2021 – Governor Jay Inslee today announced a two-week pause on the Healthy Washington: Roadmap to Recovery  reopening plan with all Washington State counties remaining in their current phases.
All 39 counties will stay in their current phases, Gov. Inslee said. The counties' status will be evaluated again after the two-week pause.
"I have decided on this two-week pause in consultation with our State Department of Health because we are in an evolving situation, unlike any other time during the pandemic," said Inslee.
For the past several weeks, epidemiologists have been observing warning signs of a fourth wave, but according to Gov. Inslee, data recorded during the past few days have shown a potential plateauing of coronavirus cases and hospitalizations.
"We attribute these changes to our vaccination progress, there's a reason we're succeeding on this," Inslee said.
In Snohomish County, 230,278- or 34%- of residents have been fully vaccinated, as of April 27. 110,166 residents have been partially vaccinated.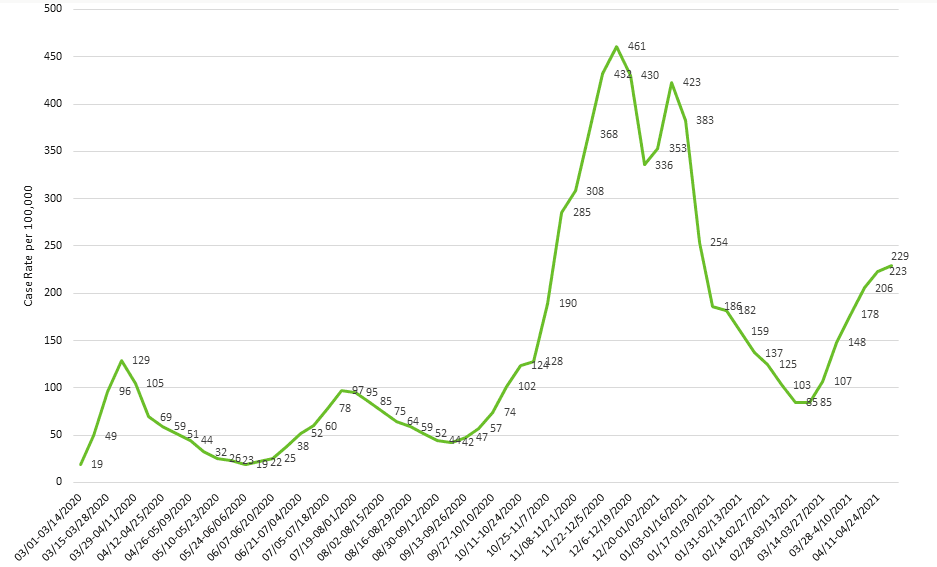 To remain in the third phase of the reopening plan, Snohomish County must average fewer than 200 cases per 100,000 residents over 14 days, along with less than five hospitalizations for every 100,000 people over seven days.
According to the Snohomish Health District's most recent dashboard update, presenting data from the most recently reported two-week period ending April 24, the county is at 229 cases per 100,000 residents. Hospitalizations are at five for a seven-day average ending April 13.
In response to the two-week pause on phase changes, the Snohomish Health District announced in a social media statement that the decision gives "Snohomish County a great opportunity to double-down in our fight against COVID-19 and get back on track to fully re-opening our communities." 
Vaccines are now available to all Washingtonians 16 and up. To find an appointment, visit VaccineLocator.doh.wa.gov.