Rabbi Paltiel talks Jewish American Heritage Month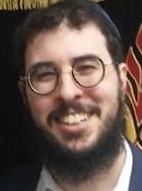 Chabad Jewish Center of Snohomish County Rabbi Berel Paltiel says Jewish American Heritage Month, celebrated through May, is a time to honor the Jewish American experience- past and present.
His mother, several generations American, and his father, born in the Soviet Union became a Polish refugee during World War 2.
"For every American Jew, I think there's a very deep love for America and that's because this country stands for freedom," said Paltiel. "Our people were persecuted on and off for 2,000 years… but America welcomed Jewish existence. My mother's family has been here for seven generations, and what that represents is true freedom."
Paltiel was born in New York City and raised within the Crown Heights Jewish community, the world headquarters of Chabad Lubavitch and home of the Lubavitcher Rebbe, the most influential Jewish leader in the last century said Paltiel.
After World War 2, the Jewish community became scattered, explained Paltiel. To increase reconnection, Rabbis' sought out communities to join that didn't have established Jewish infrastructure. There, they organize Chabads- institutions that provide educational outreach to the surrounding Jewish population.
"You go there so that if there is someone who doesn't have an affiliation has an opportunity to connect and someone to go to," he said.
Currently, there are 3,500 Chabad centers around the world.
Looking for someone to establish a Chabad in Snohomish County to provide this sense of community, particularly in South Snohomish County, the Chabad Rabbi of Washington State met with Paltiel who then moved across the country.
From there he and his wife Goldie Paltiel established the Chabad Jewish Center of Snohomish County nearly a decade ago.
Paltiel says that his time spent in Washington state and Snohomish County has been "absolutely wonderful."
"I am very distinctly Jewish, and I've never had an issue here whatsoever," he continued. "I think the American value that we're all created equal by God is strongly felt in our beautiful county."